Inspiring designer elves
News | Published on December 17, 2020 at 6:07pm GMT+0000 | Author: Chad Koenen
0
Bauck makes custom elves who report good deeds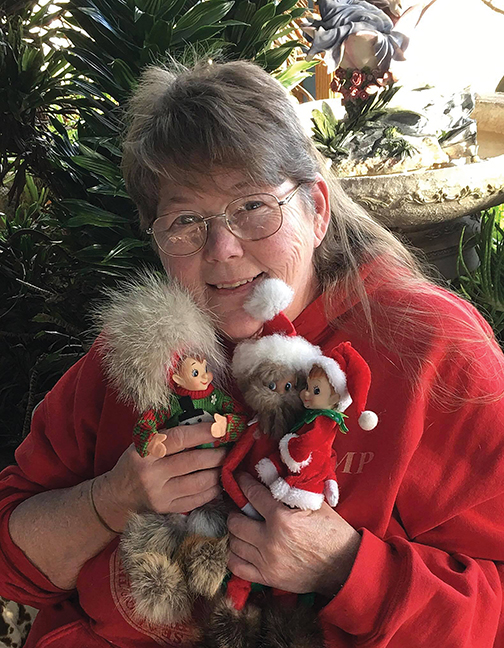 By Barbie Porter
Editor, Frazee-Vergas Forum
Elves on the Shelf may be popular, but the ordinariness of main stream inspired KJ Bauck to create Designer Elf.
The former Frazee resident currently residing in New York Mills said inspiration struck when her grandson wanted to bring an elf for show and tell.
"I thought gol' darn, the elf looked so plain," she said. "I asked if he wanted to make it special."
With a whimsical nod the two decided to add a beard, then came fur to his elf hat, Mukluk boots and more. When the make-over was complete Bauck christened the first Designer Elf to be Bubba.
"He looked like a backward mountain boy," she said.
After visiting a store in Perham, Bauck found an elf girl and decided to give her a new style and make Bubba  girlfriend.
"I do puppeteer stuff for the grand kids, so I thought it would be fun to make up a story of how Bubba met his girlfriend, Noel," Bauck said. "Noel fell off Santa's sleigh and landed in the woods where Bubba found her."
The two elves fell in love and wedded bliss followed, as well as a very large family.
"There were people interested in buying Bubba and Noel, but I couldn't sell the originals, so I decided to start making them for people," she said. "It exploded."
Each hand-crafted doll starts with Bauck getting information from the person making the $12 purchase.
Bauck can make the elf male or female, have the toy decked to the nines in fashion, ready for a beach party, work on the farm, out for a hunt and more.
After the elf motif is fleshed out, the elf doll is made along with accessories. Then Bauck personalizes the elf biography. In addition to providing a name and the origin story, she shares what the elf likes.
"If the child likes to help in the kitchen, then I will find them an elf that likes the same stuff," Bauck said.
When the elf is sent to its new home, Bauck also provides information about the elf's job. 
"Instead of being naughty, these elves are good," Bauk said. "They report to Santa about all the good things the kids do. They also love sugar and Christmas cookies."
Bauck includes recommendations to the parents for when kids are doing good deeds to reward them, and the elf, with little treats such as suckers or cookies.
Children can also write to Bauck, who happens to have Santa's personal address and will ship their letters to him.
"In the past four years I've made about 600 Designer Elfs, or more," she said.
While there may be some readily available at her shop, the custom made elves take about 2-3 days to complete.
"I get the orders and get to work on them right away," she said. "For me, it is an escape. Normally, I spend 90 percent of my time painting pet portraits." 
The wife of Allan Bauck opened the Painter's Den about five years ago at her home, 51402 410 Street in NY Mills. The mother of two adult children and six-grandchildren opens the Painter's Den from 10 a.m. to 4 p.m every Saturday, but if one calls (218) 371-8885 for a showing, the shop can open during non-scheduled hours.