Slieter, Hetland promoted to officer positions at F&M
News | Published on December 29, 2020 at 11:34pm GMT+0000 | Author: Chad Koenen
0
Two familiar faces at Farmers & Merchants State Bank will soon have new responsibilities. Latham Hetland and Sam Slieter have been promoted to officer positions beginning Jan. 1. Hetland will be a Loan Officer while Slieter will be the Operations Officer. 
Slieter first worked at the bank as an intern during the summer after he graduated from high school in New York Mills. He went on to receive his bachelor's degree from the University of St. Thomas in St. Paul. Since returning to F&M full-time in January of 2016, he has worked in operations, customer service, and information technology.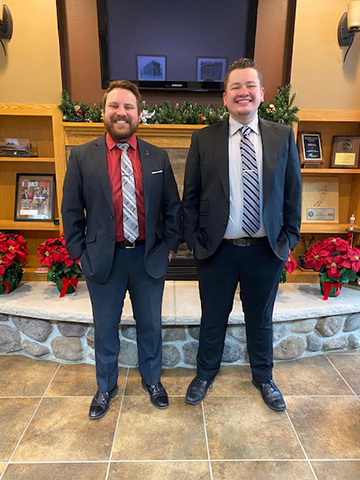 Another native of NYM, Hetland began his banking career at F&M in December of 2014. He has since earned his bachelor's degree and an MBA from Minnesota State University Moorhead. Much of his work has focused on loans, customer service, and information technology.
Hetland and Slieter both decided to return to their hometown, part of a growing "rural rebound," defying the odds and not staying in the larger metropolitan areas where they attended college.
Support for New York Mills is one of the bank's primary missions and after their return home, both men have committed themselves to a wide variety of organizations in NY Mills. 
"No one can doubt their dedication to our community," said bank President, Al Berube. "With their participation in local government, the Lions Club, the arts, athletics, education, civic events, and the faith community, these two are already part of the next generation of leadership at both the bank and in the wider community."  
Farmers & Merchants State Bank is a locally owned community bank and has been providing financial and community support to New York Mills since 1916.