Eagles open season Friday at Henning
Sports | Published on January 13, 2021 at 6:01pm GMT+0000 | Author: Chad Koenen
0
By Chad Koenen
Publisher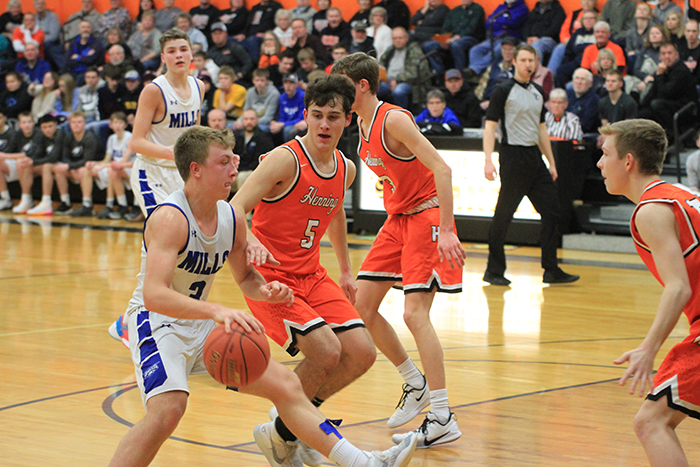 Optimism is in the air for New York Mills basketball team this season. After having their season delayed due to COVID-19, the Eagles are eager to get their season underway as they are coming off their second straight winning season. Last year the Eagles finished with a 16-11 record in one of the tougher conferences in the region.
With all five starters returning to a talented line up, each bounce of the ball in practice brings them one step closer to opening their season against the team they are hoping to replace at the top of the Park Region Conference.
The Eagles will open their season on Friday night against the 2019 state champions and last year's top ranked team in Henning.
Meanwhile, the Eagles return all five starters including talent up and down their line up in both the junior and senior class. Among the players returning are all-conference juniors Tate Olson and Jonah Johnson, as well as all-conference honorable mention senior Derin Gaudette.
Other returning letter winners include seniors: Isaiah Laudenbach, Jace Rudolph, Cale Rudolph, Trey Gilster and Chase Keskitalo; juniors: Breck Hensch and Noah Noffsinger.
Depth will be a big key for the Eagles this season as there are 25 athletes out for basketball in grades 9-12, many of whom have had experience at some of the upper levels of the basketball program. It is for that reason that head coach Jason Boe and the rest of the Eagles squad are optimistic for their 2021 season.
After graduating just one senior last season, Eli Hill, Boe said the team feels like it has a chance to compete for both a conference and section title this season. Other favorites include Henning, as well as tough Menahga and Pillager teams in the conference, while Norman County East, Henning and Mahnomen-Waubun will be among the favorites in Section 6A.
Regardless of how the season turns out, Boe said the team is just happy to have the opportunity to get on the court this winter.
"(We are) just happy to be on the court, doing something we all love," he said.
The Eagles will open their season on Friday night when they travel to Henning. On Saturday NY Mills will travel to Frazee.
Schedule
Friday, Jan. 15 at Henning
Saturday, Jan. 16 at Frazee
Thursday, Jan. 21 at Verndale
Saturday, Jan. 23 at Waubun
Tuesday, Jan. 26 at Sebeka
Friday, Jan. 29 vs. Wadena- DC
Thursday, Feb. 4 vs. Menahga
Tuesday, Feb. 9 vs. Pillager
Friday, Feb. 12 vs. Henning 
Thursday, Feb. 18 at Bertha- Hewitt
Friday, Feb. 19 at Browerville
Tuesday, Feb. 23 vs. Verndale
Friday, Feb. 26 vs. Sebeka
Tuesday, March 2 at Wadena-DC
Friday, March 5 at Menahga
Monday, March 8 at Pillager
Friday, March 12 vs. Bertha- Hewitt
Saturday, March 13  at Battle Lake