'Jeepers' NYM seventh grader wins contest
News | Published on January 13, 2021 at 5:47pm GMT+0000 | Author: Chad Koenen
0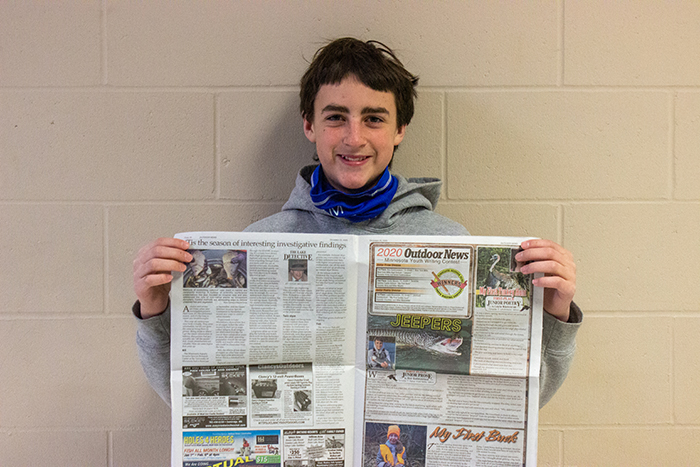 Gudmundson wins Outdoor News writing contest
By Chad Koenen
Publisher
One of the most important parts about fishing is not necessarily the fish you catch, but the story you can tell after the excursion.
New York Mills seventh grader Ben Gudmundson checked off that important to do with a story that included everything from a Dora the Explorer fishing pole to a muskie that eventually snapped his line.
A seventh grader at NY Mills School, Gudmundson recently took first place in the Outdoor News Junior Prose Writing contest for his story entitled "Jeepers." The article tells the story of a fishing trip a 3-year-old Gudmundson took with his family at Beer's Lake at Maplewood State Park.
While on the trip the family went fishing for sunnies, when Gudmundson caught a large muskie on his Dora the Explorer fishing pole. The fish eventually got away, but the story that features his grandpa repeatedly saying "Jeepers" after Gudmundson caught the fish, continues to live on.
The son of Brent and Holly Gudmundson of NY Mills entered his story in an Outdoor News junior writing contest last fall and recently learned he took first place in the junior prose writing contest. In addition to having his story published in an issue of Outdoor News, Gudmundson received $100 and a plaque to honor his accomplishment.
"I was very surprised," said Gudmundson of learning he won first place in the contest.
Each year NY Mills English teacher Heidi Dresser offers her students extra credit if they enter a writing contest. The goal is to not only give her students extra writing opportunities, but give them a little nudge to put themselves out there by writing for people outside of the classroom.
"I always offer as a contest to my students and give them extra credit points if they enter an essay contest. They just need proof they entered," she said.
Dresser said Darren Bauck provided her with the information concerning the Outdoor News writing contest that Gudmundson entered. Gudmundson was the only member of Dresser's class that entered the Outdoor News contest this year and learned about it after seeing the contest on Dresser's desk in school.
"I saw a paper on Mrs. Dresser's bulletin board for an outdoor writing contest. I wanted to do it because I have a lot of good hunting and fishing stories," said Gudmundson.
Second place in the contest went to Emily Mastin of Kelliher Public School entitled "My First Buck." The newspaper also offered a junior poetry contest which was won by Layla Niedzielski of Litchfield.
The Outdoor News is a statewide outdoors publication that was founded in 1968. It covers local hunting and fishing scene across the region.
The article featuring Gudmundson's essay can be found in the Dec. 25, 2020 issue of Outdoor News.