NYM resident is in a battle for her life
News | Published on January 13, 2021 at 5:49pm GMT+0000 | Author: Chad Koenen
0
Chamley is diagnosed with cancer
By Barbie Porter
Editor, Frazee-Vergas Forum
Cassie Chamley is climbing the ladder of seven stages of grief; sometimes she goes up and sometimes down. No matter what rung she is holding on to, the 37-year-old never thought she'd be battling for her life at such a young age.
"Never in a million years would I have thought I would get cancer," she said. "I'm sure all who are diagnosed say the same thing."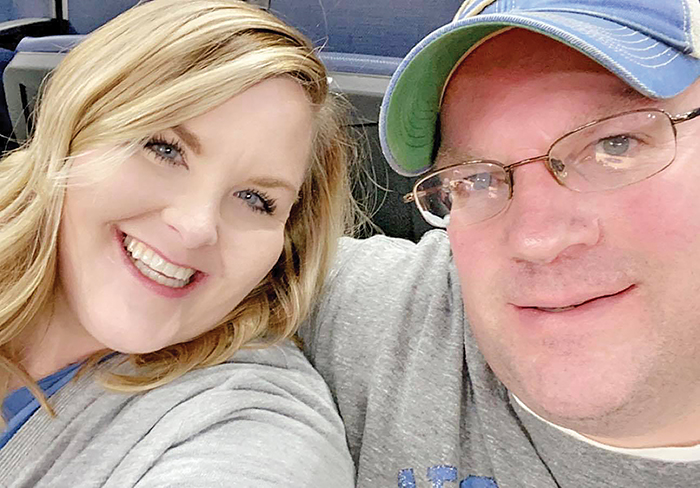 The 2002 Frazee High School graduate's journey began as leaves fell from trees. Abnormal bleeding after a menstrual cycle was followed by growing discomfort in the right side of her abdomen. A trip to the doctor yielded no answers. But the pain didn't relent.
A month later the cramping was comparable to giving birth for six hours before a short reprieve and another round of intense pain. On Thanksgiving night the New York Mills resident went to the emergency room. The pain was too severe to endure any longer.
"They did a CT Scan that night and the ER doctor came in and said I had swollen lymph nodes," Cassie said, noting she had contracted COVID-19 in late October.
Her husband Chris expounded, lymph nodes are part of the immune system so being swollen wasn't a "big red flag."
Cassie was directed to make an appointment with the Roger Maris Cancer Center in Fargo. Ovarian cysts were found.
"At the time I was given the whole, you're too young for cancer, but eventually after further testing they did determine they wanted to see me," she said. "Still, at the time I didn't think it was cancer."
The pain grew worse and Cassie returned to the ER. Another CT scan showed her lymph nodes were still enlarged, and growing. She was taken to Sanford in West Fargo, N.D. by ambulance.
"I was there for eight nights," she said. "It was there I was told."
Cassie had endometrial cancer. She was given a choice of where to see a specialist and agreed to go to the one in Sioux Falls, S.D., as Chris has family there. Cassie learned there are two types treatments, each specific to the location of the cancer. If the cancer was on the uterus then a hysterectomy would be required, whereas if it were cervical then radiation would be ordered.
"Mine was a bit of an odd case," she said. "It almost borders the cervix and uterus."
Cassie's left ovary was removed and radiation treatments began as doctors and specialists formed a team on her behalf to create a game plan.
"Even if she needs surgery after the five treatments of radiation, the radiation may shrink the tumors to make surgery easier," Chris said.
As Cassie laid down on the hard bed with her arms above her head and a big drum-like machine rotated around her, she was thankful for the kindness of her father's girlfriend who gifted her a special lotion that reduces radiation burn. After treatment she was thankful the level of pain she felt decreased. But, there was some fear of what was to come­—a 15-week treatment of five hour chemo sessions that began last week.
Cassie shared what she has is not curable, but it is manageable and she can have a full, long life. While the treasure of good health may be in the distant future, she has discovered something precious along the way. On those days her strength and will fade and all she wants to do is sit in a corner and cry, it is the thoughts and prayers she received by being candid about her journey that have helped lift her up out of the darkness.
Cassie said her sister-in-law opened a page for her on Caring Bridge (www.caringbridge.org/public/cassiechamley). The site provided Cassie with an online journal to share her experience or for people to respond.
While lifting up her spirits with encouraging words, many also donated to an account set up in their name at United Community Bank (which has branches in Frazee and Perham). The funds help cover costs associated with traveling for treatment and living expenses as she is not able to work while undergoing treatment.
"I'm not the type of person that can easily accept things or help from others," Cassie said. "I've always been that way."
Cassie sniffled as tears formed in her eyes and her voice weakend as if the outpouring of love and support hit her like a tidal wave by merely thinking about it. After a pause she explained love is a "powerful and amazing" gift that can be given to a loved one or stranger. It can be presented through words of encouragement or empathy. It can be delivered in a care package with groceries or a ready-to-bake meal. And while some say hopes and prayers do little to change a situation, Cassie disagreed, noting hope and prayers uplifts those in need of it most.
Arvig, KLN
provide stability in
uncertain times
The daughter of Tyanne Jacobson of Vergas and Marty Jacobson of Moorhead, Minn., met her husband about 16 years ago while working at a box store in Detroit Lakes. While there was a no fraternizing policy, the day she put in her notice he asked her on a date. The couple wed a decade ago.
Cassie now works for Arvig as a project coordinator while Chris is in inventory control at KLN in Perham.
"Arvig and KLN have been awesome to us," Chris said. "We are both on a leave of absence right now and we know we have our jobs waiting for us. That means a lot. And, the support those at Arvig and KLN have offered has been…not surprising because they are both such great companies, but overwhelming in the best way."
"At the time I was given the whole, you're too young for cancer, but eventually after further testing they did determine they wanted to see me," she said. "Still, at the time I didn't think it was cancer."