Camera system to stream NYM activities
News | Published on January 20, 2021 at 7:32pm GMT+0000 | Author: Chad Koenen
0
Camera to be installed next week
By Chad Koenen
Publisher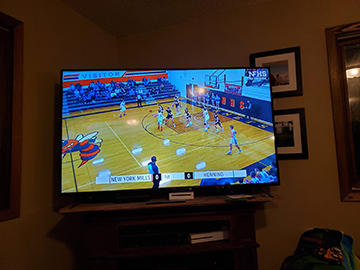 In just a few short days the New York Mills High School Sports Center will be coming to a living room near you.
A new camera system will be installed at the NY Mills High School that will broadcast activities in the sports center on the NFHS Network. The camera system will be installed the week of Jan. 25 and Activities Director Matt Radniecki said the system takes two or three days to get up and running. Once installed the camera system will broadcast games online through the NFHS Network to allow area sports fans the ability to watch NY Mills games from the comfort of their own home, wherever that may be.
"We have been talking about it because some of the other schools were doing it," said Radniecki.
The project came to the forefront when the COVID-19 pandemic restricted the amount of fans that can attend an event or athletic event last year.
"With COVID it became much more urgent to look at and do," said Radniecki.
The camera system can livestream all of the events in the sports center and save them so people who have a subscription to NFHS can watch the game either live, or at a later time. Even after COVID-19 restrictions are lifted, Radniecki said there will be a benefit for people who want to watch grandchildren, friends, relatives play in a game, but live outside of the area. It will also give people who are home bound an opportunity to keep up-to-date with NY Mills events.
"So this gives them a mechanism to go and watch an event," said Radniecki of people who live outside of the area.
One bonus people may find is that if another school has an NFHS system fans can watch NY Mills High School events at that school as well. Radniecki said people can also watch other games at schools that have an NFHS system, even if it doesn't include NY Mills High School.
While the push to install the system came from the athletic side of things, Radniecki said the school district can stream everything going on in the sports center including graduation, concerts, pepfests and more.
"Not just games at night, but I think graduation, elementary events can move to sports center and live stream it," he said.
In order to download the app visit www.nfhsnetwork.com. The app costs $11.99 per month for a subscription.