FFA turns to virtual meets to cope with COVID-19
News | Published on January 20, 2021 at 7:35pm GMT+0000 | Author: Chad Koenen
0
NYM group adapts to virtual world, life with COVID-19
By Chad Koenen
Publisher
While the start of the winter sports season was delayed this year due to COVID-19, not every extracurricular activity had to wait until the start of the New Year to get their season underway. The New York Mills FFA program started their season competing virtually earlier this winter and have already had three teams qualify for state.
Despite their early season success, FFA Advisor Brian Schornack said there have definitely been some challenges and changes to FFA this year due to COVID-19.
"This year has definitely been different than past years. One of the biggest changes is all FFA events from CDE's (Career Development Events) to leadership workshops will be done virtually. The biggest adjustment for us has been flexibility. Things like dates and times for our events are always changing so we need to make sure that we are always prepared ahead of time," he said.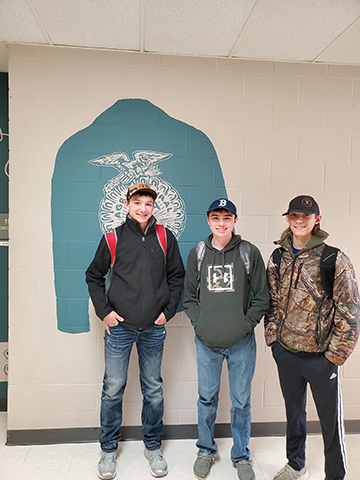 One of the biggest changes this year has been that all of the meets have been held virtually. That means students are given a three day window to get together with their teammates to complete their event in a virtual classroom. All of the team members must complete the event in the same time frame and other chapters don't get to see each other while the contest is going on. Essentially, each school is on their own during each meet.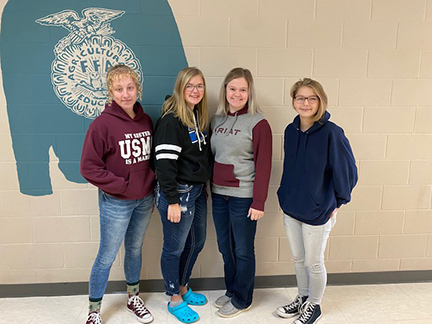 Schornack said the local FFA students have done a good job of being flexible, given the new challenges and have put in a lot of work to get their projects done on time.
"The FFA students have done a great job of adjusting. They want to compete and show off what they know. Students are more motivated to do well this year, because they didn't have a state convention last spring," he said.
While all the teams are competing virtually at the regional level this year there is hope there will still be an in-person FFA state convention later this year.
So far this year the nursery landscape team of Morgan Guck, Grace Brasel, Kadance Brauch and Haley Korkowski placed first regionally; as did the small animal veterinary science team of Isabella Smith, Bree Meehl, Macy Koljonen and Kaydi Mursu.
The fish and wildlife team of Brayden Ehnert, Braxton Ehnert and Rowland Dykhoff placed third regionally. All three teams have already qualified for the state FFA convention.
Despite all of the challenges with not only FFA, but navigating the ever-changing learning environment, Schornack said the local team has done a great job of staying on task and having fun completing their projects so far this year. He said the team is looking forward to continuing their FFA season—albeit in a slightly different way than in the past.
"It's gone extremely well so far. The first contest we did online was a challenge just because we had never competed like this before. The students have done a great job with adjusting to this way of doing things," said Schornack.