NYM opens season with a pair of wins over Henning, Frazee
Sports | Published on January 20, 2021 at 6:49pm GMT+0000 | Author: chadkoenen
0
Eagles travel to Verndale on Thursday
By Chad Koenen
Publisher
New York Mills used a pair of strong second half finishes to blow past Henning and Frazee in its regular season openers last week. In its two games, the Eagles outscored their opponents by an 86-54 margin in the second half on their way to a pair of double-digit wins.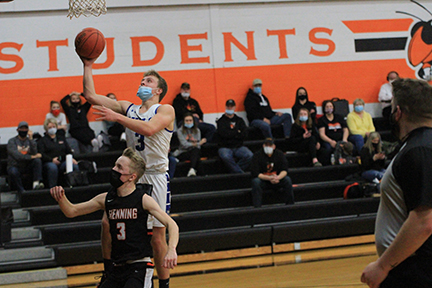 This week the Eagles will travel to Verndale on Thursday and Mahnomen-Waubun on Saturday.
Thursday
NY Mills held a 37-31 lead at halftime and eventually wore down a Hornets team that dressed just eight players in the second half. The Eagles outscored Henning by a 40-21 margin down the stretch to come away with a commanding 77-52 win in their Park Region Conference opener in Henning.
Head Coach Jason Boe said the Eagles played well against a tough Henning team and was glad to get a win in both their regular season and conference opener.
"We expected a tough game and that's exactly what they gave us. We were able to wear them down in the second half and eventually pull away. It was a good first win against a quality team and program."
Tate Olson had a big game for the Eagles as the junior guard scored 27 points to go along with 16 rebounds and 5 assists. Isaiah Laudenbach joined him in double figures with 13 points, 4 rebounds and 4 steals, while Jonah Johnson added 12 points, 6 rebound and 3 steals.
Derin Gaudette was the fourth Eagle in double figures as the senior scored 10 points to go along with 6 rebounds. Meanwhile. Breck Hensch chipped in with 8 points and 2 rebounds, Chase Keskitalo scored 3 points, 2 rebounds and 2 blocks and Jace Rudolph rounded out the scoring with 2 points.
Saturday
Five Eagles reached double figures as NY Mills once again used a strong second half to come away with a 90-73 win over Frazee on Saturday. Leading by just a 44-41 margin at halftime, the Eagles made a few adjustments at halftime that proved to be the difference in the final 18 minutes of action.
"The game mirrored Friday night's game. We made a couple halftime adjustments and were able to get some easy baskets in transition," said Head Coach Jason Boe. "We still need to get in better game shape and execute on the offensive and defensive sides better, but it was a good first week to start the season."
Derin Gaudette led the way offensively with 24 points and 4 rebounds. Tate Olson registered his second double-double of the season with 20 points, 10 rebounds and 5 assists, while Jonah Johnson scored 19 points, 4 steals and 2 rebounds. Breck Hensch also reached double figures with 12 points, 4 rebounds and 2 steals and Noah Noffsinger was the fifth NY Mills player to reach double figures as he finished with 10 points, 5 rebounds and 3 assists.
Chase Keskitalo scored 3 points, Isaiah Laudenbach scored 2 points and Jace Rudolph also finished with 2 points of his own.