Bobbing for a unique collection
News | Published on February 3, 2021 at 2:30pm GMT+0000 | Author: Chad Koenen
0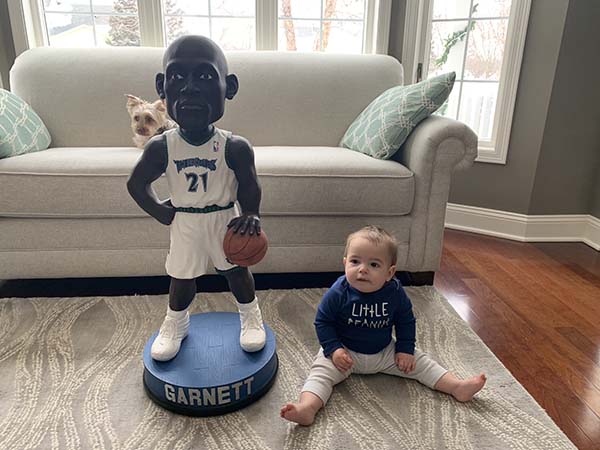 NYM alum has over 850 items in his bobblehead collection
By Chad Koenen
Publisher
Every person has a special treasure in their home that they hold near and dear to their heart. It can be a famous painting, a baseball they caught at a sporting event as a child, or even something as simple as a used gum wrapper they keep tucked away in their wallet to commemorate a high school adventure gone awry. 
For Josh Rimpila that special item was a United States Tennis Association commemorative bobblehead featuring the Air Force and Army mascots playing tennis. A bobblehead col-lector originally from New York Mills, getting the "holy grail" of bobbleheads, as he called it, was as much about the chase as it was the story the unique collectible could tell.
"It's the thrill of the chase. I have my want list and I try to track them," he said. "You can reach out to people all over the country and just have this kind of community to be a part of."
It's the thrill of the chase. I have my want list and I try to track them. You can reach out to people all over the country and just have this kind of community to be a part of.

Josh Rimpila on tracking down one-of-a-kind bobbleheads
The bobblehead was produced by Alexander Global Promotion, Rimpila's favorite bobblehead maker. The bobblehead was given out in February 2019 at the USTA National Campus in Lake Nona, Fla., to the first 400 fans prior to the match between Army and Air Force.
While the day featured a fly over prior to the match by two A-10 Thunderbolts, it was the bobblehead that really got the attention of the former NY Mills tennis player.
"It was made by my favorite bobblehead manufacturer. I played tennis in high school and one of my favorite areas to collect is college mascots," said Rimpila. "(Those) three key points made it kind of the holy grail."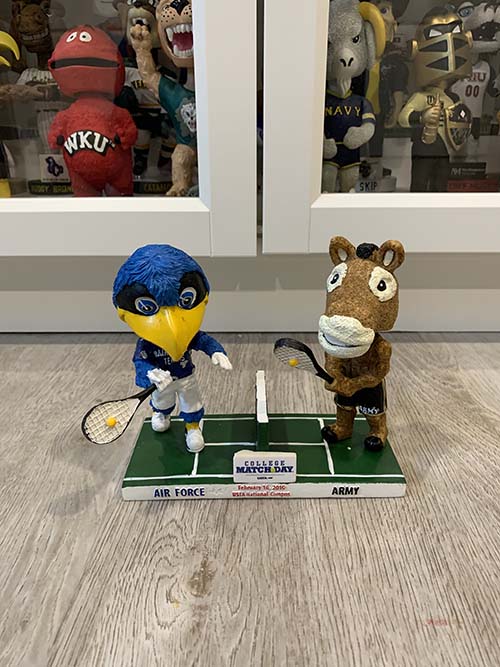 From the time he saw the bobblehead for the first time, Rimpila said he went on a mission to track one down. Nearly two years after the event and an exhaustive search that was coming up empty, the 2005 NY Mills High School graduate was finally able to track one of the bobbleheads down—by simply asking the USTA if he could add one to his expansive collection.
"I don't know if it was bold or foolish, or what, but I reached out to someone from the USTA and I said hey I am looking for this," he said.
With the help of the USTA he was finally able to find one of the double bobbleheads to add to his collection. He said the bobblehead is his "holy grail." 
Even though the USTA double bobblehead is the crown jewel of his expansive, more than 850 piece bobblehead collection, Rimpila still remembers the first-ever bobblehead he received from his parents. It was a Sammy Sosa and Mark McGwire bobblehead that was created during the home run record chase the two had in professional baseball in the late 1990s.
"My parents got me my first ones. It was a two-pack of Sammy Sosa and Mark McGuire," said Rimpila, who was collecting baseball cards at the time. "It kind of took off from there."
A bobblehead is a type of collectable doll that features an oversized head that bobbles when the collectable is moved. They have become a fixture at professional and college sporting events as giveaway items. There is even a National Bobblehead Hall of Fame and Museum that opened in Milwaukee, Wis. in 2016.
For Rimpila, each bobblehead tells a story about not only the collectable itself, but the chase and gift that it represents. For instance, he remembers the first-ever bobblehead he received from a Minnesota Twins promotion—a Doug Mientkiewicz bobblehead. All these years later he still remembers receiving that bobblehead at the former Metrodome.
"I enjoy just how they can remind me from different parts of my childhood and life," he said. "There are special meanings with them and the people it connects me with."
And the stories aren't just about how Rimpila was able to get his hands on the collectable, but the story about the unique creation itself. For example, one of the more unique bobbleheads he has is related to a 2003 giveaway by the Minnesota Timberwolves.
The Minnesota Timberwolves commemorated a "super fan" who typically sat court side at Timberwolves games with a bobblehead of his own.
Bill Beise was a staple at Timberwolves games and became known as the guy who rolled up his program and hit it on the court during tense moments of the professional basketball games. The Timberwolves created 1,500 bobbleheads with Beise's likeness and gave them away at a game. The bobblehead was also sold at a local supermarket.
Rimpila was able to get his hands on the one-of-a-kind Beise bobblehead that the Timberwolves actually gave to their super fan. The bobblehead was picked up from an estate sale and Rimpila eventually was able to get his hands on it to add to his collection.
"They presented him an 18-inch version of this bobblehead for him," said Rimpila of the presentation on the court. "I have this one-of-a-kind unique item in my collection."
Another unique bobblehead, that he recently sold, included a 3-foot tall bobblehead of Kevin Garnett. Rimpila purchased the large bobblehead while attending a Timberwolves game during the 2004-05 season and saw it in the Timberwolves' pro shop. He eventually sold the bobblehead to make way for others, but has more than a few pictures with his son and the bobblehead depicting the man known as "The Big Ticket" in Minnesota.
Though the possibilities of bobbleheads are endless, with teams often commemorating longtime supporters and players with bobbleheads, Rimpila likes college mascot bobbleheads and Minnesota-centric bobbleheads.
"I love hopping online on Ebay and seeing what is new out there. It is fun to chase things I am looking for and finding these new ones that I have never known were for sale," said Rimpila. "It's also being able to have those connections to different points in my life and being able to reflect on those as well."
During the COVID-19 pandemic, many of his bobbleheads received a new and fancy home. Rimpila and his wife recently finished a room in their basement into an office for him, which includes new shelves to house his expansive collection. Many of the shelves feature levels to allow Rimpila to display his collection for everyone who comes to his home.
Though the chase for the next unique bobblehead is never over, since getting his "holy grail" of bobbleheads, the longtime collector said he is just enjoying is current collection and isn't sure what next unique bobblehead he will try to attain next. It's the thrill of the chase that Rimpila enjoys about finding the next unique bobblehead, that and the story they can tell.
After all, with over 850 bobbleheads in his collection, he has more than a few stories he can share about the chase with everyone who stops by his home.