Eagles edge Pierz, fall to Little Falls in triangular
Sports | Published on February 10, 2021 at 4:56pm GMT+0000 | Author: Chad Koenen
0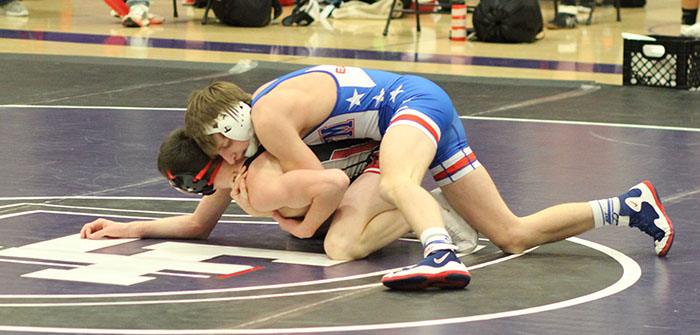 By Chad Koenen
Publisher
New York Mills defeated Pierz by the slimmest of margins on Thursday night as the Eagles defeated the Pioneers by a 37-36 margin thanks to a Braeden Peterson 1-0 decision at heavyweight. The win was the seventh of the season for the Eagles as they are now 7-5 overall. 
NY Mills made the most of each of their wins as they secured five wins by fall or forfeit, while securing a pair of close decisions to come away with the win.
Nick Peters got the Eagles on the scoreboard as he won by a 7-2 decision in overtime at 120 lbs. Jacob Guck won by fall at 138 lbs. and Dane Niemi followed with a win by forfeit.
At 170 lbs., Bren Salo won by forfeit, before Jon Rinerson secured a big first period win by fall over Wyatt Dingmann at the 1:02 mark of his match at 182 lbs. Cody Barthel followed with a forfeit win of his own at 195 lbs.
A pin at 220 lbs. put Pierz in front, but not before Peterson secured the 1-0 decision at heavyweight to put the Eagles in front for good 37-36.
In their match against Little Falls, the Flyers were able to win the opening five matches of the night, before Jacob Guck and Dane Niemi secured back-to-back first period pins to put the Eagles on the scoreboard.
Little Falls answered with two pins of their own, before Bren Salo won by fall in one of the only matches to go past the first period at 170 lbs. over Nathaniel Kludt.
The Eagles picked up two more wins to make the score 46-30 when Cody Barthel and Bode Roberts won by fall at the 48 second and 1:35 mark of their matches.
Little Falls ended the match with a pin at heavyweight to make the score 51-30.
In all, just one match was decided by anything but a pin and just four matches went past the first period.
New York Mills 37 Pierz 36
106: Carter Young (PIER) over Austin Geiser (NYM) (Dec 7-2)
113: Chase Becker (PIER) over Joe Mann (NYM) (Fall 4:11)
120: Nick Peters (NYM) over Liam Hennessy (PIER) (SV-1 7-2)
126: Derek Stangl (PIER) over Chris Yoder (NYM) (Dec 5-4)
132: Jacob LeBlanc (PIER) over Jay Mindermann (NYM) (Fall 1:04)
138: Jacob Guck (NYM) over Derrick Przybilla (PIER) (Fall 1:28)
145: Dane Niemi (NYM) over (PIER) (For.)
152: Frank Tomberlin (PIER) over Deshawn Robinson (NYM) (Fall 3:44)
160: Ross Boser (PIER) over Blake Unger (NYM) (Fall 2:41)
170: Bren Salo (NYM) over (PIER) (For.)
182: Jon Rinerson (NYM) over Wyatt Dingmann (PIER) (Fall 1:02)
195: Cody Barthel (NYM) over (PIER) (For.)
220: Daniel Hoffman (PIER) over Bode Roberts (NYM) (Fall 2:31)
285: Braeden Peterson (NYM) over Carter Geise (PIER) (Dec 1-0)
Little Falls 51 New York Mills 30
106: Kobi Cameron (LIFA) over Austin Geiser (NYM) (Fall 1:57)
113: Mason Rausch (LIFA) over Joe Mann (NYM) (Fall 4:54)
120: Austin Litke (LIFA) over Nick Peters (NYM) (Fall 5:10)
126: Joey Wilczek (LIFA) over Chris Yoder (NYM) (Dec 2-0)
132: Wyatt Baum (LIFA) over Jay Mindermann (NYM) (Fall 1:05)
138: Jacob Guck (NYM) over Bryce Udy (LIFA) (Fall 0:54)
145: Dane Niemi (NYM) over Jonah Olson (LIFA) (Fall 0:45)
152: Hank LeClair (LIFA) over Deshawn Robinson (NYM) (Fall 1:36)
160: Ryan Kloeckl (LIFA) over Blake Unger (NYM) (Fall 1:06)
170: Bren Salo (NYM) over Nathaniel Kludt (LIFA) (Fall 4:26)
182: Gabe Nagel (LIFA) over Jon Rinerson (NYM) (Fall 0:55)
195: Cody Barthel (NYM) over Ivan Petrich (LIFA) (Fall 0:48)
220: Bode Roberts (NYM) over Chaston Gwost (LIFA) (Fall 1:35)
285: Eli VanRisseghem (LIFA) over Braeden Peterson (NYM) (Fall 1:12)