Meeting the rising demand at Brunswick
News | Published on February 10, 2021 at 4:52pm GMT+0000 | Author: Chad Koenen
0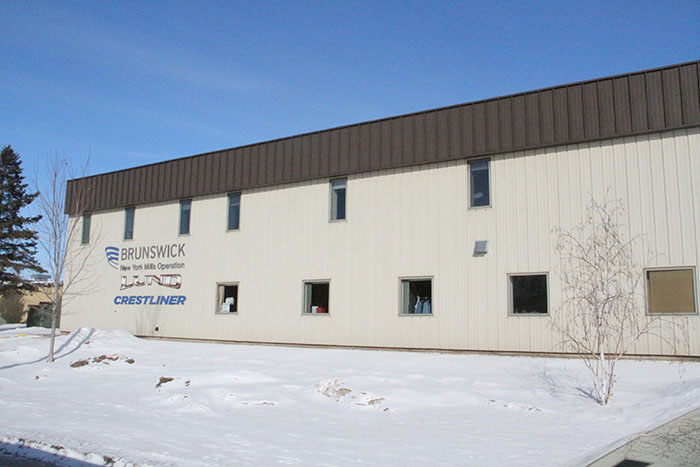 Brunswick/Lunds looks to hire additional staff to meet rising needs
By Chad Koenen
Publisher
Last year brought some unique challenges to residents across the world. While stay at home orders and business closings changed how people lived their lives, there was also a renewed appreciation for what is in a person's own backyard. That includes spending time closer to home, as opposed to traveling across the country with the family for vacation. Those close-to-home staycations resulted in some rising demand for new boats created right here in New York Mills.  
Lund Boats and Brunswick reported rising sales last year as families began staying close to home during the COVID-19 pandemic. Those rising sales has resulted in a need for additional emplpoyees and staff members at Lunds and Brunswick.
"I think the pandmic changed what people wanted to do and they are spending more time with family and family activities at home," said Dirk Hyde, president of Lund Boats. "People are staying closer to home and enjoying family activities."
Among the family activities has been spending more time on one of Otter Tail County's more-than 1,000 lakes.
New boat sales increased over 10 percent nationwide last year, compared to the prior year. With orders continuing to come in, Hyde said Brunswick is gearing up for another busy year to meet the rising demand.
The Lund factory hopes to add about 60 employees. Jobs include assembly, welding, upholstery, painting, riveting. Pretty much everything.
"There are a lot of different jobs and a variety to pick from," said Hyde.
Most jobs begin around $15 an hour, more if you have a particularly needed skill and experience, and offer a benefits package that includes health insurance, dental and vision coverage, profit sharing and a 401(k). There are incentive bonuses and the company offers trial boats employees can check out for use. Many of the jobs feature four days a weeks, 10 hours a day—meaning there is plenty of opportunities to test out one of the Lund boats on one of the over 1,000 lakes in Otter Tail County.
Hyde said Lunds and Brunswick has worked hard to create a fun and team-first work environment that has resulted in it continually being ranked as one of the top workplaces in the state of Minnesota.
"One of the things we try to do is create a fun team envinronment where everybody's voice matters," said Hyde. "We are a clean and safe environment. We care about people and safety and we have a great team here and a great work force with an awesome benefit package."
As far as boats for the upcoming season, Hyde said if a person wants a new boat their best bet would be to talk to a dealer today and see what is available. Even though they can build 52-55 boats a day, Hyde said increased demand means if a person wants a custom boat they may not get it completed by the start of summer. In looking back to past trends, Hyde said if a person waits another month to order a custom boat they would likely not receive it until late summer.