NYM One-Act play takes second place at section meet
News | Published on February 10, 2021 at 5:01pm GMT+0000 | Author: Chad Koenen
0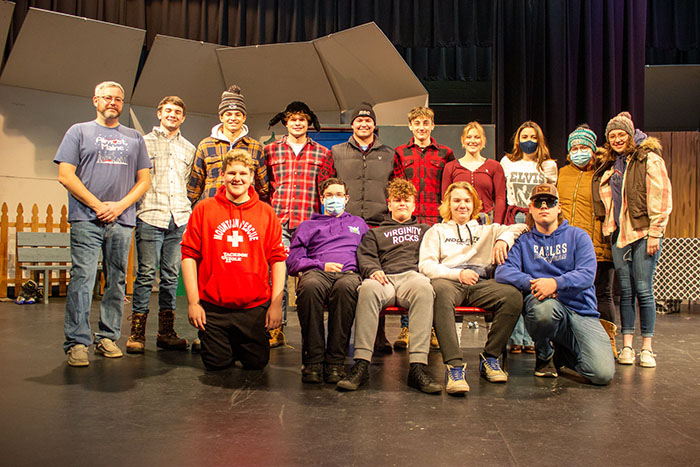 By Chad Koenen
Publisher
The New York Mills One Act play is at home in Maine—well "Almost Maine" to be exact. The cast and crew of the NY Mills One Act play recently competed in its first section meet in a number of years and placed second.
After just missing out on advancing to the section meet last year, by placing third in the sub section, Director Leif Ronning said the group was excited to have the opportunity to advance to the section meet. The NY Mills group placed first in the sub section meet by having a melded three judge score of 1, 1 and 3. Parkers Prairie finished in second place and Wadena-Deer Creek took third.
"Over the moon, just unbelievable, everyone was very excited about it," said Ronning.
This year's One Act Play is entitled "Almost Maine" and is based on a larger play of eight vignettes about love, the loss of love and discovery. The NY Mills group received special permission to cut the larger play down to a series of three vignettes to stay under the 35 minute limit for the One Act Play. The three vignettes included a heartfelt, funny and sad scene about love.
"It is just truly, truly an exceptional play," said Ronning.
When the group began practice just a few weeks ago, Ronning told the cast members that if they performed the One Act Play up to their ability, he had a good feeling the team would place first at the sub section meet. That is despite having just three weeks to practice before the sub section meet.
"We were aware we would do a One Act play, but we weren't able to start practicing until we were out of the distance learning model and back in the school. So we had literally had three weeks to prepare our play and have it ready," said Ronning.
The One Act play wasdone virtually this year, due to COVID-19. Each school district records their play and submits it digitally to judges. While he was glad to let the students be able to be a part of the One Act Play, Ronning said one of the more disappointing parts of doing the plays virtually was each school could not watch the other groups they are competing against. In years past, Ronning said he enjoyed being able to watch the other teams and see how the NY Mills squad looks like compared to the competition.
"That is one thing that is disappointing. I don't know what the competition looks like. We don't get to see the other five plays," he said. "One of the fun things is being able to watch those plays."
This year's One Act play cast and crew included: Teo Lecoustre, Joshua Anderson, Dustin Ohm, Owen Ronning, Nathan Fischer, John Ronning, Trey Gilster, Daunte Leiran, Zackery Parttow, Elliot Kangas, Ariel Arno, Jane Gudmundson, Jessa Lenz, Shanetta Reitmeyer and Leif Ronning (Director).