Eagles edge United Clay Becker for eighth win of the season
Sports | Published on February 18, 2021 at 10:59am GMT+0000 | Author: Chad Koenen
0
By Chad Koenen
Publisher
If you blinked, chances are you may have missed New York Mills' match against United Clay Becker on Thursday night. Just two matches went the full six minutes, while nine of the 14 weights were decided by a forfeit or first period pin.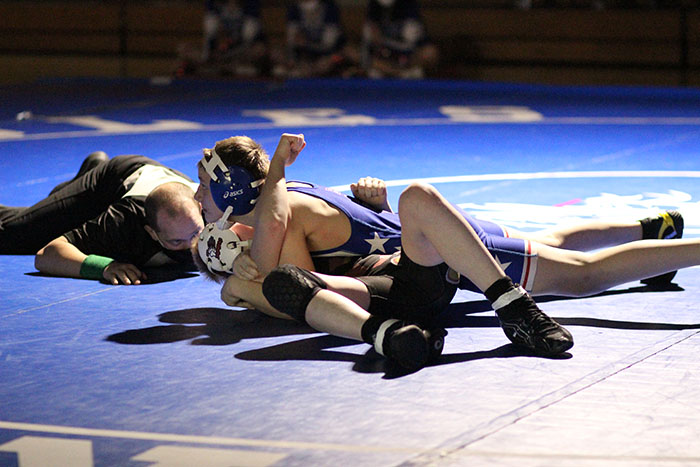 Fortunately for the Eagles, they were able to come out on top by a commanding 54-24 margin.
Austin Geiser got the Eagles on the scoreboard quickly at 106 lbs. as he secured a pin over Tristan Strom of UCB by pin at the 19 second mark of their match. Following a UCB first period pin at 113 lbs., Nick Peters secured a pin in one of the rare matches that went past the first period, as he pinned Ryan Francis at the 2:30 mark of his 120 lbs. match.
Christopher Yoder followed with an 8-3 decision at 126 lbs., before UCB won by forfeit at 132 lbs.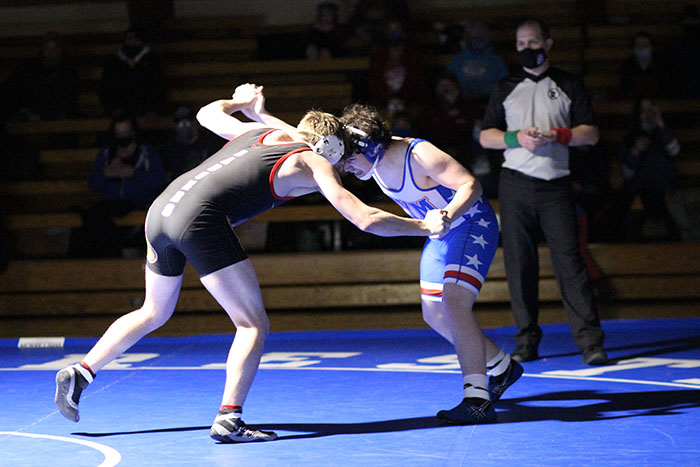 Dane Niemi and Jacob Guck followed with back-to-back pins in under one minute apiece as Niemi needed 54 seconds and Guck 29 seconds to keep the Eagles in front.
Hunter Rust secured a close 5-2 decision over Zeke Noel at 152 lbs. in the final match that went past the 3 minute mark of a match.
Following a UCB pin at 160 lbs., the Eagles put the match out of reach for good when Bren Salo, Jon Rinerson and Cody Bartel all secured first period pins, and Bode Roberts won by forfeit at 220 lbs.
UCB closed out the match with a pin at heavyweight, but not before the Eagles came away with a 54-24 win.
The win improves NY Mills to 8-5 on the season as they will travel to Ortonville on Tuesday for a triangular against the Trojans and top ranked Long Prairie-Grey Eagle-Browerville. On Thursday, NY Mills will travel to Parkers Prairie for a triangular against Breckenridge and Bertha-Hewiit-Verndale-Parkers Prairie.
106- Austin Geiser (NYM) defeated Tristan Strom (UCB) Fall :19
113- Taylor Johnson (UCB) defeated Joe Mann (NYM) Fall :41
120- Nick Peters (NYM) defeated Ryan Francis (UCB) Fall 2:30
126- Christopher Yoder (NYM) defeated Jackson Mikkelson (UCB) Decision 8-3
132- Sam Helgeson (UCB) won by Forfeit
138- Dane Niemi (NYM) defeated Kamron Smith (UCB) Fall :54
145- Jacob Guck (NYM) defeated Grady Hines (UCB) Fall :29
152- Hunter Rust (NYM) defeated Zeke Noel (UCB) Decision 5-1
160- Ethan Anderson (UCB) defeated Mason Unger (NYM) Fall 2:46
170- Bren Salo (NYM) defeated Carston Hamre (UCB) Fall 1:47
182- Jon Rinerson (NYM) defeated Hoyt Anderson (UCB) Fall 1:00
195- Cody Barthel (NYM) defeated Blake Bister (UCB) Fall 1:53
220- Bode Roberts (NYM) won by Forfeit
HVW- Wyatt Dunham (UCB) defeated Braeden Peterson (NYM) Fall 2:51