Eagles split a pair of triangulars
Sports | Published on February 24, 2021 at 5:15pm GMT+0000 | Author: Chad Koenen
0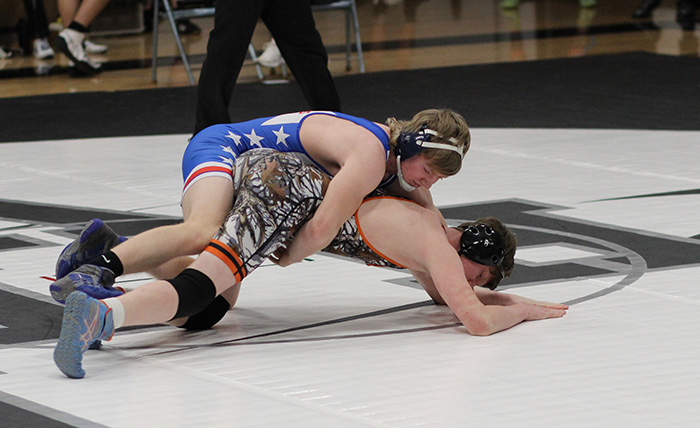 By Chad Koenen
Publisher
New York Mills didn't shy away from a pair of the top five ranked teams in the state last week as the Eagles split a pair of triangulars in both Ortonville and Bertha-Hewitt-Verndale-Parkers Prairie. With the two wins against Ortonville and Breckenridge, as well as two losses against top ranked Long Prairie-Grey Eagle-Browerville and fifth ranked BHVPP the Eagles enter the home stretch of their season with a 9-7 record in duals. 
This week the Eagles will travel to Park Rapids on Tuesday night for a triangular against the Panthers and Fertile-Beltrami and will host Otter Tail Central and Staples-Motley in a triangular on Thursday.
Tuesday
NY Mills split a triangular against top ranked LPGEB and Ortonville on Tuesday night.
In its match against the Wolves, NY Mills came out on the short end of a 58-9 match against the top ranked team in the state.
Dane Niemi put the Eagles on the scoreboard as the junior, who is currently ranked fifth in the state, defeated 10th ranked Cael Lorentz by a 4-0 decision.
In another match against ranked wrestlers, top ranked Mason Gode defeated ninth ranked Bren Salo by a 12-3 major decision. Both wrestlers are ranked at 160 lbs.
The other NY Mills win came at heavyweight as Braeden Peterson secured a fall over Trey Lancaster at the 1:58 mark of their match to make the score 58-9.
The Eagles found quite a bit of success in its match against Ortonville as they won the final nine matches of the dual.
After the Trojans took a 10-7 lead following a pin at 132 lbs., Niemi put the Eagles in front for good with a pin at the 1:51 mark of his 138 lbs. match against Austin Eastman. Jacob Guck followed with a first period pin of his own, before Hunter Rust secured a win by forfeit at 152 lbs.
Blake Unger made quick work of Gavin Klefsaas at 160 lbs. as he secured a pin in just 27 seconds, before Salo won by forfeit.
Jon Rinerson secured a second period win by fall over Thomas Eustice at the 3:41 mark of his 182 lbs. match and Cody Barthel followed with a win by forfeit. Bode Roberts secured a pin in just 46 seconds at 220 lbs. and Braeden Peterson rounded out the NY Mills victory with a 5-2 decision over Nathan Ehrenberg at heavyweight.
LPGE-Browerville Wolves 58 New York Mills 9
106: Logan Thom (LBW) over Austin Geiser (NYM) (Dec 14-10)
113: Gavin Albers (LBW) over Joe Mann (NYM) (Fall 1:23)
120: Mason Bruder (LBW) over Nick Peters (NYM) (Dec 6-2)
126: Braden Thom (LBW) over Chris Yoder (NYM) (Fall 3:25)
132: Omar Zamora (LBW) over (NYM) (For.)
138: Dane Niemi (NYM) over Cael Lorentz (LBW) (Dec 4-0)
145: Carter Meiners (LBW) over Jacob Guck (NYM) (Fall 1:11)
152: Landon Gode (LBW) over Hunter Rust (NYM) (Fall 1:33)
160: Tate Twardowski (LBW) over (NYM) (For.)
170: Mason Gode (LBW) over Bren Salo (NYM) (MD 12-3)
182: Shawn Houdek (LBW) over Jon Rinerson (NYM) (SV-1 7-5)
195: Bergen Pesta (LBW) over Cody Barthel (NYM) (Fall 2:45)
220: Joseph Middendorf (LBW) over Grady Roberts (NYM) (Dec 2-0)
285: Braeden Peterson (NYM) over Trey Lancaster (LBW) (Fall 1:58)
NYM vs. Ortonville  58-10
106- Cody Kjerel (ORTV) defeated Austin Geiser (NYM) Decision 9-2
113- Joe Mann (NYM) defeated Brooklyn Conrad (ORTV) Decision 7-2
120- Nick Peters (NYM) defeated Trent Eastman (ORTV) Decision 14-5
126- Deaven Boots (ORTV) defeated Christopher Yoder (NYM) Decision 10-1
132- Anthony Eustice (ORTV) defeated Jay Mindermann (NYM) Decision 4-1
138- Dane Niemi (NYM) defeated Austin Eastman (ORTV) Fall 1:51
145- Jacob Guck (NYM) defeated Nathan Gustafson (ORTV) Fall 1:08
154- Hunter Rust (NYM won by Forfeit
160- Blake Unger (NYM) defeated Gavin Klefsaas (ORTV) Fall :27
170- Bren Salo (NYM) won by Forfeit
182- Jon Rinerson (NYM) defeated Thomas Eusctice (ORTV) Fall 3:41
195- Cody Barthel (NYM) won by Forfeit
220- Bode Roberts (NYM) defeated James Conrad (ORTV) Fall :46
HVW- Braeden Peterson (NYM) defeated Nathen Fhrenberg (ORTV) Decision 5-2
Thursday
If you blinked you likely missed Thursday's match against Breckenridge. Just five matches were actually wrestled and were sprinkled in with nine forfeits. Fortunately, the Eagles won one of the five matches wrestled and won eight other matches by forfeit to come away with a 54-21 win.
The lone NY Mills win in a match that was wrestled came at 195 lbs. when Cody Barthel secured a pin over Wyatt Differding at the 52 second mark of their match.
In its other match of the night, the Eagles fell to fifth ranked BHVPP by a score of 58-18.
Dane Niemi picked up the first win for NY Mills when the junior pinned Blake Sumstad at the 1:29 mark of their 138 lbs. match. Jacob Guck followed with a pin of his own at the 43 second mark of their 145 lbs. match.
Following a pair of Raider wins at 152 lbs and 160 lbs., Bren Salo secured the final win for NY Mills when the junior won by fall over Mason Schroeder at the 1:15 mark of his 170 lbs. match.
New York Mills 54 Breckenridge 21
106: Matt Noll (BREC) over Austin Geiser (NYM) (Dec 6-0)
113: Elijah Geiser (NYM) over (BREC) (For.)
120: Alex Martel (BREC) over (NYM) (For.)
126: Chris Yoder (NYM) over (BREC) (For.)
132: David Erlandson (BREC) over Jay Mindermann (NYM) (Dec 3-2)
138: Dane Niemi (NYM) over (BREC) (For.)
145: Jacob Guck (NYM) over (BREC) (For.)
152: Hunter Rust (NYM) over (BREC) (For.)
160: Grant Davis (BREC) over Mason Unger (NYM) (Dec 8-1)
170: Bren Salo (NYM) over (BREC) (For.)
182: Jon Rinerson (NYM) over (BREC) (For.)
195: Cody Barthel (NYM) over Wyatt Differding (BREC) (Fall 0:52)
220: Daniel Erlandson (BREC) over Bode Roberts (NYM) (Fall 3:07)
285: Braeden Peterson (NYM) over (BREC) (For.)
Bertha-Hewitt- Verndale -Parkers Prairie 58 New York Mills 18
106: Bennet Arceneau (BHVP) over Austin Geiser (NYM) (Fall 2:59)
113: David Revering (BHVP) over (NYM) (For.)
120: Deagen Captain (BHVP) over (NYM) (For.)
126: Aiden Larson (BHVP) over Chris Yoder (NYM) (Dec 2-0)
132: Reese Thompson (BHVP) over (NYM) (For.)
138: Dane Niemi (NYM) over Blake Sumstad (BHVP) (Fall 1:29)
145: Jacob Guck (NYM) over Justin Koehn (BHVP) (Fall 0:43)
152: Jason Koehn (BHVP) over Hunter Rust (NYM) (Dec 5-2)
160: Brock Peterson (BHVP) over (NYM) (For.)
170: Bren Salo (NYM) over Mason Schroeder (BHVP) (Fall 1:15)
182: Tyler Eggert (BHVP) over Jon Rinerson (NYM) (MD 12-4)
195: Gideon Ervasti (BHVP) over Cody Barthel (NYM) (Fall 1:10)
220: James Grant (BHVP) over Bode Roberts (NYM) (Fall 1:00)
285: Hayden Captain (BHVP) over Braeden Peterson (NYM) (Fall 1:11)