Leiran to play football at Jamestown University
News | Published on February 24, 2021 at 5:19pm GMT+0000 | Author: Chad Koenen
0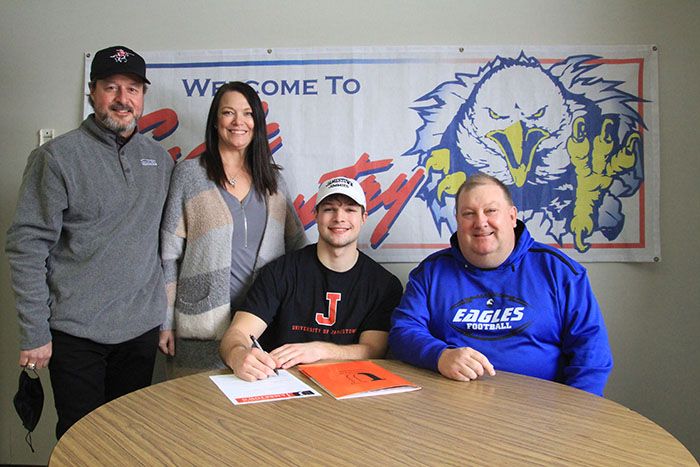 By Chad Koenen
Publisher
New York Mills standout Daunte Leiran will be heading out west in the fall. The NY Mills senior recently signed a Letter of Intent to play football for the University of Jamestown.
While he had a number of opportunities to play football in the fall, Leiran said the University of Jamestown just felt right.
"They had a really nice feel to it. When I went to the campus the coaching staff was all really nice when I went there."

Daunte Leiran
Leriran will join a large recruiting class for the University of Jamestown Jimmies that includes several recruits from as far away as Arizona, California, Texas and Florida, as well as closer to home in Minnesota and North Dakota.
The son of Keith and Tanya Leiran, the NY Mills senior was a standout on the football field for the Eagles over the past few seasons as both runningback and linebacker. He was recruited by colleges as both an edge rusher and runningback, but will start his career at the Universtiy of Jamestown as a runningback.
Leiran said playing college football has been a goal of his since starting junior high football back in seventh grade.
"It's been a goal of mine since I was in like seventh grade," he said.
The University of Jamestown competes in the NAIA and are members of the Great Plains Athletic Conferece.