NYM defeats Thunderbirds for seventh win of the season
Sports | Published on February 24, 2021 at 5:13pm GMT+0000 | Author: Chad Koenen
0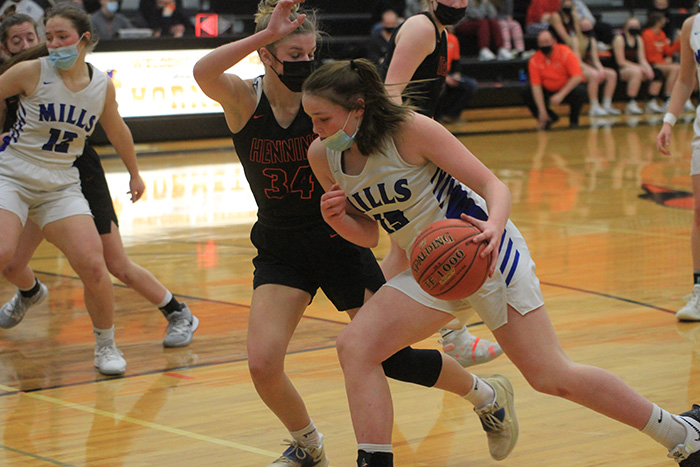 By Chad Koenen
Publisher
New York Mills improved to 7-4 overall, and 5-3 in the Park Region Conference, after splitting a pair of games last week. The Eagles opened the week with a tough 76-50 loss to Henning, before coming out with a 69-49 win over Mahnomen-Waubun in non-conference action.
This week the Eagles will host Verndale on Monday night, before traveling to Battle Lake in non-conference action on Friday. Next week the Eagles will host Menahga on Tuesday, before traveling to Sebeka in a pair of conference games. 
Currently the Eagles are in fourth place in the conference, trailing just Henning at 9-0, Menahga at 6-1, Pillager at 6-3 and are just ahead of Wadena-Deer Creek at 4-6 in the conference.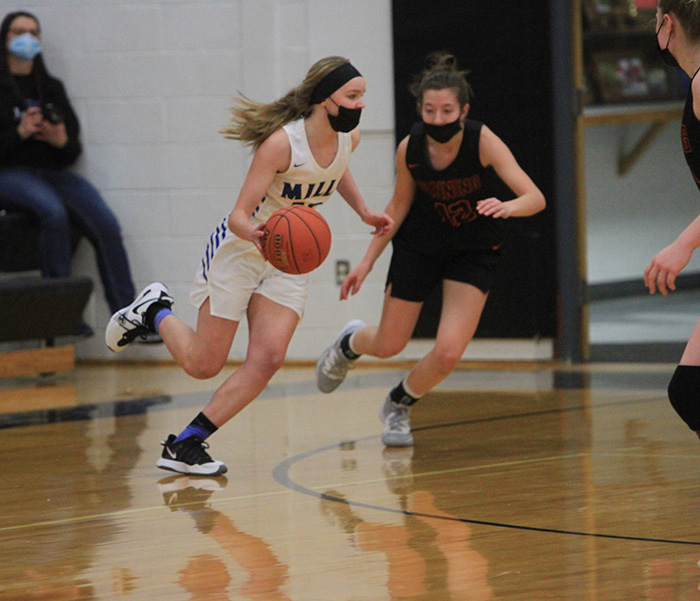 NY Mills is also in third place in the sub section, according to the QRF and trail just Henning and Lake Park-Audubon. They are also ahead of Underwood in fourth place and Mahnomen-Waubun in fifth place.
Tuesday
NY Mills fell to second ranked Henning on the road by a score of 76-50 on Tuesday night. The Hornets jumped out to an early lead and led by a 42-20 lead at the break after Hornet seniors Ellie Dague and Megan Weber combined to score 32 of the teams 42 total points in the first half.
The Eagles were able to find some more success from the field in the second half as Kali Olson scored 10 of her team high 12 points in the final 18 minutes of action. The Eagles eventually fell to the Hornets for the second time this season, but not before nine NY Mills players reached the scoring column.
In addition to Olson, Cydnie Polman scored 9 points, Ayla Olson scored 8, Bella Bauck scored 6, Moriah Geiser scored 5, Megan Riedel scored 4, Kailey Keskitalo scored 3, Mackenzie Gilster scored 3 and Anna Meech rounded out the scoring with 1 point.
Friday
After Bertha-Hewitt was forced to cancel their Park Region Conference game against the Eagles due to COVID-19 concerns, NY Mills hosted Mahnomen-Waubun on short notice on Friday night in non-conference action. The Eagles had one of their best offensive games of the season against the Thunderbirds as NY Mills came away with a 69-49 win.
Bella Bauck had a huge first half for the Eagles as she hit four 3-pointers on her way to 16 point first half. She led the way with 22 points, while four Eagles were able to reach double figures in the win.
NY Mills took a commanding 35-21 lead at halftime and never looked back as they outscored the Thunderbirds by a 34-28 margin in the second half as well.
Kali Olson, Megan Riedel and Moriah Geiser all reached double figures in the win with 12, 11 and 10 points respectively. Mckenzie Gilster hit a pair of 3-pointers to finish with 6 points, while Cydnie Polman scored 4 points, Ayla Olson scored 2 points and Anna Meech and Aidyn Baune rounded out the scoring with 1 point.