Eagles improve to 11-2 overall, 8-1 in PRC with a pair of wins
Sports | Published on March 3, 2021 at 6:58pm GMT+0000 | Author: Chad Koenen
0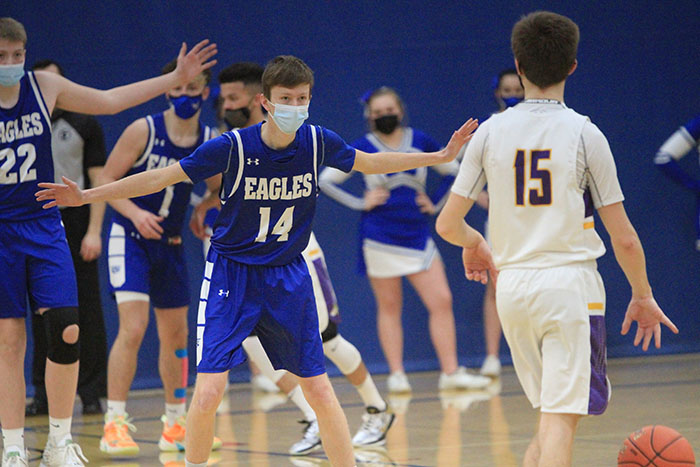 Eagles to hit the road for a pair of games this week
By Chad Koenen
Publisher
New York Mills pushed its winning streak to seven games and improved to 8-1 in the Park Region Conference with a pair of wins last week. The Eagles are currently in first place by two games in the conference, leading Pillager at 6-3 and Wadena-Deer Creek at 6-4 in PRC action.
Last week the Eagles defeated Verndale by a score of 69-59 and Sebeka by a score of 75-33, both at home.
This week the Eagles will hit the road for a game against WDC on Tuesday, the lone team to beat the Eagles in conference action so far this season, before traveling to Menahga on Friday.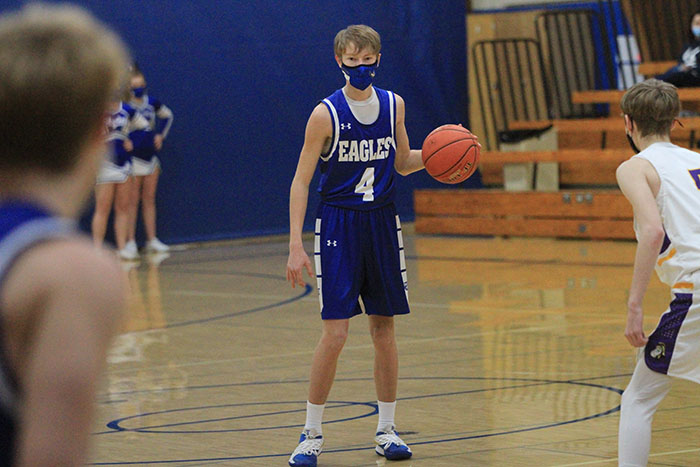 NY Mills is currently 11-2 on the season and ranked fifth in the QRF. They are in second place in the QRF in the subsection and trail just top ranked Mahnomen/Waubun in the standings.
Tuesday
Tate Olson scored 40 points and pulled down 16 rebounds as the NY Mills Eagles secured a 69-59 win against Verndale on Tuesday night. The junior helped the Eagles jump out to a 32-27 lead at halftime, before they were able to hold off a late Pirate comeback in the second half.
"Verndale handled our pressure and shot the ball extremely well. We just made more plays at the end," said Boe. "They will be a tough opponent next year."
In addition to his 40 points, Olson finished with 3 assists. Joining him in double figures was Jonah Johnson with 15 points, 3 rebounds and 2 steals.
Jace Rudolph chipped in with 5 points, 1 assist; while Noah Noffsinger scored 4 points, 7 assists, 6 rebounds; Cale Rudolph scored 3 points and Breck Hensch rounded out the scoring with 2 points, 2 rebounds and 2 steals.
Friday
NY Mills had a reason to celebrate on Friday night as junior Tate Olson hit his 1,000th career point late in the first half as the Eagles defeated Sebeka by a score of 41-17. Olson made his 1,000th point on a layup near the rim and finished with 23 points, 12 rebounds and 3 steals. Coming into the game he needed just 13 points to eclipse the milestone.
The Eagles were able to jump out to a commanding lead in the first half behind a strong defensive performance by holding the Trojans to just 17 points. The Eagles led 41-17 at the halftime break, and were able to get some players additional playing time on Parents Night.
"We were able to give everyone some minutes, while honoring our parents on Parents Night and Tate Olson reaching the 1,000 point milestone.  It was a good night for our program.

Head coach Jason Boe
In addition to Olson, Derin Gaudette and Noah Noffsinger reached double figures in the win. Gaudette finished with 17 points, 4 rebounds, 2 assists; while Noffsinger finished with a double-double of 11 points, 11 rebounds and 3 assists.
Jonah Johnson finished with 8 points, 3 rebounds, 2 assists; Cale Rudolph scored 4 points, 4 rebounds, 1 assist; Isaiah Laudenbach scored 3 points, 2 rebounds, 1 steal; Trey Gilster scored 3 points, 3 rebounds, 1 assist; Breck Hensch scored 2 points, 2 rebounds, 5 assists; Jace Rudolph scored 2 points, 1 assist, 1 steal and Chase Keskitalo rounded out the scoring with 2 points, 1 rebound and 1 steal.