Food needs continue in NYM
News | Published on March 3, 2021 at 7:14pm GMT+0000 | Author: Chad Koenen
0
By Chad Koenen
Publisher
The need at the New York Mills Area Food Shelf is just as great as ever.
Last year alone, the food shelf served 263 families as the facility distributed over 26,907 pounds of food. That's a lot of food and families who were served in a town of 1,200 people. Those numbers are down a bit from the past, but the need continues to be persistent.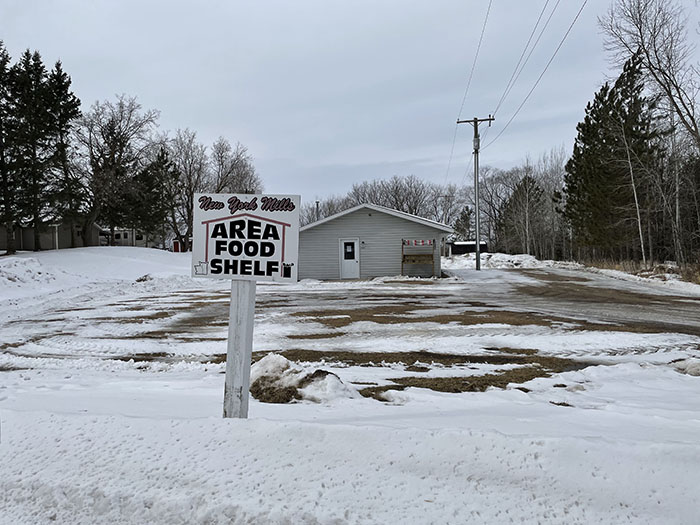 As the uncertainties of the COVID-19 pandemic continues across the country, Connie Warner of the NY Mills Area Food Shelf, said the need to continue to keep the shelves full is just as important as ever.
In order to make donations stretch a bit farther, the NY Mills Area Food Shelf will be participating in the 40th annual Minnesota Food Share March campaign. The 40th annual campaign will go from March 1 through April 11.
"We do get some additional funding based on how much money and food is donated," said Warner.
After years of declining food insecurity rates, the Minnesota Food Share group estimates food insecurity could rise by 13 percent, due in large part to the COVID-19 pandemic. It is estimated that 1 in 11 households in Minnesota are considered to have food insecurity. To put it simply, food insecurity is when access to adequate food is inconsistent and limited by a lack of money and other resources throughout the year. Food insecure households typically report their diets to be of reduced quality, variety, or desirability, or have a disrupted eating patterns and reduced food intake.
Due, in part to the pandemic and rising food insecurity, a record 3.8 million visits were made to food shelves in 2020 alone. In addition, 9 percent of Minnesotans had incomes below the poverty line ($25,926 for a family of four) in 2020. That includes 11 percent of Minnesota's children.
Locally, Warner said some of the items that are most needed at the local food shelf are paper items, canned meat, fish, beans and nuts. Monetary donations to the food shelf are also helpful as well.
"Cash donations are important because we can get a lot of stuff cheaper at North Country Food Bank," said Warner. "Our service area is basically in the NY Mills School District."
To make a donation to the NY Mills Food Shelf, make checks payable to NY Mills Area Food Shelf, PO Box 323, New York Mills, MN 56567.