NYM junior Tate Olson scores 1,000th career point
Sports | Published on March 3, 2021 at 7:06pm GMT+0000 | Author: chadkoenen
0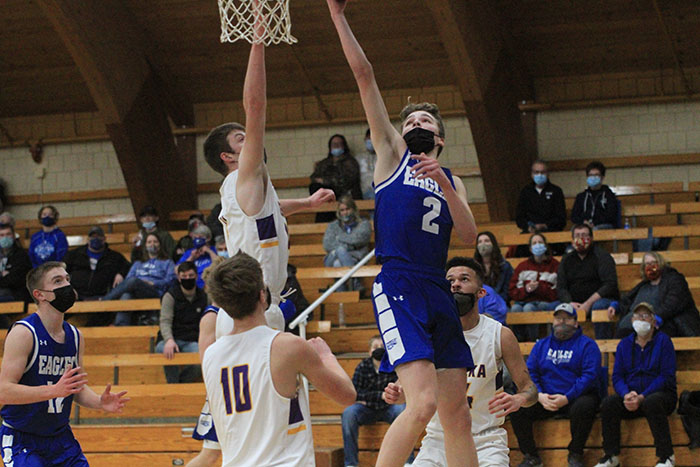 By Chad Koenen
Publisher
New York Mills junior Tate Olson knew he was getting close to scoring his 1,000th career point—just how close he was during the game was a bit of a mystery to him. 
On Friday night Olson, who is the son of Brian and Tammy Olson, needed just 13 points to score his 1,000th career point for the NY Mills Eagles. Shortly before halftime the junior made a layup in the paint as the buzzer went off and the crowd leapt to its feet.
"My coach brought it up that we about it, but during the game I didn't know," said Olson, who needed 53 points at the start of the week to score his 1,000th point.
Of course when a person scores 40 points in the first of two games in the week, 13 seems like a fairly attainable target to hit.
Head coach Jason Boe said Olson is a gifted basketball player who can score from anywhere on the court.
"Tate is a very gifted basketball player who has put in his work. He can score anywhere on the court and his court vision is second to none. He probably could have reached the 1,000 point milestone sooner, but he often gives up good shots to set up his teammates for better shots. We're extremely proud of him."
While Olson said scoring 1,000 points is a nice milestone to hit, he has his sights set on a bigger target this season. The Eagles are currently 11-2 overall and ranked fifth in all of Class A in the QRF rankings.
"It's a good accomplishment individually, but I am here for a bigger reason. To go a far as possible (in the postseason)," he said.