Lady of the Hills still an inspiration
Uncategorized | Published on March 10, 2021 at 2:30pm GMT+0000 | Author: Chad Koenen
0
By Tom Hintgen
Otter Tail County Correspondent
The past several months have been mentally challenging for many residents of Otter Tail County in light of COVID-19 and the ongoing recovery. Some people familiar with the Lady of the Hills, and seeking inspiration, are making plans to drive over this spring or summer to the statue south of Inspiration Peak.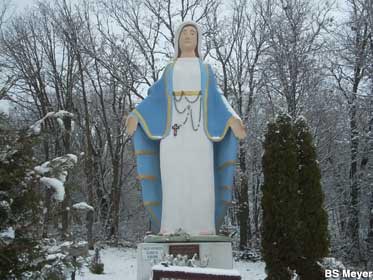 Many people who have previously visited this 22-foot-tall statue of the mother of Jesus say they come away with a sense of encouragement. Specifically, they say that while driving home, after reflecting at the statue, they have feelings of support, more confidence and hope.
The statue was dedicated south of Battle Lake and west of Parkers Prairie on May 13, 1992, on the 75th anniversary of Our Lady of Fatima. The statue was donated by William (Bill) and Viola Danelke.
Bill Danelke is the reason why the statue stands south of Inspiration Peak.
Danelke was in a farming accident in 1953. When a doctor cut out some of the infected area it tested cancerous.
Bill was a Catholic who prayed with the rosary every day. He sought inspiration from the Blessed Mother Mary during his cancer treatment, promising to one day build a statue in her honor. He did this close to four decades later.
The statue, in Leaf Mountainn Township, overlooks the Danelke family farm. A daughter, Donna, said the Lady of the Hills inspired by her father "was a source of spiritual strength and joy for our entire family."
Hundreds of people who have visited the statue the past three decades feel the same way.
Danelke commissioned Lyle Alvstad of Ashby and Allen Bakke of Elbow Lake to build the statue of the Blessed Virgin Mary. Danelke died in 1996.
From Inspiration Peak, one can get to the statue by driving south about one mile on Highway 38. When the highway turns eastward, take a right turn onto Lady of the Hills Road. You will head south on a gravel road for about 10 minutes. The statue will be on your left.