NYM wins a pair, seeded third in sub section tournament
Sports | Published on March 17, 2021 at 5:18am GMT+0000 | Author: Chad Koenen
0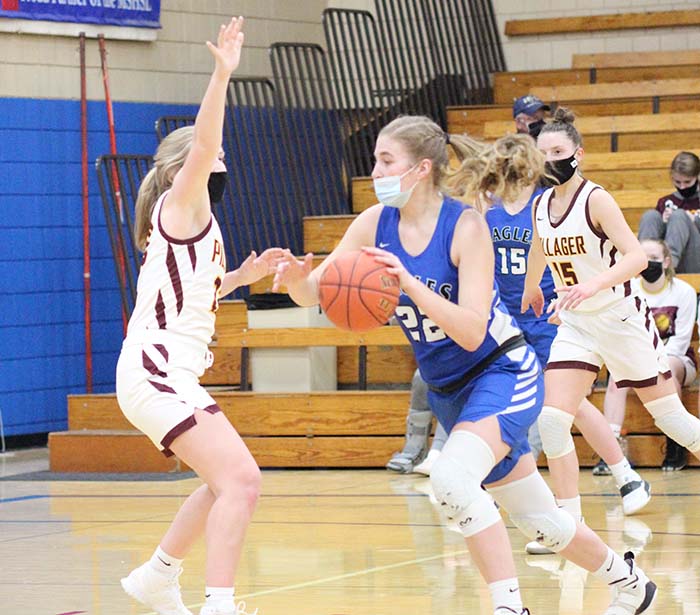 By Chad Koenen
Publisher
The New York Mills Eagles picked up a pair of wins to enter the postseason with an impressive seven game winning streak and 13-4 record overall. The Eagles received the third seed in the sub section and will host sixth seeded Norman County East/Ulen-Hitterdal (6-9 overall) on Wednesday night at 7 p.m.
The winner of Wednesday's game will take on either second seeded Underwood (15-3 overall) or the winner of seventh seeded Ada-Borup (5-11 overall) and 10th seeded Rothsay (2-15 overall). The Rockets defeated the Eagles in their only match up on Jan. 16 by a score of 47-38.
On the other side of the bracket, second ranked Henning (17-1 overall) received the top seed and will host either eighth seeded Park Christian (7-11 overall) or ninth seeded Hillcrest Lutheran Academy (5-13 overall) and fourth seeded Lake Park-Audubon (13-2 overall) will take on fifth seeded Mahnomen/Waubun (12-6 overall).
The Eagles enter the postseason as the 14th ranked team in the QRF and are averaging 58.4 points per game on offense, while giving up just 41.5 points per game on defense.
Monday
Seven Eagles reached the scoring column in the second half as NY Mills blew past Pillager 60-53 last Monday night. The Eagles trailed 32-31 at halftime, but outscored the Huskies by a 29-21 margin in the final 18 minutes of action.
Bella Bauck led the charge offensively as she hit three 3-pointers to finish with 15 points, while Megan Reidel and Kali Olson each scored 12 points to reach double-figures.
Ayla Olson scored 8 points in the second half, while Cydnie Polman scored 7, Moriah Geiser scored 4 and Anna Meech rounded out the scoring with 2 points.
Thursday
NY Mills' defense was on display on Thursday night as the Eagles held Wadena-Deer Creek to just 31 points and held a 29-16 lead at halftime to come away with its 13th win of the season.
The Eagles ended up winning by a score of 54-31, and in the process, finished as runner up in the Park Region Conference with a 9-3 record. The Eagles trailed just Henning, who ended up 12-0 in the conference and ahead of Menahga who went just 6-2 in PRC action in third place.
Megan Reidel and Kali Olson led the charge for the Eagles in the first half as both players scored 8 points. Olson finished the game with 12 points and Reidel scored 11 in the win.
Bella Bauck hit three 3-pointers to lead the charge with 14 points, while Moriah Geiser scored 7, Ayla Olson scored 6, Anna Meech scored 2 and Aidyn Baune scored 2 of her own to round out the scoring for NY Mills.