Carving out their piece of paradise
News | Published on March 25, 2021 at 4:35am GMT+0000 | Author: Chad Koenen
0
NYM residents start building a house in Mexico
By Chad Koenen
Publisher
Some people see things and say "why." Bonnie Dykhoff looks at something and says "why not."
That's probably the easiest way to describe why she decided to build a little tropical paradise south of the border in Mexico.
"You ask me why? I say why not," said Dykhoff, who also owns Centennial Realty in New York Mills.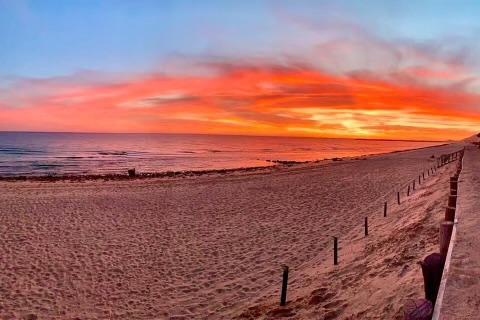 A traveler for most of her life, Dykhoff said she went on a trip to Mexico a few years ago and fell in love with the Mexican culture, heritage and just their way of life.
"I fell in love with it. I love Mexico and the whole culture there," said Dykhoff. "The people are wonderful. They are happy to see you, because you help make their community thrive."
Wanting to get a piece of her own tropical paradise, Dykhoff recently purchased a piece of land in a gated peninsula near the Gulf of California.
Also known as Rocky Point, Puerto Peñasco is a Mexican fishing and resort city on the Gulf of California. It's known for its sandy beaches, clear waters and is a popular destination for Americans in California and Arizona. The town has a population of nearly 63,000 people and features a rich Mexican culture, which is shared by the locals to tourists across the region.
It is also close to the United States border, just a 90-minute drive from Arizona.
"We decided to build there because of the ease of travel and affordability," said Dykhoff, who added that even taking a long weekend trip to Mexico is possible these days. "If I decided today to go down there, I can go down there and be back in four days."
Add to the fact that a person can fly round trip from Fargo, N.D. to Phoenix, Ariz. for approximately $100, and the economics of heading south of the border makes a trip all-the-more appealing as well.
"I've went down there probably five times and each time I love it more than when I went for the first time," she said.
While her dream was to have a piece of paradise, actually locating a house or a piece of property was a bit of a challenge. Though she and Ron Heinonen knew the general area where they wanted to have a house, or piece of land, prices for homes were much higher than they were able to afford. Since loans are not available to purchase a home, people must pay as they go or have all of the money upfront.
Rather than settling for something she didn't really want, and was still out of their price range, Dykhoff and Heinonen decided to put their expertise in building and flipping homes to work as they purchased a vacant lot.
"There wasn't a lot on the market and we found out it was cheaper to build than to buy," she said.
After closing on the property at the start of the COVID-19 pandemic, Dykhoff and Heinonen have made several trips to Mexico to meet with contractors and get the necessary permits ready to build their own paradise on the Gulf.
One of the biggest challenges they have faced in building a home in Mexico has been the language barriers. For example, Mexico uses the metric system, and well, speaks Spanish instead of English.
"The biggest hurdle has been the communication and translation," said Dykhoff.
Though she said some people think she is crazy for buying a piece of property in another country, let alone one with a preconceived notion like Mexico, Dykhoff laughed when she said "what's the worst that could happen?"
As her new paradise comes closer to a reality, Dykhoff said her goal is to provide people with a place to stay and an opportunity to experience the Mexican culture she has fallen in love with. Since Heinonen and Dykhoff still work full time, their hope is to allow family and friends to share in this unique experience, even though the Mexican way of life might not be for everyone.
Even in the resort communities there is a lot of poverty in Mexico and not all of the amenities some people in America may take for granted. However, just like was the case in the movie "A Field of Dreams," Dykhoff hopes if she builds a house, that her family and friends will take that leap and experience what Mexico has to offer in her new home.
"I want to be able to share it with people," she said. "But it isn't for everybody, it's not."
One thing Dykhoff said she enjoys every time she goes down to Mexico is the people themselves. She said many of the people have humble lifestyles, but they all work for everything they have. She said they are humble, kind and want to share their culture and ways of life with tourists and guests of their community. At the same time, she said some of the residents are poor and want to find a way out of their home and into a better life.
Still, Dykhoff said she still can't help but think of all of the people who would give anything to leave Mexico and come to America, while she is crossing the border for a vacation in their country.
"When I cross the border, I can't wait to go there and they can't wait to get out. That is the part that is hard to wrap my mind around a bit," she said.
Nonetheless, Dykhoff is planning to head back to Mexico in the near future as she continues to build on a sandy piece of paradise, just a short drive south of the border.