Eagles defeat Hornets to advance to sub section finals
Sports | Published on March 25, 2021 at 4:19am GMT+0000 | Author: Chad Koenen
0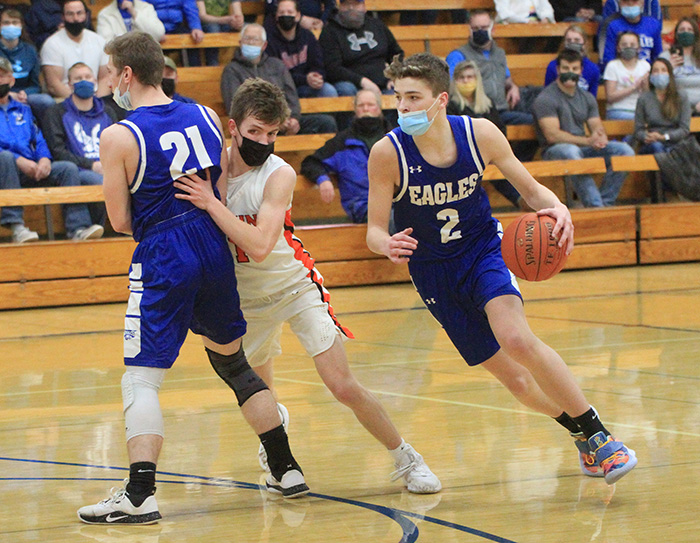 By Chad Koenen
Publisher
The second seeded New York Mills Eagles will try to do something no other team has been able to do this season—hand the undefeated and top ranked Mahnomen/Waubun Thunderbirds a loss. The Eagles and Thunderbirds, who are currently ranked first (M-W) and third (NY Mills) in the QRF in Class A, will meet in the sub section finals in M-W on Wednesday.
The Thunderbirds are a perfect 20-0 on the season and defeated NY Mills by a score of 73-59 back on Jan. 23. They have advanced to the sub section championship game after defeating Park Christian by a score of 84-32 in the opening round and Hillcrest by a score of 64-58 on Saturday.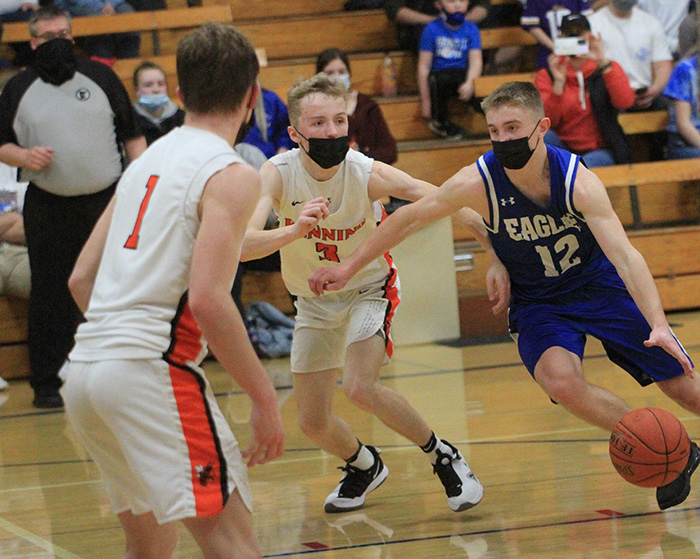 Both teams are among the highest scoring teams in Class A with M-W averaging 79.4 points per game on offense, while giving up 50.9 points per game on defense. The Eagles, who are 17-2 on the season, average 72.7 points per game on offense and give up just 51.8 points per game on defense.
The winner will take on the champion from the south half of the sub section on Friday night at a yet-to-be-determined location. The south sub section championship will be between second seeded Hancock and fourth seeded West Central Area. Previously unbeaten Ashby, who was ranked second in the state, was defeated by West Central Area by a score of 61-38 on Saturday.
Thursday
NY Mills used a strong second half charge to overcome a slow start and hand Norman County East/Ulen-Hitterdal a 61-48 loss during the opening round of the sub section tournament on Thursday.
The Eagles led just 27-23 at halftime, before outscoring the Titans by a 34-25 margin in the second half to come away with the win.
"We came out pretty tight and nervous in the first half. We calmed down in the second and battled for a victory. The boys never lost their focus," said head coach Jason Boe.
Tate Olson led the charge offensively as the junior posted a line of 23 points, 9 rebounds and 2 steals. Jonah Johnson and Noah Noffsinger also reached double-figures with 10 points apeice. Johnson also had 4 assists and 2 steals, while Noffsinger had 4 rebounds and 1 steal.
Jace Rudolph scored 9 points, 2 assists, 1 steal; Derin Gaudette scored 7 points, 3 rebounds, 2 steals and Isaiah Laudenbach rounded out the scoring with 2 points and 3 rebounds.
Saturday
In a game with an atmosphere that resembled a state tournament match up, as opposed to the semi-finals of the sub section tournament, NY Mills was able to defeat Henning by a score of 71-44 on Saturday night. The Eagles held a slim 29-26 lead at halftime in the back-and-forth game, before eventually wearing the Hornets down by an early run to start the second half.
"It was a battle in the first half. Henning came to play, but we were able to wear them down in the second and turn them over. The boys weren't going to be denied," said head coach Jason Boe.
Tate Olson recorded a double-double with 23 points, 12 rebounds and 6 assists; while Noah Noffsinger finished with 15 points, 3 rebounds and 2 steals in the win.
Also chipping in offensively was Derin Gaudette with 7 points, 5 rebounds, 3 assists; Breck Hensch with 7 points, 3 steals; Isaiah Laudenbach with 6 points, 6 rebounds, 1 steal; Jonah Johnson with 4 points, 3 rebounds, 2 ssists; Jace Rudolph with 4 points, 2 assists, 2 steals; Trey Gilster with 2 points, 1 rebound, 1 assist and Chase Keskitalo with 2 points.