Six Eagles advance to super section wrestling tournament
Sports | Published on March 25, 2021 at 4:05am GMT+0000 | Author: Chad Koenen
0

Niemi, Salo advance to state quarter finals meet
By Chad Koenen
Publisher
Dane Niemi and Bren Salo will represent New York Mills at the state wrestling tournament on Saturday. The tournament will be held at St. Michael-Albertville High School.
Niemi placed first at the 138 lbs. super sectional tournament at Long Prairie-Grey Eagle High School on Saturday, while Salo took second at 170 lbs.
After securing a decision and major decision in the opening two rounds of the tournament, Niemi took center mat with another top ranked wrestler in Tyler Jensen of BBE in the championship match. Niemi, who is ranked fifth, and Jensen, who is ranked eighth, didn't disappoint as the NY Mills junior secured a 1-0 decision to advance to the state quarterfinals.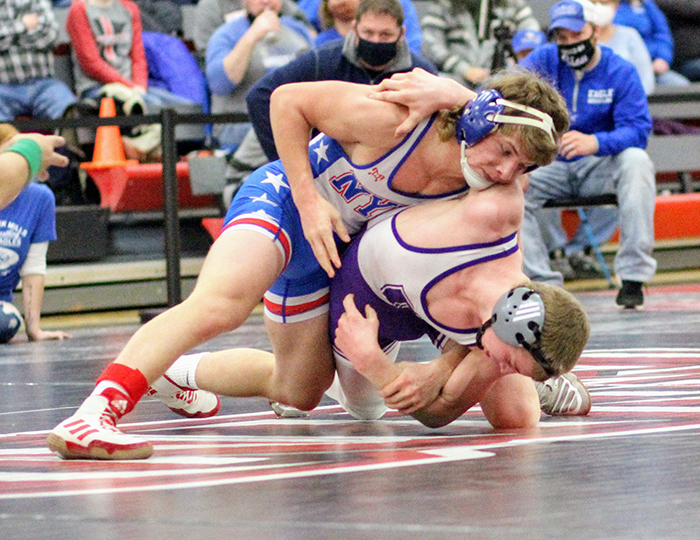 "Niemi brought good balance to the mat. Generated points when needed in the first two rounds and ground out a period of riding to make his escape good in the third," said head coach Eric Niemi.
Salo advanced to the super section finals with a 7-4 decision in the opening round of the tournament over Nathan Bolduc of Benson and a pin over Jacob Adelman of Border West. In the finals, Salo fell to Hunter Dean of Bertha-Hewitt-Verndale-Parkers Prairie by a fall in the third period.
The loss meant Salo needed to win a true second match against Ryan VanLuik of Minnewaska Area, who lost a major decision to Dean in the semi-finals. Salo was able secure a 7-4 decision over VanLuik in the true second match to advance to the state quarterfinals.
"A true second match after wrestling in the finals is a real test for any athlete and Salo handled his extra match well," said Niemi.
Also competing in the super sections was Chris Yoder, Jacob Guck, Blake Unger and Cody Barthel.
Yoder dropped both of his matches at 126 lbs. and Blake Unger ran into two of the top wrestlers in the area at 160 lbs. during his super section tournament. Cody Barthel also dropped both of his matches at 195 lbs. against a pair of tough wrestlers out of Section 5A.
"Chris Yoder, our senior captain finished his career on Saturday and I would like to congratulate him on his finest season. Chris really found himself this year as a wrestler and a leader in the room," said Niemi. "Blake Unger and Cody Barthel had to really put things together just to enter the preliminaries, this will be a great building block for both next season."
Guck won his opening match of the day with a pin at the 1:41 mark of his 145 lbs. match against Kale Drevlow of Osakis. After defeating the top seed in the Section 6A tournament last week in Logan Schleske of Otter Tail Central, Guck found himself up against top seeded and second ranked Blaine Fischer of BBE. Guck had a chance to pull off another big upset, but fell just short by a 9-4 decision.
"Guck upset the number one seed in 6A last week and started out tough again. He had Fischer on his back but just came up short," said Niemi.
Guck would later fall to Schleske in the elimination bracket to end his super section run.
In order to help get the wrestlers ready for the super section tournament, the six Eagles received some great support from their teammates.
"
"Last week we had great practice support from our wrestlers that did not qualify.  They have kept their season going for the sake of others and for 2022.

Eric Niemi
Fifth ranked Niemi (24-0 on the season) will open the state quarterfinals against third ranked Brady Holien of ACGC (25-5 on the season). The winner will take on either top ranked Kade Sammons of Windom/Mountain Lake (28-2 on the season) or sixth ranked Sawyer Simmons of Royalton-Upsala (25-5 on the season).
In his opening round match of the state quarterfinals, Salo (22-3 on the season) will take on fourth ranked and undefeated Seth Goetzinger of Chatfield (28-0 on the season). The winner of the match will take on either ninth ranked Caden Johnson of Tracy-Milroy-Balaton (36-1 on the season) or Ashton Hana of Kimball Area (27-1 on the season).
The two losers of the opening round of the tournament will drop into the consolation bracket.
Section 6A
106- Jackson Peasley (PERA) fall over Austin Geiser (NYM) 2:00, Asher O'Brien (BARN) over Geiser (NYM) NC
113- Sam Olson (WCA) fall over Elijah Geiser (NYM) 2:44, Jed Carlson (PERA) fall over Geiser (NYM) :30
120- Adam Lohse fall over Nick Peters (NYM) 2:46, Peters (NYM) fall over Cayden Dittberner (OTC) :41, Colbe Tappe (SM) tech fall Peters (NYM) 4:29
126- Chris Yoder (NYM) fall over Owen Winter 1:31, Ayden Hauck (BARN) maj dec Yoder (NYM) 10-0, Yoder (NYM) tech fall Ben Peterson (BW) 5:44
132- Jay Mindermann (NYM) dec. Schaffran (WCA) 4-2, Brien Poser (OTC) fall over Mindermann (NYM) 1:23, Tommy Thach (PERA) fall over Mindermann (NYM) :50
138- Dane Niemi fall over Dawson Gregg (BARN) 1:47
145- Jacob Guck (NYM) fall over Oakley Carlson (PERA) :26, Guck (NYM) fall over Logan Schleske (OTC) 1:03
152- Brock Peterson (BHVPP) fall over Hunter Rust (NYM) 1:30, Rust (NYM) dec. Brody Nachbor (BW) 9-3, Carter Johnson (PERA) dec. Rust (NYM) 3-2
160- Blake Unger (NYM) fall over Grant Davis (BRECK) 3:06, Anthony Sykora (WCA) fall over Unger (NYM) 1:37, Unger (NYM) fall over Kaden Holt (PERA) 1:44
170- Bren Salo (NYM) fall over Will Ehlert (OTC) :49
182- Jon Rinerson (NYM) fall over Alex Giza (SM) 2:47, Nathaniel Kisgen WCA) fall over Rinerson (NYM), Andrew Hennessy (BW) fall over Rinerson (NYM) 3:11
195- Cody Barthel (NYM) fall over Wyatt Differding (BRECK) 1:48, Gideon Ervasti (BHVPP) fall over Barthel (NYM) 1:13, Barthel (NYM) maj dec. Tyler Stone (WCA) 12-3
220- James Grant (BHVPP) fall over Bode Roberts (NYM) 2:31, Roberts (NYM) fall over Noah Adelman (BW) :43, Colton Lindquist (WCA) fall over Roberts (NYM) 3:12
285- Cole Winkels (SM) dec. Braden Peterson (NYM) 3-1, Peterson (NYM) fall over John Fielding (OTC) 3:27, Justin Blascyk (WCA) fall over Peterson (NYM) 5:18
Super Section 5A, 6A tournament
126- Walker Bents (BBE) fall over Chris Yoder (NYM) 5:05, Aiden Larson BHVPP fall over Yoder (NYM) 3:32
138- 1st place- Dane Niemi (NYM) dec. Abel Chaparro (QUCO) 7-0, Niemi (NYM) maj dec. Sebastian Centeno (PERA) 8-0, Niemi (NYM) dec. Tyler Jensen (BBE) 1-0
145- Jacob Guck (NYM) fall over Kale Drevlow (OSAKIS) 1:41, Blaine Fischer (BBE) dec. Guck (NYM) 9-4, Logan Schleske (OTC) dec. Guck (NYM) 5-0
160- Mason Gode (LBW) tech fall Blake Unger (NYM) 2:26, Dalton Friedrichs (MIAR) fall over Unger (NYM) 5:25
170- 2nd place- Bren Salo (NYM) dec. Nathan Bolduc (BENSON) 7-4, Salo (NYM) fall over Jacob Adelman (BWB) 3:55, Hunter Dean (BHVPP) fall over Salo (NYM) 5:05, Salo (NYM) dec. Ryan VanLuik (MIAR) 7-4
195- Thomas Dineen (BENS) fall over Cody Barthel (NYM) 1:52, Carson Gilbert (BBE) fall over Barthel (NYM) 2:59