Eagles fall to Thunderbirds, take second place in sub section
Sports | Published on March 31, 2021 at 9:50pm GMT+0000 | Author: Chad Koenen
0
NYM ends season with a record of  17-3 overall
By Chad Koenen
Publisher
Down by as many as 14 points in the first half, New York Mills came just minutes away from pulling off a big upset against the top ranked team in the state on Wednesday night.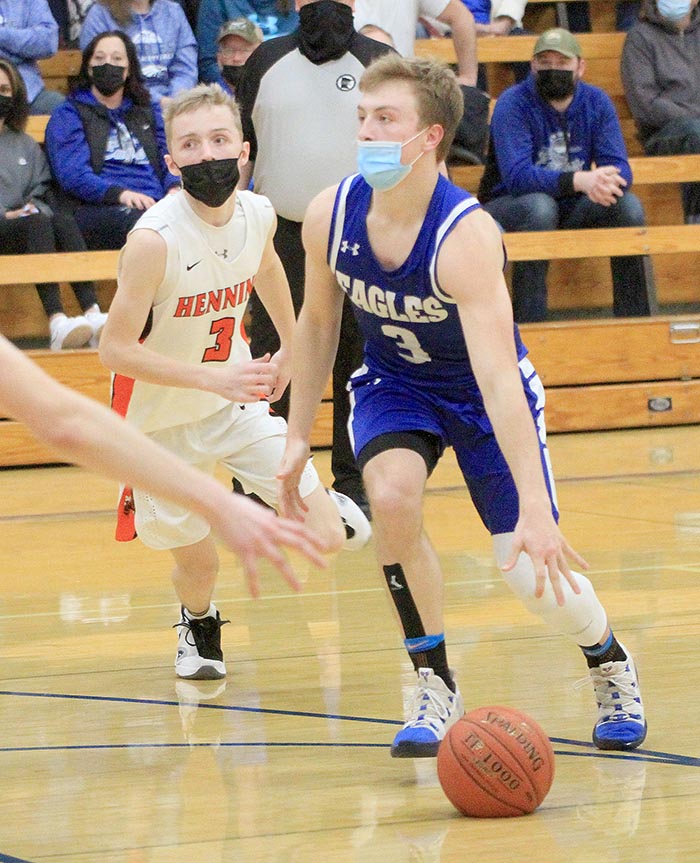 The Eagles led top seeded, top ranked and previously unbeaten Mahnomen-Waubun by 6 points with just 4 minutes left in the sub section 6A north finals, but were unable to hold on for the win.
"We're disappointed in the loss but extremely proud of how our boys competed," said head coach Jason Boe. "They've done that all year for us." 
The Eagles tried 45-36 at halftime, but were able to outscore the Thunderbirds in the second half by a 36-30 margin. Unfortunately, the Thunderbirds were able to sneak past the Eagles by a 75-72 to advance to the Section 6A finals.
Junior Tate Olson led the way offensively with 28 points, 11 rebounds and 4 assists. Breck Hensch also hit double-digits with 20 points, 2 steals and 2 assists.
Jonah Johnson scored 8 points, 4 rebounds, 4 steals; Noah Noffsinger scored 7 points, 2 rebounds, 1 steal; Isaiah Laudenbach scored 4 points, 3 steals, 2 assists and Derin Gaudette scored 3 points, 2 rebounds and 2 assists.
The Eagles ended their season with a record of 17-3 overall and is ranked fifth in the QRF standings.
In the Section 6A finals, Mahnomen-Waubun fell to Hancock by a score 77-71. With the win the Owls advanced to the state basketball tournament where they will take on Nevis in Perham on Wednesday.