Students create a custom robot at NYM
News | Published on April 7, 2021 at 8:59pm GMT+0000 | Author: chadkoenen
0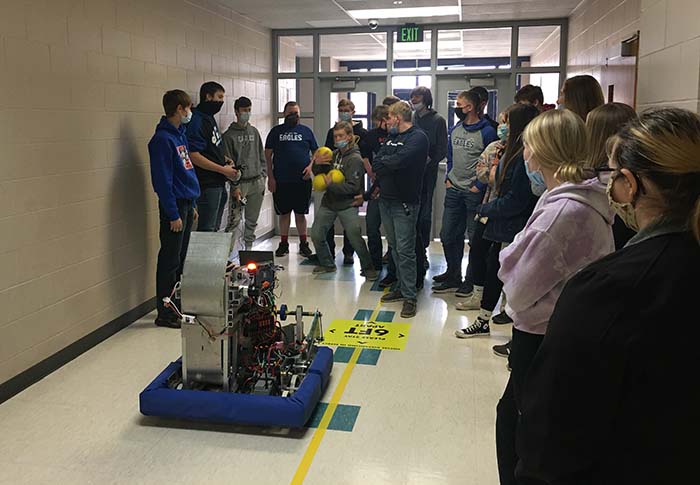 Broken Eagles enter second year of competition
By Chad Koenen
Publisher
At the end of a long and dark hallway, members of the New York Mills robotics team work in an otherwise quiet school building. Ten students, an advisor and a variety of guest helpers, have created a robot from a dream to a lean, mean dodgeball throwing machine—literally. 
Now in its second year, the NY Mills robotics team named the Broken Eagles, have perfected their robot to pick up and throw a dodgeball into a target. Last year the students were preparing for their first-ever competition when COVID-19 brought the robotics program, and the entire country, to a standstill. The group had just watched the Frazee robotics team compete in Grand Rapids, Minn., and was just two weeks away from entering its first competition before the robotics season came to an abrupt end.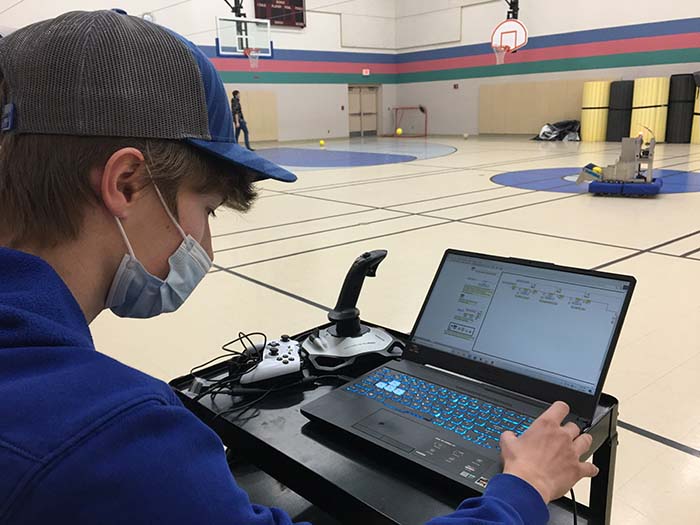 "(The Frazee team) said you should come up and watch the competition to see what happens when your turn comes around," said advisor Nick DeVillers. "Then like two weeks later Covid hit."
DeVillers and the rest of the Broken Eagles team got back to work this year to perfect the robot they started last year. The theme and robot remained the same as last year, a Star Wars theme that features a robot throwing a ball through a target. This year the competition will be done virtually in each school's gym.
"They gave us the dimensions and we set up cones to drive in-between," he said.
The extra year to work on the robot, which is the first the group has ever built, has given the Broken Eagles an opportunity to expand upon last year's creation. For example, last year their robot could not actually shoot a ball.
"We didn't really have a shooter last year we were going to just do the driving portion," said DeVillers.
This year the Broken Eagles' robot not only picks up a ball, but can shoot it through a basket in the gym. All of the work wouldn't be possible without the assistance of a number of local businesses like Raptor Machinery, Brunswick, Kit Masters and BTD. DeVillers said representatives from the businesses routinely helped out the team members in person when possible and were always just a phone call away if an issue arose.
"It's amazing just to access their knowledge. We wouldn't be where we are today (without their help). The amount the kids have learned in the industry knowledge, it's pretty cool."

Nick DeVillers
For example, DeVillers said even basic things like getting metal bent at Brunswick has made creating a robot much easier for students in finishing their creation.
Since most of the students are in other extracurricular activities, the 10 members of the Broken Eagles meet four days a week from 6-8 p.m. at the school. DeVillers said the robotics program is a unique way for students to go from a thought and a design in their head to actually creating the final product.
"You can go from a thought in your head to creating it," he said. "Just the basics of engineering and building stuff. You can go through the things they wouldn't normally do in shop class."
As part of the robotics program, students also had to compete in the innovation challenge. As part of their project the students designed and created something that resembled a fidget spinner that is attached to the back of a cell phone. The taping for NY Mills' robot will get underway the week of April 8.
Students participating in robotics this year include: Hunter Cooley, Jace Rudolph, Cale Rudolph, Josi Mindermann, Victoria Bauck, Tyler Roush, Brogan McWethy, Tristan Carlson and Te'o Lecoustre
Mentors include: Nick DeVillers, NY Mills School; Tim Erp, Raptor Machining; Taylor Ericksrud, Kit Masters; Noah Erickson, Lunds and Paul DeYonge, BTD.