Green thumbs come alive at NYM Elementary
News | Published on April 14, 2021 at 7:27pm GMT+0000 | Author: Chad Koenen
0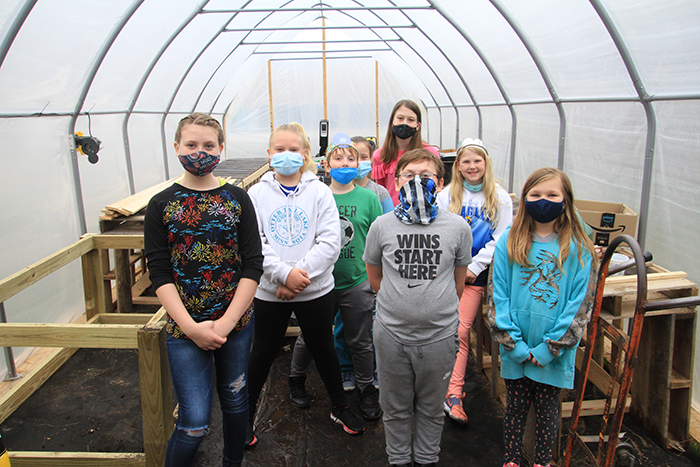 Fifth graders construct green house out of former COVID-19 testing building
By Chad Koenen
Publisher
The New York Mills fifth graders are putting a whole new twist on using their green thumb. Students in Doug Salo's fifth grade science class constructed a new greenhouse last fall in the Elementary Courtyard at the school. The greenhouse was made from two old hoop sheds that Brunswick/Lunds utilized as a testing building during the height of the COVID-19 pandemic. 
Salo said when Brunswick/Lunds no longer needed the hoop shed, they reached out to the school to see if they could use such a structure. The concept of an elementary greenhouse was quickly developed and students helped Salo and NY Mills School staff construct the building from the floor up—literally. 
"We had no directions," said Salo of how to construct the two hoop structures. "They came in boxes and we had to figure out how to put everything together."
Salo said the students used their intuition, and quickly figured out how the entire structure should be put together. In addition to recycling the hoop shed, cedar poles from Lake Region Electric were also utilized in the building and one of the only things that wasn't necessarily recycled was the plastic surrounding the building.
Perhaps the most impressive part of the new greenhouse is the benches that hold all of the plants. The benches were created from old pallets that the students created in class.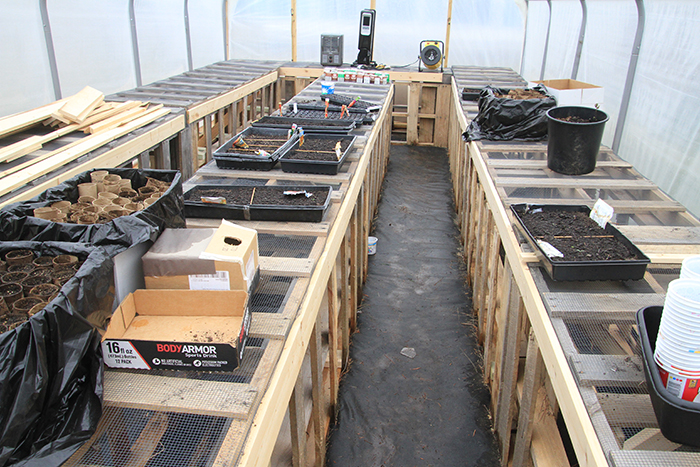 "The kids made the benches and signed them too," said Salo.
The greenhouse also features a blower to keep the heat in the building and seeds were provided with instructions on how to grow each plant. The elementary greenhouse, which was tended to by students, features plants, flowers and a variety of vegetables that students had to grow.
"These kids, what they can do, is unbelievable," said Salo.
Salo credited NY Mills Superintendent Blaine Novak and Jason Perala for having the vision of what an elementary greenhouse could look like at NY Mills School. He said a lot of work has went in to creating the greenhouse, but so far, it has been widely popular for students who are able to get out of the classroom and put the knowledge they gain from books to use in a real-life way.
In the end, Salo said he hopes the students will gain an appreciation for what they can do when they work together, while also being able to bring something home to show their family members what can be grown in a greenhouse in greater Minnesota.
"I'm hoping they have something to take home," said Salo.