Millers defeat Wolf Lake 14-2
Sports | Published on May 11, 2021 at 9:23pm GMT+0000 | Author: Chad Koenen
0
By Chad Koenen
Publisher
Brandon Kupfer hit his second home run of the season and finished a perfect 4-4 at the plate as the New York Mills Millers defeated Wolf Lake 14-2 on Sunday afternoon. In addition to his home run, Kupfer hit a triple and finished with 2 RBIs in the win.
The Millers left little doubt of the outcome of the game as they scored 8 runs in the bottom of the first inning alone. Among the highlights of the inning was a bases clearing single by Austin Maneval to make the score 5-0, a 2-run triple by Jacob Guck and a sacrifice fly by Caden Roberts to make the score 8-0.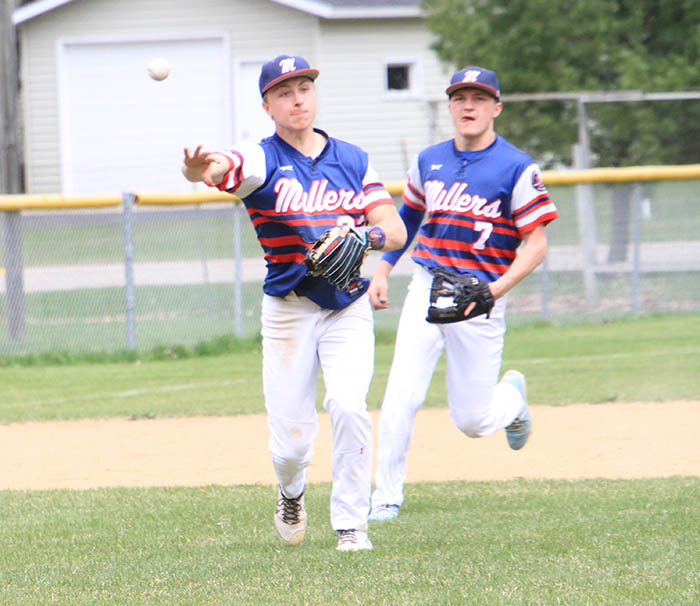 The Millers made the score 9-0 in the second inning when Kupfer hit his second home run of the season.
NY Mills added 4 more runs in the fourth inning when Jonah Johnson hit an RBI triple, Guck followed with an RBI triple of his own to score Johnson from third, Derin Gaudette hit an RBI single and Kupfer hit the third triple of the inning to make the game 14-1.
In addition to Kupfer's 4 hits, Johnson and Guck both finished with a pair of hits in the win. Both of Guck's hits were triples as he also finished with 3 RBIs.
On Sunday the Millers will travel to Staples, while Bluffton will host its home opener against Sebeka.
AB R H  BI
Logan Small 2 1 0 0
Caden Roberts 1 1 0 1
Derin Gaudette 3 3 1 1
Brandon Kupfer 4 2 4 2
Adam Patron 4 0 0 1
Taylor Thompson 3 1 0 0
Austin Maneval 2 2 1 3
Jonah Johnson 4 2 2 1
Jacob Guck 4 2 2 3
HITTING- 3B- Jacob Guck 2, Jonah Johnson, Brandon Kupfer
PITCHING (ip-h-r-er-bb-k)- Austin Maneval 4-3-1-0-2-2, Logan Small 1-0-0-0-1-1, Caden Roberts 1-0-0-0-1-0, Brandon Kupfer 1-2-1-1-1-0