Wiebes honored by OTC for foster care work
News | Published on May 11, 2021 at 9:36pm GMT+0000 | Author: Chad Koenen
0
The Otter Tail County Commissioners passed a proclamation recognizing May as Foster Care Month during its meeting on April 27. This year special recognition was given to an Ottertail family. Del and Manila Wiebe are one of the licensed foster families who have opened their hearts by welcoming 153 foster children into their home over the last 59 years.
"For nearly 60 years, Del and Manila have literally answered the call and opened their home to children in our community. Day or night, if children needed a safe home, social workers knew they could reach out to Del and Manila," Child and Family Services Supervisor Stephanie Olson shared. "Their calm, caring, and kind manner offered stability and safety to those children and families who were in crisis. They have been an absolute pleasure to work with and we are grateful for their years of dedication."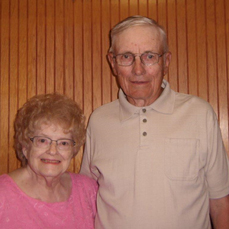 Family foster care provides a safe, secure, and stable home for children in a compassionate and nurturing family setting. Otter Tail County Human Services has 50 licensed foster families who play a vital role helping children and families heal, reconnect, and launch children into successful adulthood.
"Every child that walked through the Wiebe home holds a special place in their hearts, and they still remember them individually," said Social Worker Jody Dahlen, Child Foster Care Licensing Specialist. "They have led by example, and Otter Tail County is honored to have worked with them and seen firsthand the profound impact they've had on the lives of our most vulnerable children."
Manila recalls the first foster child welcomed into their home, "We signed our agreement with Otter Tail County in October of 1962. Our first child was a newborn boy. He came in a rag for a diaper and was wrapped in a cream-colored blanket made by the Red Cross that I still have. He had no name, so we named him Daniel and he remained with us for 7 months and was then placed for adoption." Manila continued, "We encourage Otter Tail County families to consider opening their hearts and homes to the future leaders of Minnesota and beyond."
Otter Tail County urges people to volunteer their talents and energies on behalf of children who live with foster families. Additional foster homes are always needed.
"Thank you seems inadequate," wrote Deb Sjostrom, Director of Human Services, in a letter to the Wiebes. "We are grateful to have had you providing foster care in Otter Tail County and touching so many lives. You have touched us, and we are all better for having known you."
About Otter Tail County
Child Foster Care
Foster parents provide a temporary home for children when they cannot remain in their own home. Care is given until their own parents can resume this responsibility or until a permanent plan is made with relatives or adoptive parents. Foster parents receive a financial reimbursement to care for the needs of children. Contact Otter Tail County Human Services at (218) 998-8150 for more information.