Bench honoring Civil War soldier to be dedicated in Bluffton Township
News | Published on May 20, 2021 at 11:43am GMT+0000 | Author: Chad Koenen
0
By Chad Koenen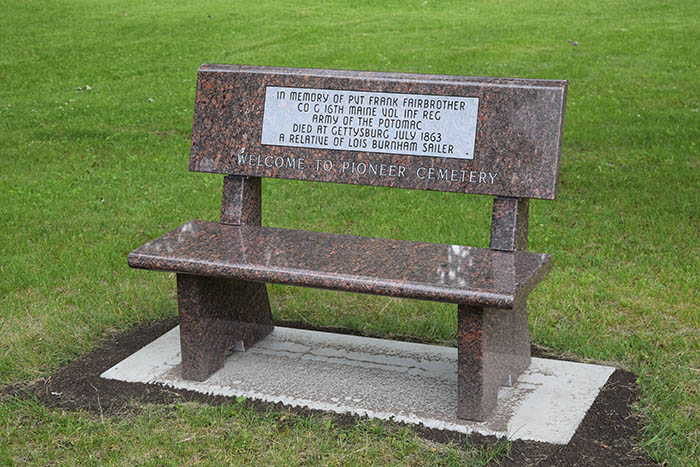 Publisher
A Civil War soldier who died due to injuries he suffered in one of the most important battles in American history will receive a special tribute on Saturday morning.
Private Frank Fairbrother, who never lived in Minnesota but had family ties in the greater New York Mills area, passed away on July 9, 1863. He was wounded in the battle of Gettsyburg on July 1, the first official day of the three day battle between the Union and Confederate Armies.
Prior to his death, Private Fairbrother's regiment participated in several famous battles of the Civil War. On July 1, 1863, the first day of the battle, his regiment was ordered to hold their position at any cost. This resulted in many soldiers dying, being wounded or ending up as a POW.
Private Fairbrother's family lived in Palmyra, Maine, but following the war several of his relatives moved to the Midwest including Iowa and eventually Minnesota. One of his distant relatives was Paul Sailer's late wife, Lois, who began researching her family's history and even visited Fairbrother's hometown in the 1980s.
"My wife died December 2019 and she was very interested in his military service. She visited his hometown in Palmyra, Maine. She visited there back in the 1980s. She and I had talked about doing something to memorialize him. It didn't get done before she died so I just thought after talking with the cemetery association that it would be a nice thing to do to honor her interest in her relative and Private Fairbrother."

Paul Sailer
Sailer said he purchased a bench honoring Fairbrother in remembrance of his late wife Lois. The bench was installed last July and a dedication ceremony will be held on Saturday, May 22 at 10:30 a.m. The bench is located at the Pioneer Cemetery in Bluffton Township at 62203 Otter Tail County Highway 144, Wadena and will be led by Trinity Lutheran Church pastor Kirk Douglas and the American Legion Post 116 in NY Mills and the NY Mills VFW.
"It's kind of a reminder in these tense days we live in now that these kind of sacrifices were made for the issue of slavery," said Sailer.
The ceremony is open to everyone who would like to attend the dedication ceremony.