Eagles fall to Vikings 7-4 in state championship game
Sports | Published on June 24, 2021 at 11:12am GMT+0000 | Author: Chad Koenen
0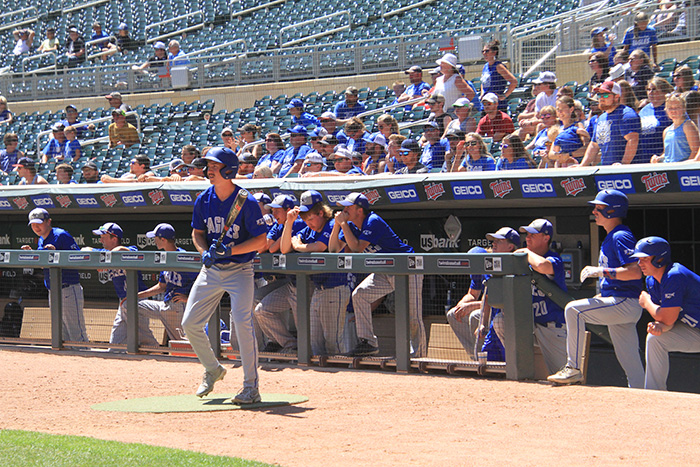 NYM takes second at state for second consecutive season
By Chad Koenen
Publisher
For the second consecutive state baseball tournament, the New York Mills Eagles found themselves as one of the final two teams standing. Unfortunately, fate ran out for the Eagles as they fell in the championship game for the second straight time (NY Mills fell to BOLD 8-0 in 2019 after finishing the year with a record of 21-5). This time around the Eagles fell to undefeated Hayfield, who improved to 26-0 on the season, by a score of 7-4.
The Eagles struck first in the bottom of the second inning when Abe Carlson hit a single to lead off the inning. Drey Roberts followed with a single down the left field line, before Brayden Ehnert hit a sacrifice bunt to move the runners into scoring position. Will Oakes followed with an RBI single to score Carlson from third base, and Cale Rudolph followed with another RBI single to make the game 2-0. After a Jace Rudolph ground out to the third baseman moved runners up to second and third base, Bren Salo connected with a big 2-run single to make the game 4-0.
The Eagles loaded the bases with two outs when Derin Gaudette earned a walk, but were unable to get another run across the plate when they struck out to end the side.
Hayfield struck right back in the third inning when they scored a pair of runs on two RBI single to cut the lead to 4-2. The game reminded 4-2 until the top of the fifth inning when the Vikings struck for 4 runs on 3 hits and an error to take a 6-4 lead heading into the bottom of the fifth inning.
The Eagles had chances to score in both the fifth and sixth innings as they stranded two runners in the fifth inning and loaded the bases with one out in the sixth inning, but were unable to get a timely hit to get back into the game. The Vikings added another run in the sixth inning to eventually come away with the 7-4 win at Target Field.
Carlson led the way offensively with 2 hits for the Eagles, while Roberts took the loss on the mound as he pitched 5 1/3 innings and gave up 6 earned runs and 9 hits, while striking out 7 hitters.
This is the second straight state tournament the Eagles have taken second place, as they also finished in second place in 2019. The 2020 season was canceled due to the COVID-19 pandemic.
NY Mills finished the season with a record of 23-3 overall and were ranked first in the final QRF rankings.
AB R H BI
Bren Salo 4 0 1 2
Jonah Johnson 3 0 1 0
Derin Gaudette 2 0 1 0
Abe Carlson 4 1 2 0
Drey Roberts 2 0 1 0
Lucas Grabow 0 1 0 0
Brayden Ehnert 3 0 0 0
Will Oakes 2 1 1 1
Breck Hensch 2 0 0 0
Cale Rudolph 3 1 1 1
Jace Rudolph 4 0 1 0
PITCHING (ip-h-r-er-bb-k)- Drey Roberts 5 1/3-9-7-6-3-7, Abe Carlson 1 2/3-2-0-0-1-1