Honeycutt heritage preserved in OTC
News | Published on June 24, 2021 at 10:54am GMT+0000 | Author: Chad Koenen
0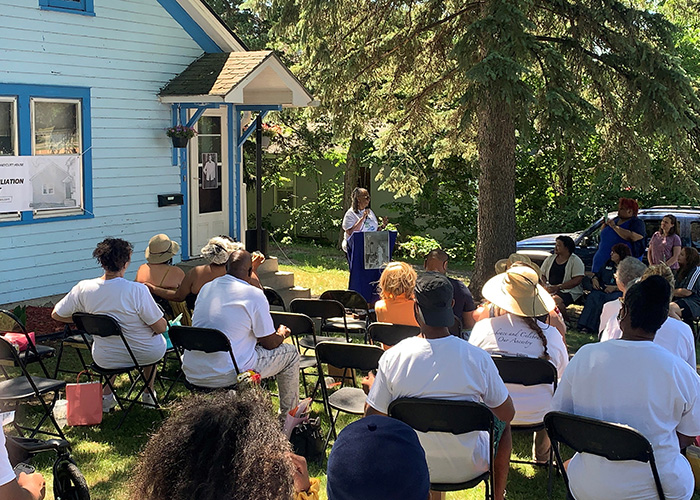 By Tom Hintgen
Otter Tail County Correspondent
In 1872 Prince Albert Honeycutt became the first black resident in Fergus Falls. That same year the city was officially incorporated as a community in the state of Minnesota.
On Saturday, June 12, Honeycutt was recognized during the unveiling of Honeycutt Memorial Drive in Fergus Falls.
"This is a monumental day," said Chris Schuelke, executive director of the Otter Tail County Historical Society who spoke at the dedication ceremony.
As part of the program, there also was recognition of descendants of the original 85 black pioneers who settled in Fergus Falls.
Honeycutt is also remembered as the first black baseball player in the state of Minnesota. He was a founder of the North Star baseball team. Honeycutt is recognized in the State Baseball Hall of Fame at the convention center in St. Cloud.
The Honeycutt house on East Summit Avenue, built in 1885 northeast of downtown Fergus Falls, is being restored. Upon completion it will be a museum and memorial in honor of Honeycutt.
The street will remain as East Summit Avenue. At the same time three blocks, including the block where the Honeycutt house is located, will be known as Honeycutt Memorial Drive.
Honeycutt was born into slavery in Tennessee in 1852 and served as a mess boy during the Civil War. He worked for a Union soldier, James Compton. After the war he worked for Compton in Pennsylvania.
When Compton moved to Fergus Falls in 1872, Honeycutt came with him to Otter Tail County.
Honeycutt married in 1878. His wife tragically died while giving birth to their second child. He remarried and had two more children.
In his early years in Fergus Falls he worked a variety of odd jobs. Honeycutt, in 1882, opened his own barbershop in downtown Fergus Falls, also serving as a volunteer firefighter.