Openshaws take over family operated resort
News | Published on June 24, 2021 at 10:45am GMT+0000 | Author: Chad Koenen
0
By Chad Koenen
Publisher
There will be a few new faces greeting visitors to Otter Tail Beach Resort on the shores of Otter Tail Lake this summer.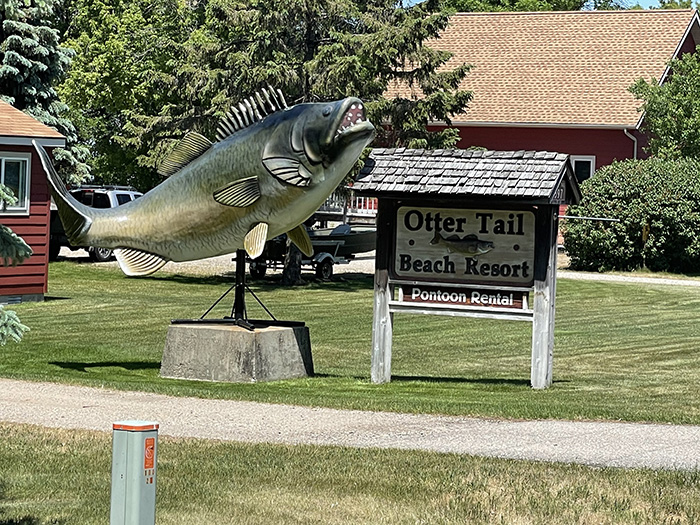 Sam and Heather Openshaw purchased the resort on April 1 from Scott and Beth Madson, who had owned the resort for 23 years. The resort is located just outside of Ottertail, on the east side of Otter Tail Lake
The two families met each other through real estate in Arizona and when the Openshaws came to Minnesota four years ago for a wedding, Scott said the Madsons treated them like family.
When they learned the Madsons may be looking to retire in the near future, the Openshaws reached out to let them know the Arizona family would be interested in carrying on that family resort tradition.
"We said when you are thinking of selling let us know," said Mark.
Otter Tail Beach Resort currently has 12 cabins for rent, but the Openshaws are already talking about expanding the operation to include more cabins in the future. They are also hoping to expand some of the offerings they provide the area like more pontoon, jet ski and boat rentals, as well as trying to see what other needs they can fill in the community. Scott said they have really learned how important the resort industry is in the Ottertail area, and are hoping to continue to be an integral part of that business for years to come.
Some of the families that have been coming to Otter Tail Beach Resort have been coming to the area for up to 70 years, and the Openshaws said it is important to continue those relationships, while also building new ones for a new generation.
"It's all about those relationships," said Scott.
The Openshaws have two sons, Cooper and Corbin, and operate a real estate team in the Phoenix, Ariz., area. They live in the Gilbert, Ariz., area but plan on spending quite a bit of time in the Ottertail area to help run the resort as they enjoy swimming, biking and being outdoors.
In addition to continuing to build relationships with those that call Otter Tail Beach Resort home during the summer, they are excited about the opportunity for their children to spend time at the lake in Minnesota and help out at the resort.
"I think it is good for our kids too," said Beth.
The resort will be managed by Scott's brother Mark who is a native of Arizona and will be attending law school at the University of North Dakota in the fall.
For more information about Otter Tail Beach Resort, or to make a reservation contact (218) 864-5860.