Schornack family honored for excellence in dairy industry
News | Published on June 24, 2021 at 11:00am GMT+0000 | Author: Chad Koenen
0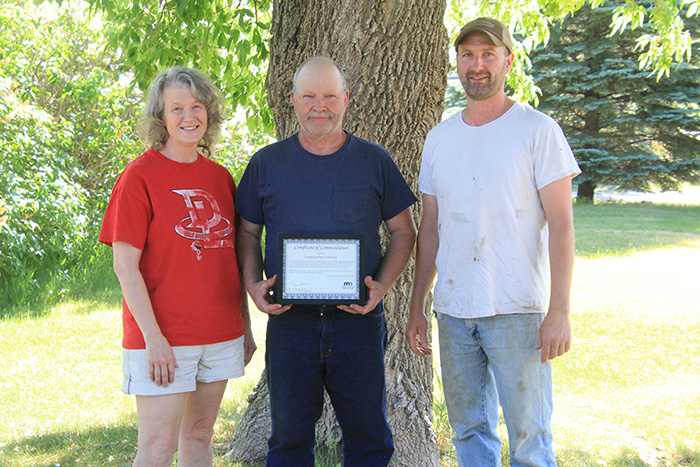 Family is one of 96 dairy farms honored in the state
By Chad Koenen
Publisher
There is a more to providing quality milk than simply hooking up a machine and hoping for the best. There are the twice a day milking's that need to take place around the same time each day, knowing the best kind of feed to give the cow, and perhaps most importantly, actually getting to know the overall health of the herd in order to keep them producing a quality product at a high level.
In rural New York Mills, the Charles and Mary Schornack family continue to be among the best in the state at providing quality milk with low somatic cell counts (SCC). Recently, they were just one of 96 Minnesota dairy farms to be recognized for superior herd management skills by achieving an average SCC under 100,000.
According to Minnesota Agriculture Commissioner Thom Petersen, a low SCC count is a key indicator of milk quality. A lower SCC count is better for cheese production and provides a longer shelf life for bottled milk.
"I'm honored to be able to recognize these 96 dairies for their high level of excellence," said Petersen. "These dairy farmers work hard 365 days a year to produce high quality, wholesome dairy products for all of us to enjoy and I thank them for their contributions to feed Minnesota and the world."
The rural NY Mills farm has been in the Schornack family for 58 years and has farmed everything from corn to alfalfa. Charles took over the farm from his dad in 1983 and has 50 cows in its herd, of which they milk 45. He said one of the keys to keeping the SCC low was keeping the animals clean and knowing the herd.
"Just keep them clean and keep them dry," said Charles. "It's not that we are doing anything any different than anyone else."
Charles said he gets up just after 3 a.m. each day for the morning milking and they repeat the task later that afternoon. While milking cows isn't for everyone, he said it is a lifestyle that one must get used to in order to ensure the health of the cows.
"That is what makes the cell count so low is making sure the cows are milked the same every day," said Charles.
Mary said the family has been blessed to be able to raise their children on the farm. Their son Chad also helps out on the farm today, including milking the cows.
"It's a good way to raise your kids, a lot of memories," she said. "I feel very blessed I got to stay home with my kids."
In honor of June Dairy Month, 96 Minnesota dairy farms, including the Schornack's, were recognized for superior herd management skills by achieving an average SCC of under 100,000.
Although somatic cells occur naturally and are not a food safety concern, dairy farmers monitor them because they can be used as a measure of the health of their cows. Processors also pay a premium for milk with low counts. A farmer whose herd has a very low count can receive a significantly higher price per hundred weight, compared to a farmer whose herd average is high.
The Minnesota Department of Agriculture (MDA) and University of Minnesota dairy experts have worked with the state's dairy farmers to lower somatic cell counts. When the initiative began in 2003, the 100 herds honored that year included those with SCC averages as high as 144,000, compared to the current goal of obtaining a SCC under 100,000.