Can't buck this young cowboy in his first event
News | Published on July 8, 2021 at 6:52pm GMT+0000 | Author: Chad Koenen
0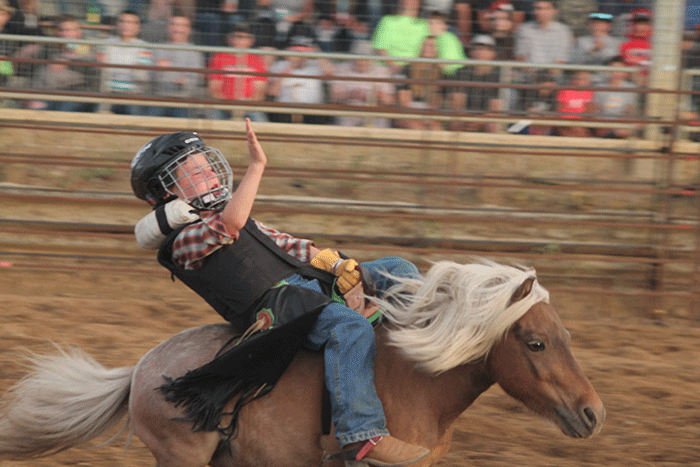 Kingsbury takes first place in his first mini bronc competition at the Wadena rodeo
By Chad Koenen
Publisher
Having the last name Kingsbury in the local rodeo circuit comes with some high expectations.
James Kingsbury did his part to fill the big shoes left by his dad, David Kingsbury on June 18 when he took first place in his first mini bronc rodeo. The seven-year-old New York Mills resident, who is the son of David and Brandy Kingsbury, moved up to the new category and competed with area youth as many as three years his elder. Despite the age difference, Kingsbury found himself with a first place check of over $160 and title of mini bronc champion of the Wadena County Fair.
"It's exciting," said James of riding in the rodeo.
Brandy said this was the first time her son competed in an event outside of mutton' busting, in which children ride sheep and hold on for dear life. James rode on the second night of the two-night rodeo and had the highest score out of everyone who competed in the event.
"That was the first time and that horse shot out like a rocket. He hung on for dear life," said Brandy. "He has always wanted to ride sheep and now we were like you are too old to ride sheep."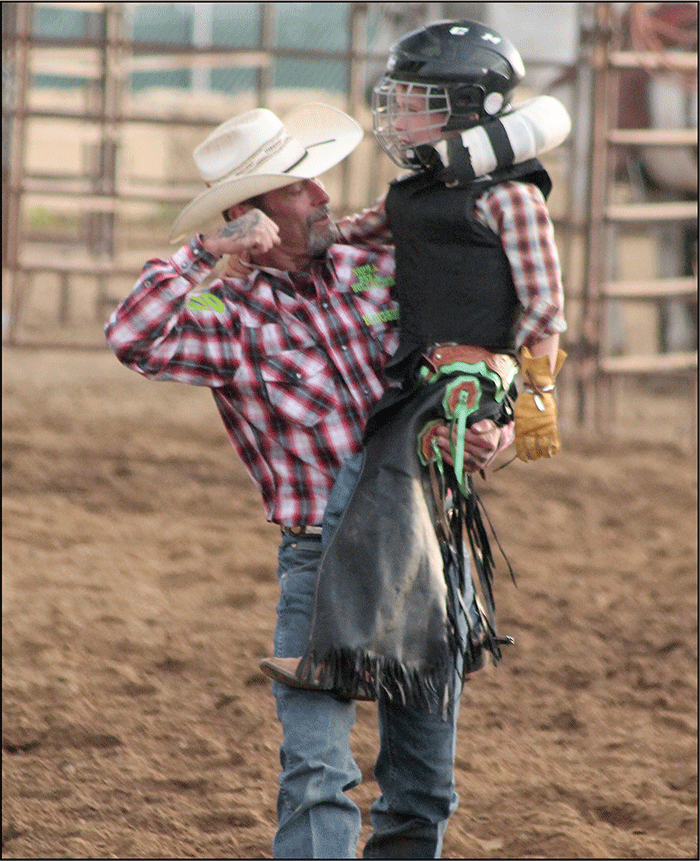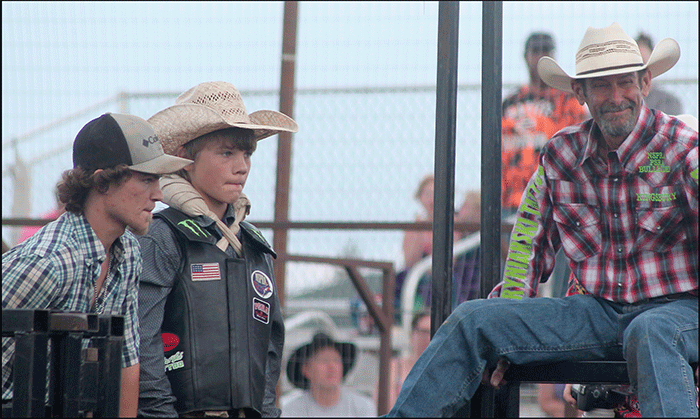 Wanting to compete in the rodeo this year, and being too old to do mutton' busting, James was faced with a decision—ride bulls or ride horses. He opted for the latter and has never looked back.
In addition to James, the Kingsbury's other children have also competed in the in mutton' busting and even riding bulls.
David even recently got back up on a bull to compete in rodeos on the senior circuit. A staple on the circuit when he was younger, he broke his back on a horse and was forced to hang up his spurs permanently—or so he thought. With a number of people joining the senior circuit, David got back up on a bull and began competing once again, making the rodeo a true family affair.
"David used to ride when he was younger and when he was riding bulls and bare back he broke his back on a bare back horse. He was out permanently, he thought," said Brandy. "Then everyone started getting back into the senior pro, which is 40 years and up."
In addition to the Kingsbury's, Creed Mursu competed at the Wadena County Fair in the rodeo in his first mini bronc event. The two local riders had some world champion experience to help guide them as three time world champion Jasen Olsen who attended the event at the Wadena County Fair.