Soderholm, Hittle win Lund Mania
News | Published on July 22, 2021 at 9:00pm GMT+0000 | Author: Chad Koenen
0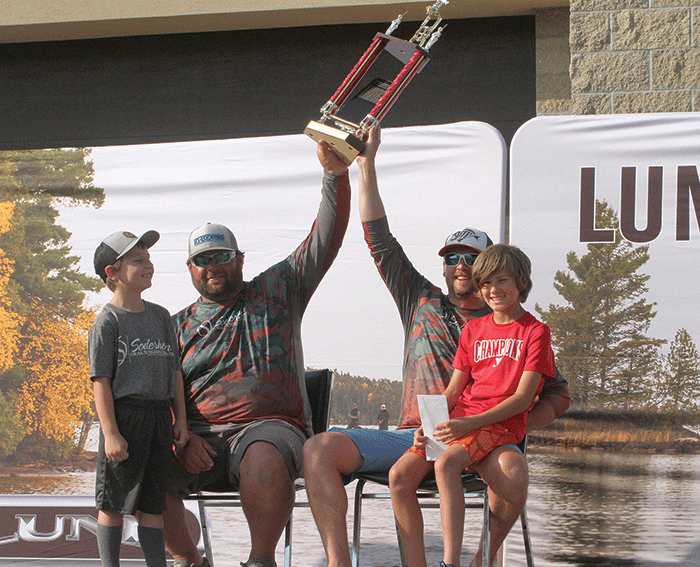 More than 30 walleyes reeled in during fishing tournament, top six collect winning weight of 24.70 pounds
By Barbie Porter
Editor, Frazee-Vergas Forum
Andrew Soderholm and Ben Hittle were on a waiting list to enter the annual Lund Mania Fishing Tournament a few years before their time to shine arrived. "We heard about it maybe five or six years ago and had our name added to the waiting list," he recalled. "Last year we were able to join and took third." In their second year in the wildly popular walleye tournament on Otter Tail Lake they took top prize. The catch-and-release tournament allows for walleyes at least 14-inches long. When one is caught, the anglers place the fish on a measuring stick that all teams are given prior to the start of the contest. A picture is taken of the fish on the ruler and another picture of the angler holding the fish (with the opposite side of the fish showing from that which was pictured on the ruler). 
"We keep catching as many as we can," Soderholm said, noting the top six count toward the end score.
Soderholm said of the top six they caught, the largest fish measured 27 inches and came with a solid three-minute fight.
"Reeling him into the boat was a big relief," he said. "One a little smaller got away, but thankfully we still had enough to win."
The tournament, which allows only those using Lund boats to enter, started at 7 a.m. and by the 2 p.m. end time Soderholm and his teammate had a total weight of 24.70 pounds.
"During the rules meeting the night before, Lund gave a statistic average of weights to be in the top 10," he said. "We knew we were doing well and probably would be in the top five."
Soderholm explained the process of finding out who won is also a lot of fun.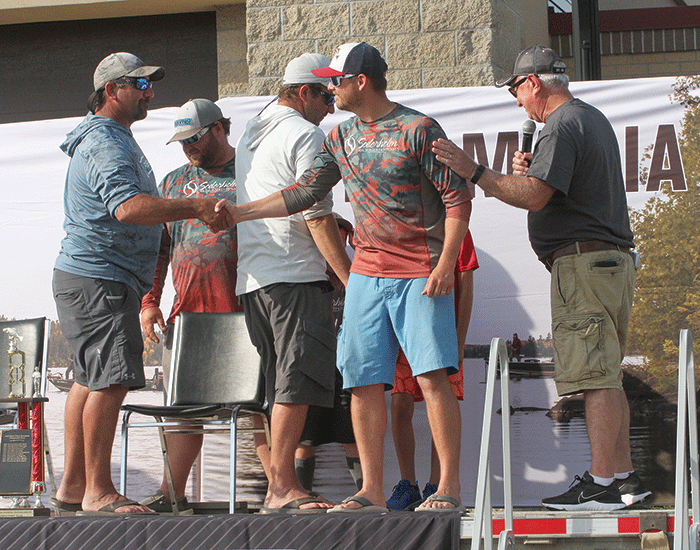 "You don't know until you start hearing the stats," he said. "They announce who was in the top 10 and then you have to go to New York Mills where they have a stage set up, a big crowd and bring in all the different teams."
The duo won a boat for taking top honors in the tournament. Soderholm said the boat is smaller than the Lund he owns, but it is a fantastic introductory fishing boat with a 90 mph motor and quality amenities throughout.
"Lund is a great local company that makes awesome fishing, tourney and family boats," he said. "If anyone is in the market, consider buying a Lund."
Prep is key for tournament success
Reeling in those lunkers and putting them back in the lake may have some fishermen thinking a great feast is a missed opportunity. However, Soderholm explained they reeled in enough walleye on the practice sessions looking for fishing holes to provide his team and their families with a nice walleye dinner.
When it comes to fishing walleye, Soderholm said the fish can drive some anglers crazy as the fish seems to always be on the move.
"You think you know of a spot, and then next year you realize they are no longer there," he said. "We've fished Otter Tail Lake many years and have a good memory bank of different spots to look."
When on the water, Soderholm said they play it by ear. If the fishing spot is hot there is no reason to stray, however if a line is in the water and no action after 15-20 minutes, then it is time to move on. The method worked well, as their team reeled in more than 30 walleyes during the tournament.
In addition to knowing where to look, perhaps the most important part of tournament fishing for walleye is what bait or lure to use. When asked what they had on the line, Soderholm chuckled.
"We like to keep some things a secret," he said. "I will say, we used artificial lures because during practice we didn't have much success with live bait during the practice runs."
Providing the team with all their bait options was Gene's Bait Shop in Perham. Soderholm expressed gratitude for the local company, noting they provide a variety of options and great service.
Soderholm estimates he and his teammate compete in about five or six tournaments each year, and have a few wins to prove they are serious contenders.
"We are not professionals, but we do love to fish and take is seriously," he said. "We put in the time and try our best. The good Lord has blessed us with wins."
Soderholm and Hittle graduated from Alexandria High School in 2002. Years passed, and is often the case the classmates lost touch. When his classmates wife began working for him at one of his three oral surgery and implant clinics, they reconnected.
"We started fishing and clicked right away," he said. "We both have essentially spent our lives fishing. After the first, or maybe second time out fishing, we decided we needed to be a tournament team."