Seelhammer unveils a new set of wheels
News | Published on July 28, 2021 at 8:33pm GMT+0000 | Author: chadkoenen
0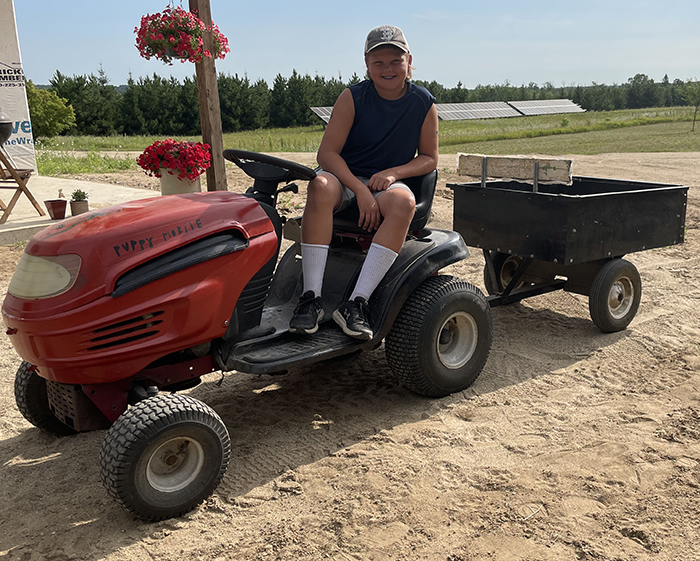 By Chad Koenen
Publisher
Dawson Seelhammer has been hitting the open gravel roads in rural Deer Creek this summer thanks to a little persistence, elbow grease and willingness to barter to get items for the right price. 
The rural Deer Creek resident has been able to turn a non working lawn mower he found in the woods into a custom hog on the road with a fresh coat of paint to boot. His new lawn mower not only has given him a bit of freedom on the back country roads, but has also given him a chance to learn about the inner workings of an engine and how to properly repair a lawn mower in need of some TLC.
Seelhammer's desire to get his own lawn mower came from a lawn mower his cousin has that allows his to drive and haul items in the summer. That lawn mower sparked an interest in the soon-to-be sixth grader at New York Mills School who then began searching for a lawn mower of his own that he could fix up and customize to fit his needs. Even though he knew he wanted a lawn mower to drive in the summer, it took him a while to convince his parents of the idea.
"I've been wanting a lawn mower for a while. It took me a little while to talk (his mom) into it."

Dawson Seelhammer, who said he would spend time looking for lawn mowers on Craigslist he could fix up during distance learning.
He eventually found his new lawn mower in a row of trees at the Lee and Lee Meyer residence in rural Deer Creek. After talking to the Meyer's, Seelhammer was able to get the lawn mower at no cost since it didn't run at the time. Some elbow grease, help and a little bartering later and Seelhammer has a custom lawn mower with a trailer that allows him to hit the open road on four wheels.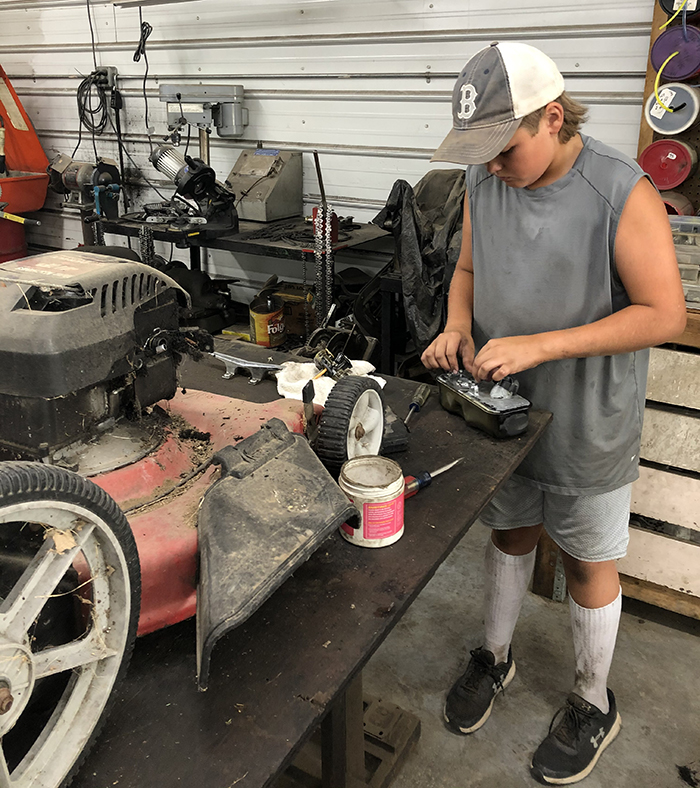 "My grandpa helped me get a new battery for it and a new fuel filter for it," said Seelhammer. 
In addition to the new battery and fuel filter, Seelhammer put on a new set of tires and even got a new trailer for the back that comes with a tool box that can be converted into a chair and place to give his dog a ride around the countryside. The lawn mower is a continual work in progress and it took about a month to get it in proper working order.
As all tricked out vehicles should, Seelhammer gave his new machine a new name. He calls it the "Puppy Mobile" in honor of the family he received his new set of wheels from.
The project has not only allowed him the opportunity to get a custom lawn mower, but also learn about the inner workings of an engine from his dad and grandpa. In fact, he also spent some time at his uncle's shop learning about small engine maintenance including how to clean carburetors.