Getting in touch with the environment
News | Published on August 2, 2021 at 10:13pm GMT+0000 | Author: Chad Koenen
0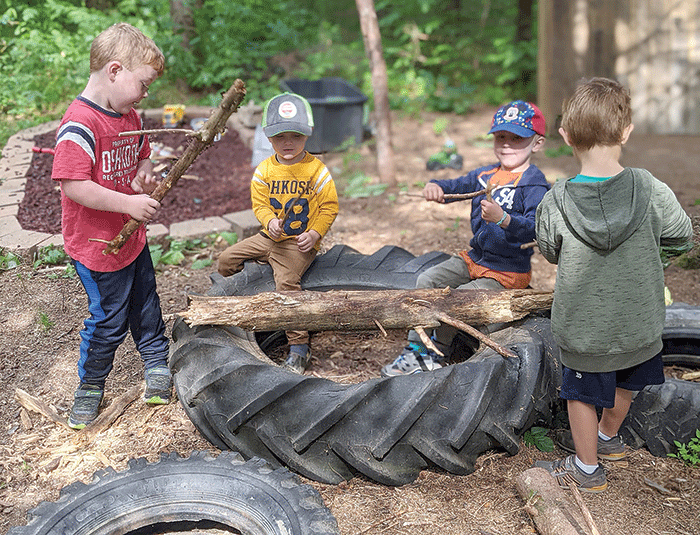 with
By Chad Koenen
Publisher
Roots & Wings Wildlings Forest School is essentially a school without borders. One that focuses on learning through experience, being in tune with what a child needs and being one with nature. There are daily walks, art projects and time to find themselves at the mud table nearby.
The rural New York Mills school is a new way to learn that focuses on giving children space to engage with the wonders of the natural world, all-while making sure to teach them of the importance of not forgetting to look around at what is happening in their own back yard.
Think of Roots & Wings Wildlings Forest School as a school without borders, focusing on children's needs and more importantly, one in tune with nature itself. The new school is a nature immersion school that focuses on playing, as much as learning from a text book.
The school was started last year by Leona Cichy and has proven to be a popular option for area parents wanting their children to learn through a nature immersion mentality.
"I always told people I wanted to have a forest school when I had my own kids," said Cichy. "My best friend had a three-year-old and said 'can't you start it right now?'"
By the end of the first session last year, there were already 14 kids on the waiting list. The students come from all over as well with students from as far away as Detroit Lakes, Battle Lake and everywhere in-between.
"We tried it out one day a week and we had 10 kids show up," said Cichy.
This summer the school, which is located on 40 acres of fields at Cichy's house just outside of NY Mills, even expanded to some summer programming. The summer program, which began June 7 and is scheduled to wrap up on Aug. 9, offered programming for students in pre-k, grades k-3 and grades 4-7.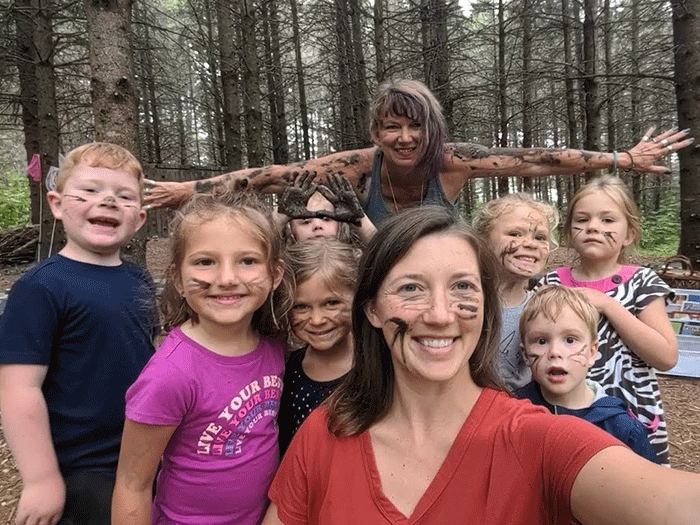 Since nature-based activities happen everywhere both indoors and outdoors, Cichy said children are encouraged to make observations, be curious, discover, experiment, communicate through art, movement, writing activities and verbally.
"Really looking at what is going on in nature right around us and right now," said Cichy. "Teaching the kids about the natural world in Minnesota, because the more we know about it the more we care about it."
Children spend a large portion of their day outdoors and Cichy said the preschool program promotes playful learning. She said children need time to explore, create, manipulate and discover the world around them through large chunks of uninterrupted play each day.
In order to help mold that creativity, Roots & Wings Wildlings Forest School has everything from a rock climbing wall, mud kitchen, sensory table, an open field to catch things like butterflies and plenty of time to play.
"The kids love everything. The parents really love it's outdoors and they can move around a lot to learn about nature and everything going on around us," said Cichy.
Each day, weather permitting, features a nature walk and there is always an art project to help bring all of the day's lessons together.
Some of the key aspects of the program include nature immersion and environmental stewardship, inquiry-based teaching that allows teachers to model engagement and ask open-ended questions to encourage conversation, social and emotional growth, physical growth, positive reinforcement approach and play-based leaning.
"We do have indoor space but we try to be outside as much as we can," said Cichy.
The school is now offering programs for students two or four mornings per week from 8:30-11:30 a.m. Eventually, Cichy is hoping to become a licensed childcare center and eventually offer full programming every day of the week.
For more information about Roots & Wings Wildlings Forest School, visit www.wildlingsmn.com