Historical society kicks off new fundraiser for Finnish building
News | Published on August 2, 2021 at 9:48pm GMT+0000 | Author: Chad Koenen
0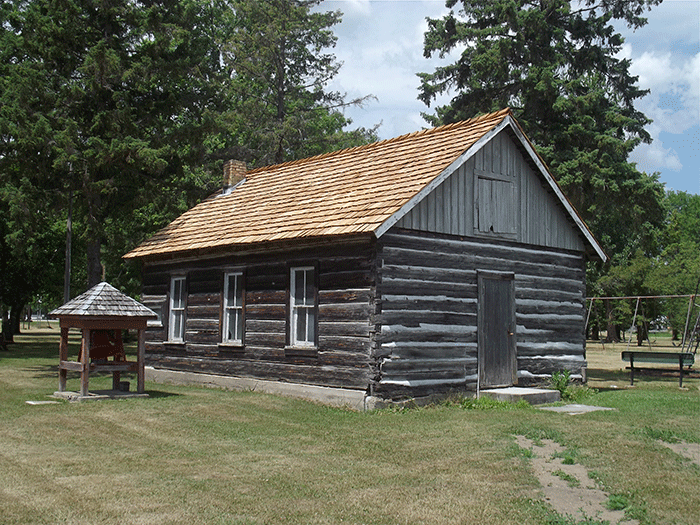 Project aims to restore 130 year old building near Sebeka
With a running head start, the Sebeka Area Historical Society is now inviting the community and the region to join in supporting the restoration of the pioneer schoolhouse in the Sebeka City Park. Thanks to a number of early grants and donations, two major renovation tasks are complete – pouring the concrete overlay and removing worn roof shingles and replacing with hand split cedar shakes.
The society estimates the cost of restoration at $50,000, which includes work already done, plus log replacement or resurfacing, windows and doors, pine floor and the unknowns that are sure to surface on a 130-year-old building. From the initial start of the restoration project, $23,000 has been raised to-date through generous donations and local grants.
Frank Eld, nationally recognized Finnish log construction builder and historian, of Boise, Idaho, has graciously given guidance on the local preservation efforts. Eld made two recent visits to the schoolhouse and has posted the Sebeka project on his Circuit Riding Preservationist – Finnabego Blog #18.
The fund drive includes blanketing Sebeka and the surrounding region with letters, newspaper articles and applications for grants from area businesses and organizations, maybe donation jars in local businesses.
Community financial support is integral to carrying the restoration of the pioneer schoolhouse to completion. All contributions, large and small, are needed and appreciated, and will be dedicated to the restoration project. Thank you to everyone who has already donated.
The Finnish log schoolhouse in Sebeka is one of two such structures in the nation.
The pioneer buildings – schoolhouse, barn and sauna, will be open to the public on Saturday, July 31, from 10a.m. to 5p.m. during Sebeka's annual Red Eye River Days celebration. The Historical Society members invite all to stop in for a visit and see the progress made so far. Coffee, lemonade and cookies will be served.
"You don't have to be Finnish and you don't even have to be from Sebeka to donate," says German heritage Nimrod native Jerry Mevissen, project coordinator. "If we want to retain our history and culture, and if we want to make our area a better place to live, work, and play, that's reason enough to donate."