Jokela named senior volunteer of the year
News | Published on August 2, 2021 at 8:10pm GMT+0000 | Author: Chad Koenen
0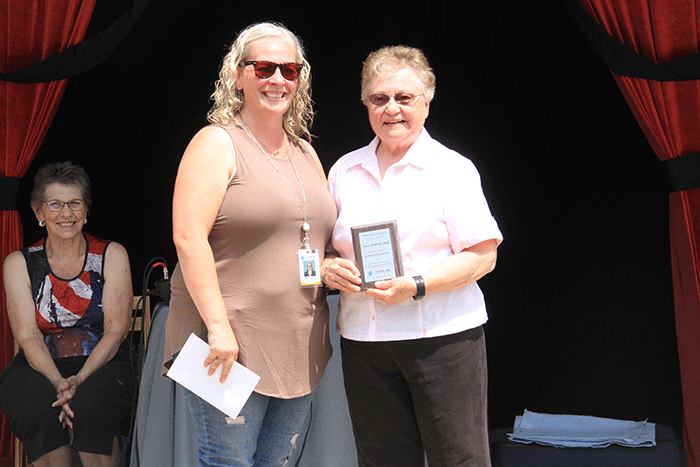 NYM resident recognized for work with Meals on Wheels
By Barbie Porter
Editor, Frazee-Vergas Forum
Louise Amberg-Jokela was named East Otter Tail County Senior Volunteer of the Year. While she is gracious in accepting congratulations, she is also quick to deflect the spotlight to shine it on others.
The 78-year-old began volunteering at the New York Mills Senior Center shortly after her husband Alvin passed about eight years ago.
"A friend, Kay Korby, suggested I come help and I thought, why can't I?" she recalled. "I've been involved ever since."
The 1960 New York Mills High School graduate is the current Meals on Wheels coordinator and has enjoyed helping ensure seniors in the city and rural areas have hearty meals and some conversation. Amberg-Jokela said all NY Mills volunteers that deliver Meals on Wheels provide that service, and deserve the honor as much as she.
"Here is one who deserves it for sure," she said, explaining there is a person in the community who had a severe stroke, but also had the determination it takes to begin to heal. However, the allotted therapy with insurance ended.
"We have one volunteer who was a masseuse and a nurse before retiring," Amberg-Jokela said. "This volunteer decided to go and give this person who had a stroke a massage each week. She did that because she knew it would help with healing. That is beyond the call duty. She deserves this award."
And following the adage that a true leader will always bring glory to the team effort involved in any accomplishment, Amberg-Jokela continued to list moments she witnessed when her team cared for the seniors in the NY Mills community beyond providing nourishment. While their day of celebration for being outstanding volunteers is likely in the future, this year's honor belonged to Amberg-Jokela.
"I found out about a week ago," she said. "Another lady at the senior center called and said they had some trouble there. I thought that was odd, but I went there. I walked in and all these ladies were there telling me I won an award."
Amberg-Jokela was presented with a plaque at the East Otter Tail County Fair on Friday, July 23.
Through the years of being a volunteer, Amberg-Jokela has come to expect certain things. Time has taught her she can expect a team of volunteers to show up as scheduled to ensure those in their golden years get their meal delivery. And now, she knows when the unexpected strikes, that remains the same.
When COVID-19 restrictions prevented the typical contact with others outside of one's immediate family, she said it made a quiet existence even quieter for some senior citizens in the community. While the volunteers had many new guidelines and requirements to follow, they never wavered when it came to serving their community.
"During the lock down we were still delivering between 17 and 25 meals," she recalled. "That is mostly in the city; we have some clients that we deliver frozen meals too once a week that live in the country."
Now, with restrictions lifted, the Meals on Wheels program at the NY Mills senior center provides about 40 meals each time.
In addition to volunteering for Meals on wheels, Amberg-Jokela donates her time to Apostolic Lutheran Church in her hometown and to the senior center for activities.
"We serve a breakfast (at the senior center) every first Saturday of the month," she said, adding the next $5 breakfast includes oven baked french toast, sausage, fruit and more on Aug. 7 from 8-10 a.m.
"The senior center is great," she said, adding there are always a variety of activities offered, such as card games, bingo, movies and more. "Anyone who lives in New York Mills can come, just come on in."
The Senior Center is located at 12 Walker Avenue. North and is open during the weekdays. For more information, call (218) 385-2024 or visit their Facebook page.
It was at the center that Amberg-Jokela met her second love of a lifetime, Dale. She divulged his first wife had also passed, and they shared the experience of losing a spouse. When they met at the senior center a friendship ensued and years later love blossomed.