Betty's Pantry stresses a family atmosphere
News | Published on August 13, 2021 at 3:20pm GMT+0000 | Author: Chad Koenen
0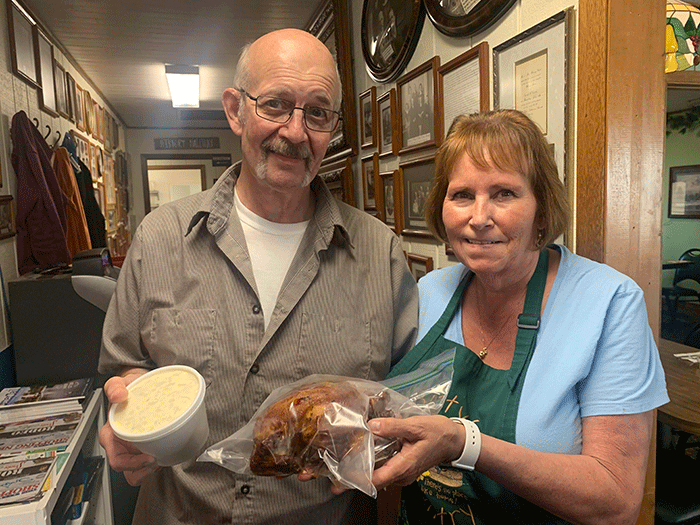 Local restaurant is a popular destination in the summer
By Tom Hintgen
Otter Tail County Correspondent
The goal of Betty's Pantry owners Vanessa and Jon Neels is to have their restaurant in the town of Ottertail feel like "customers are part of our family."
Vanessa and Jon have owned the restaurant since the spring of 2018. Vanessa is the daughter of Betty who was the previous owner. This is where Vanessa worked for her mother for 17 years.
On Friday, July 30, this reporter stopped at Betty's Pantry at 1 p.m. to purchase one of a hundred smoked whole chickens prepared in the morning by Jon. I also purchased homemade potato salad.
Both the chicken and potato salad, eaten for evening supper, were delicious. Whole smoked chickens are available just on Fridays.
Smoked meats are available every day and include chicken, briskets and pork.
Vanessa and Jon employ from 10 to 12 employees during the summer months when they are open from 7 a.m. to 3 p.m. Closing time is 2 p.m. during the winter months.
The entire staff takes pride in serving breakfasts, lunches and coffee get-togethers. There is a full soup and salad bar. Take-out orders are available by calling (218) 367-3088.
Betty's Pantry offers a full menu and also does catering for events ranging from reunions to large weddings.
"We take pride in offering 14 different kinds of salads," says Vanessa.
Summer guests and regular patrons take delight in homemade pies available at Betty's Pantry on the main street in Ottertail.
"We really mean it when we say we want our restaurant to have customers become part of our family," adds Vanessa.