Collins has a knack for fixing small engines
News | Published on August 13, 2021 at 3:22pm GMT+0000 | Author: Chad Koenen
0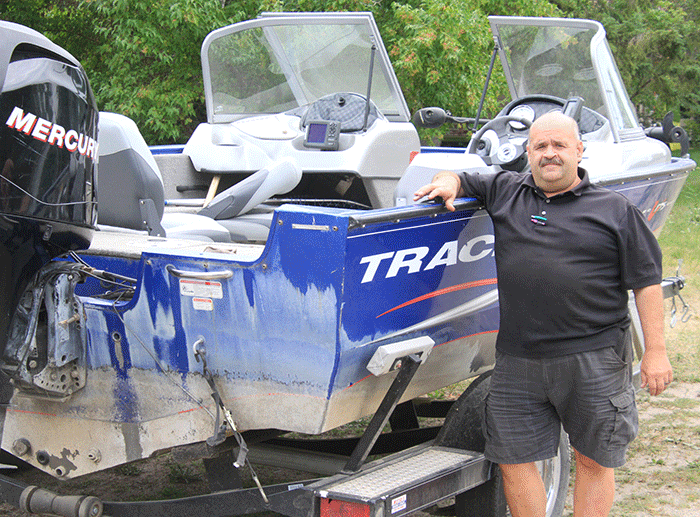 Otter Repair officially opens in the heart of Ottertail
By Chad Koenen
Publisher
As a golf cart and two boats sat idle near his shop, Glen Collins received a surprise visit from another customer who needed a quick fix for an outdoor toy. It's been just four weeks since Collins opened his new shop, named Otter Repair, but he already has made quite a name for himself in the greater Ottertail area.
Located just one block south of the Williams Company Store, Collins has been pleased with the response as he looks to continue his lifetime love of small engines, while also helping area residents get their toys and small machines back in working order.
"I just like fixing motors. I grew up on a resort and you kind of learn how to fix stuff when you are at a resort," he said.
Originally from the Dent area, Collins and his wife were looking for a place on a lake in the area. When they found a lot on Donalds Lake they decided to move away from the hustle and bustle of the Fargo, N.D. and be closer to their hometown.
He works on everything from boats to lawn mowers, trimmers, golf carts, side by sides and more.
One thing that really sets Collins apart from the other small engine repair shops in the region is he will come to a customer—not necessarily the other way around. While people can drop off their toys and vehicles at his shop, Collins is also willing to come to a customer on a lake to 
Photo by Chad Koenen
Glen Collins recently opened Otter Repair in the heart of downtown Ottertail. The business focuses on small engine repair and maintenance and will be offering boat winterization services this fall.
work on a pontoon or boat. That way if there is a problem with a boat on the lift, an owner doesn't have to worry about paddling across Otter Tail Lake to get to the landing. 
"If they are broke down and can't get off the lake with it, I can do service calls," he said.
It's just one of those small town touches, and customer first approaches, that Collins hopes that people will see at his new shop.
While he officially opened his shop just four weeks ago, Collins is no stranger to small engine repair.
"I've been doing this kind of stuff since 1991," he said.
In addition to engine repairs, Collins can repair trailer tires, works on all kinds of generators and is planning to offer boat winterization this fall. Basically, if a motorized vehicle has a small engine, chances are Collins can work on the vehicle in some way or fashion.
Otter Repair will be open six days a week, including from 8 a.m. to 5 p.m. Monday through Friday and from 9 a.m. to 12 p.m. on Saturday. He is located at 102 S. Lake Ave. To make an appointment, or for more information, contact Collins at (701) 541-4200.