Three generations volunteer at Children's Barn
News | Published on August 19, 2021 at 5:45pm GMT+0000 | Author: Chad Koenen
0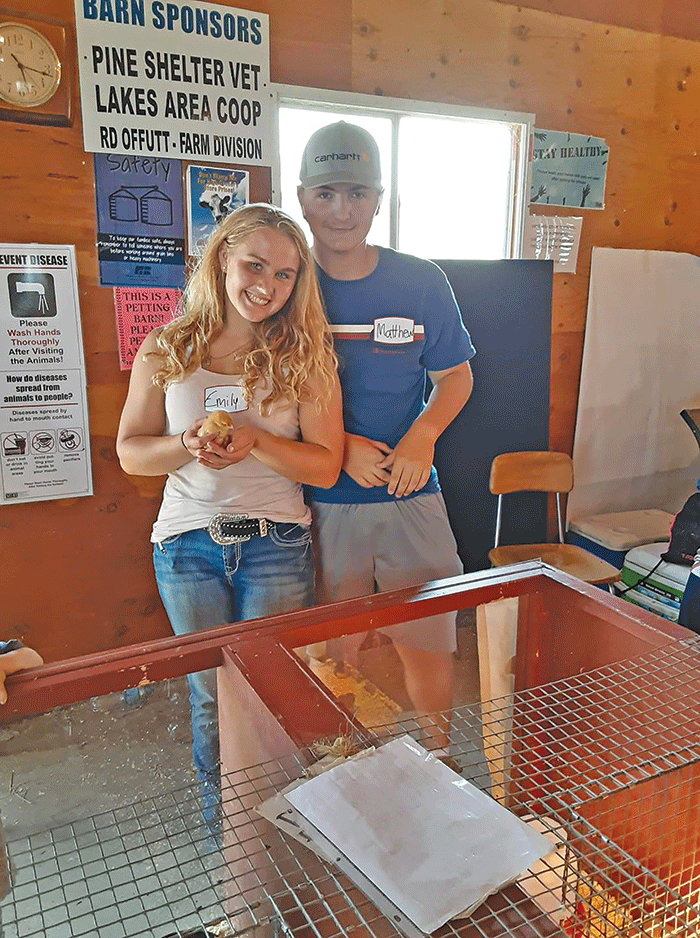 By Barbie Porter
Editor, Frazee-Vergas Forum
Emily Reed is the third generation to volunteer with the children's barnyard at the East Otter Tail County Fair.
For Emily, the opportunity holds a special place in her heart. In ways, she is helping her late grandfather's dream continue. Deland Porath was a longtime advisor of the New York Mills FFA and brought the Children's Barn to the fair.
He believed it would be a place for all ages to enjoy and learn about animals. Through Porath's dedication and perseverance, his vision became a reality.
Emily recalled her grandfather would often share stories of visitors during the fair, as well as the variety of animals borrowed to the booth.
"He grew up on a farm, and then taught ag, so he was very passionate about it," she said. "He wanted to bring a bit of the farm so everyone could enjoy it, not just those living in the country."
Planning for the Children's Barn began in the mid 1980s and by 1987 it opened. Emily's mother, Illene Reed was a teenager at that time, and helped wherever needed during those first years of the Children's Barn. She recalled watching her father teach visitors about animals and nature. Watching him so at ease in his profession was impressive, she said. However, what filled her heart with complete admiration was the moment she realized her father had taken a dream and made it reality. Each time she visits the EOT Fair and sees the Children's Barn, it is a reminder of something her father did that made their little corner of the world a better place.
Emily noted how appreciative she was to have the opportunity to be a part of her grandfather's dream by volunteering at the Children's Barn. Her duties were the same ones her grandfather and mother did years ago­—feed and water the animals, make sure they get what they need and that the kids handle them properly.
During a two hour shift, Reed said it was hard to say how many came through the barn.
"There were two kids who would come in and hold animals for about 20 minutes, then leave," Reed said. "Five minutes later they were back for another 20 minutes. That happened for four hours."
She said visitors such as those boys made the average number of people coming to the Children's Barn anywhere between 100 and 200 during her two hour shifts. 
FFA provided opportunity to be a part of family's history
The daughter of Robb and Illene Reed said she became an FFA member last year. The Perham resident who attends Perham High School said her mother and grandpa were big inspirations for her joining the FFA.
"My grandpa taught it (at New York Mills High School) and learning about it while growing up made me excited for the day I could get involved," she said. "My mom was a member in Perham and she shared stories about the state convention, nationals and all the good friendships she made. It inspired me to join."
Now as a sophomore at Perham High School, Reed is looking forward to the fall and building more FFA memories of her own.
"I'm hoping for more in-person competitions this year," she said, adding her roster of events may include horse judging, milk quality and possibly crops.
Emily said the idea of joining the crop team dates back to the many summers she spent with her grandfather in his vegetable garden. From those hours spent by his side she learned about planting times, how to test soils and what organic material assists crops in becoming a fruitful bounty in the fall. When harvest arrived, she also learned about canning and freezing.
"I'm excited to see what the year brings with," she said.