Water levels continue to decrease in OTC
News | Published on August 23, 2021 at 11:02pm GMT+0000 | Author: Chad Koenen
0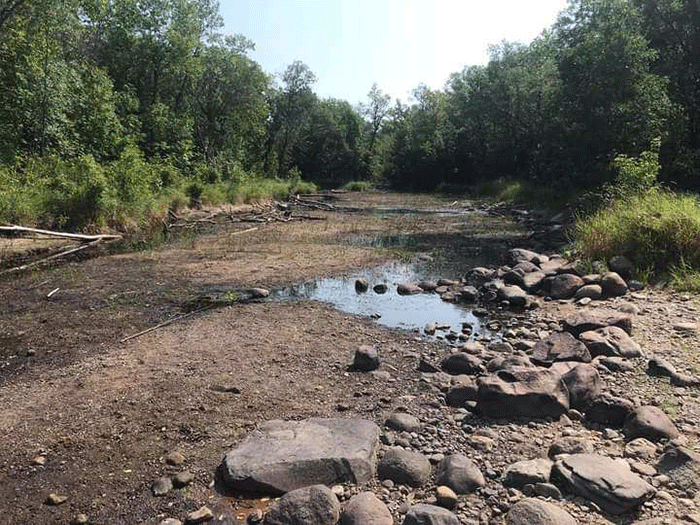 By Chad Koenen
Publisher
If it seems like you have gained some extra lake shore, or have been able to wade an extra hundred feet out from shore on an area lake, there is a good reason—because with the lack of rain this year lake levels are reaching some record lows.
Extreme drought conditions throughout much of Minnesota have resulted in water restrictions in several communities and have also been felt on local lakes. Many of the area's bodies of water are seeing some of the lowest lake levels ever recorded by the Minnesota DNR.
In fact, Middle Leaf Lake, just outside of Henning, recorded an all-time low level mark on July 12 of 1316.16 feet. However, unlike many local lakes, water levels on Middle Leaf Lake are not on file prior to 1995. Nearby West Leaf Lake has lake level recordings dating back to 1937 and its most recent lake level reading on June 17 was less than a foot from setting an all time low water level mark. The last DNR reading found a lake level of 1319.17, while the lowest recorded water level was 1318.32 on Sept. 30, 1939.
Otter Tail Lake's last recording on Aug. 14 showed a water level of 1319.46, which is 1.8 feet below the ordinary high water level of 1321.3. The lowest ever recorded water level came in 1934 at 1317.68, with the highest mark occurring just 10 years ago at 1322.31.
The low water levels has boat and pontoon owners concerned about getting their summer toys off the water this fall.
"It's definitely been concerning for us, just from what I have seen," said Andy McRae of JK Marine in Ottertail. "We are starting to get calls and concerns about it from our customers."
Taylor Arndt, of Scott Davis Dock and Lift, said they are encouraging people to get as many boats and pontoons off the lakes as possible, in the event lake levels continue to drop.
"We are trying to get as many pontoons off in the next couple of weeks as possible, because it is getting harder and harder every day with the water levels dropping steadily," said Arndt. "Some lakes are better off than others, but the ones that are super low you almost have to back half of your truck or more into the water (at the landing)."
As pictures surfaced last week of the Otter Tail River essentially running dry near Rochert, Minn., Julie Aadland of the Minnesota DNR in Fergus Falls, said water levels across the county are well below the ordinary high water level.
As far as the Otter Tail River, Aadland said near Fergus Falls the river can flow up to 700 cubic feet per second when it is full. The last recording taken of the river near Fergus Falls showed just 50 cubic feet per second. While that number can fluctuate over time, with how dry the summer has been, even a large rain storm wouldn't make lake levels increase dramatically over night. There is also a chance that lake levels could continue to drop if warm weather and drought conditions persist through the fall.
To help with the lack of rainfall and dropping water levels, Aadland said "any non essential water use is discouraged," like watering a lawn or washing a car outside of going to a car wash.
As people get ready to close up the cabins for the fall, Aadland, Arndt and McRae encouraged people to get their boats and pontoons off the lake sooner than later if they are concerned about lower lake levels.
"At this point looking at the forecast, even if we got rain we would have to get 6 inches or some crazy amount just to combat the water level going down," said McRae.
Even if a person gets a pontoon or boat off their lift, McRae said getting the item out of the lake may be another challenge altogether. Due to the low water levels, some people are finding it difficult to get the boats and pontoons up the landing.
Regardless of how difficult it may be to get the boats off the lake, Arndt said there are dock and lift companies across the region that can assist in getting a boat or pontoon off the lift and safely to shore. Just don't wait too long to get it off the lake.
"A lot of people want to keep their boats and pontoons in as long as possible," said Arndt. "The longer you wait the more of a struggle and hassle it is to get off the lake."
Notable lake levels when compared to its record low include:
• East Battle Lake- last reading was 1332.62 on July 31, lowest recorded level was 1329.8 feet on Feb. 13, 1935
• West Battle Lake- last reading was 1332.08 feet on July 31, lowest recorded level was 1326.74 feet on April 5, 1937
• Rush Lake- last reading was 1321.75 feet on July 9, lowest recorded level was 1320.22 feet on Jan. 26, 1944
• Clitherall Lake- last reading was 1335.5 feet on July 31, lowest recorded level was 1334.81 feet on Oct. 6, 2012
• Big Pine Lake- last reading was 1331.27 feet on Aug. 7, lowest recorded level was 1329.61 feet on Nov. 1, 1976