Humanity has no boundaries
News | Published on September 3, 2021 at 8:26pm GMT+0000 | Author: Chad Koenen
0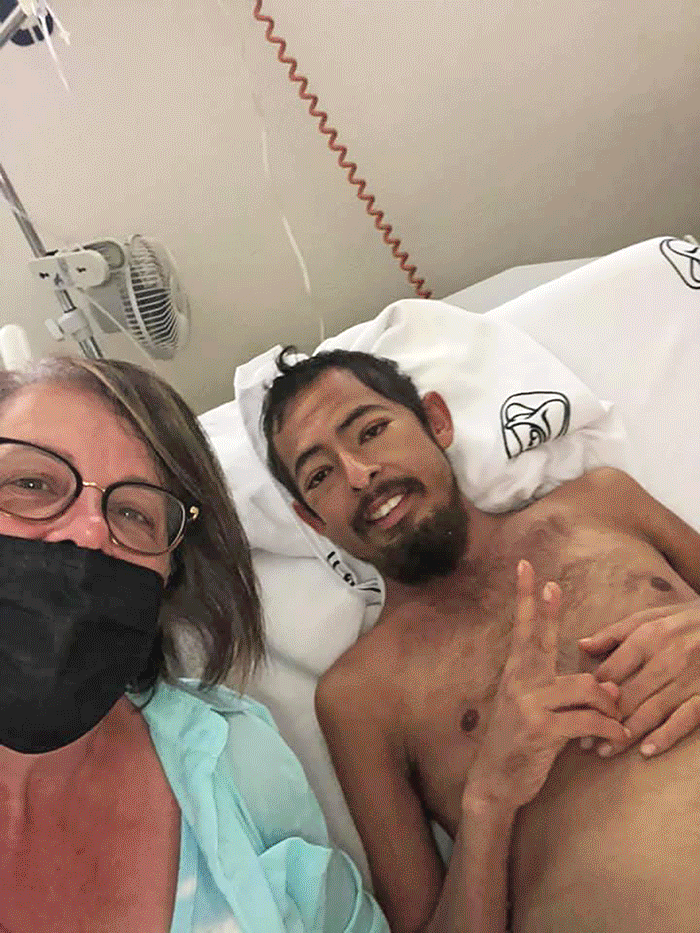 NY Mills residents band together to help grieving family in Mexico
By Barbie Porter
Editor, Frazee-Vergas Forum
Bonnie Dykhoff thought God put Cris Gaspar Garcia in her path to help him find a better life. When he fell ill with congestive heart failure and died, it all became clear­­—God put her in his path to help his parents.
But it wasn't just Dykhoff that provided the mourning parents with an opportunity to grieve their son and burry him with dignity. She teamed up with several residents of the New York Mills area.
Without the financial means to provide a burial service or grave site, the Garcia family were faced with the possibility that their son would be put in a mass grave. 
With a sense of urgency Dykhoff called upon friends for donations to bury Garcia and provide his family with a proper funeral.
"A lot of friends had followed my friendship on Facebook with Cris, and so I put it out there," Dykhoff said. "I expected the response because I have friends who are good people. What shocked me was how we got the funds together so quickly. It took 21/2 hours."
Through a wire transfer, $2,000 was sent to provide the basic funeral service for her friend. He was brought to a funeral home where his parents were able to wash and dress him. He was put in a casket for the ceremony, flowers were purchased, a memorial video made and vigil held before he was cremated.
"A mom should not have to burry a child, and much less not be able to provide a burial," Dykhoff said. "I'm very grateful we could help."
The "we" includes about 18 good souls. More reached out in prayer, which carried its weight in gold as far as Dykhoff was concerned.
"We live in such a wonderful community for so many to help and pray for someone they don't know or haven't met," she said.
Garcia's mother shared a message for those kind hearts: "I hope in God that you are well in the company of your loved ones. I want to thank everyone who helped us bury my son Cristopher. The truth is, they came from heaven at a very difficult time for me and my husband."
She went on to thank Dykhoff for starting the chain reaction of kindness when they needed someone to be a light in the darkness.
From tourist to friend
The moment that connected NY Mills residents to the Garcias began when Dykhoff ventured to Mexico with friends. She fell in love with the culture and people south of the border. After buying land with plans of building a house, the rural NY Mills resident took several more visits and met Garcia.
"He spoke a little English and showed us around town," Dykhoff said, adding he worked for a tourist company and happened to be working at the hotel where she was staying.
They exchanged contact information and during return visits he was essentially a personal concierge. He showed Dykhoff, and those she traveled with, the tourist sites and hidden gems of the city. During travels, discussions were had about life in the U.S.
Garcia dreamed of getting a U.S. work visa and one day becoming a U.S. citizen. He had a personality that made Dykhoff root for him to succeed. Regardless of what was happening in his community, country or the world, Garcia always had a welcoming smile and eagerness in his eyes to live a full life.
"He wanted to have a family, a home and to be successful," Dykhoff recalled. 
Dykhoff believes God puts people where they are supposed to be for a reason. Those that cross paths are no mistake and at first she contemplated if her friendship with Garcia was to help the hardworking man legally start a life in the U.S.
When COVID-19 broad sided Mexico, the jobs became even more scarce, particularly in the tourist industry Garcia worked in.
"About a year ago he got extremely ill," she said. "We are not sure if he had COVID; we don't know what it was other than an upper respiratory problem that made him very sick. What Dykhoff did know is that her friend was close to death by the time his parents took him to the public hospital, where families are responsible for feeding the patient, providing bedding and medication.
"I feel if he were here, he would still be alive," Dykhoff said. 
Garcia's illness led to a diagnosis of congestive heart failure. He was sent home with his heart working at 28 percent. For most, congestive heart failure may be an unknown, but not for Dykhoff. Her mother died of it at the young age of 59. She explained one can get the illness at birth or from a virus. Essentially it causes the heart to enlarge. Where the normal heart is the size of a large fist, a heart suffering from congestive heart failure may grow to the size of a football. It stretches to the point when it tries to beat it can't. 
Watching the effects of a damaged heart battling to beat gave her insight that helped her friend's parents understand what was happening. She messaged back and forth with his parents about what could potentially be done and the limitations available.
Dykhoff was told Garcia's conditioned worsened to the point his last rights were read to him. She headed for Mexico with the hopes of seeing him one more time. By the grace of God, she was gifted that time.
"He bounced back for about a week," she said. "I was able to chat with him for about 15 minutes at a time and hold his hand. I saw him three times before he passed."
When Garcia passed, his family was given 24 hours to come up with funds for a proper funeral. Dykhoff explained only a professional from a mortuary business could remove the body from the hospital. If one was not hired, the state would bury her friend as an indigent.
With COVID-19 putting financial strains on families due to lack of work, additional bills from the medical care Garcia received while alive and regular household bills, there was no way his family could come up with the money in 24 hours.
Borders may separate cultures, but those that donated showed human kindness knows no bounds.