County Cycle brings collection of e-bikes to NYM
News | Published on September 16, 2021 at 10:26pm GMT+0000 | Author: Chad Koenen
0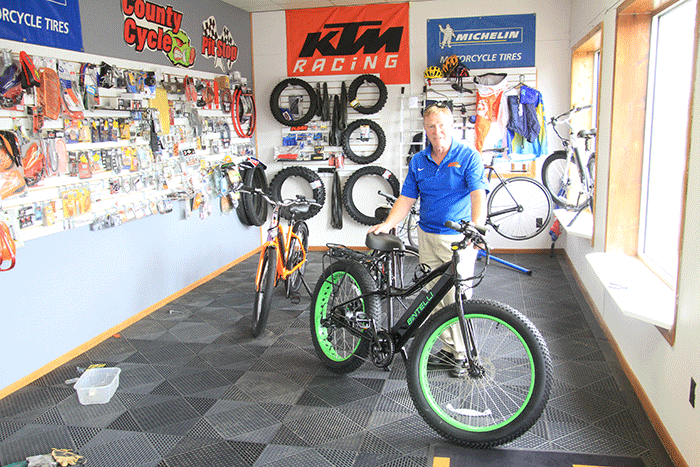 New business opens in downtown NY Mills
By Chad Koenen
Publisher
Racing motorcycles and off road biking is in Paul Bloyer's blood. A love of racing and off road biking has been passed down to his children and grandchildren, as evident by the larger-than-life trophies that now line the walls of County Cycle in New York Mills.
"Our heritage has been racing and the off road racing kind of it," he said.
Bloyer began racing in Wisconsin, and in order to help fund his passion he began selling parts in New Richmond, Wis. His children and many of his grandchildren joined the racing circuit through the years. His granddaughter, Taylor Schwemmer who also works at County Cycle, was also a 2015 Wisconsin state champion.
Schwemmer will be assisting Bloyer with the internet sales of County Cycle, which features an extensive parts department for things like motorcycles, UTVs and ATVs. Bloyer said if they don't have an item on hand, they can special order it so the customer can get exactly what they need.
The new NY Mills business is an extension of what Bloyer already established in New Richmond, Wis. In order to help fund his racing passion, Bloyer began selling parts on the side to help make some extra money. He founded County Cycle in New Richmond, Wis., in 2003 and expanded that business in 2011.
While he still operates that store today, the plan is to transition everything to NY Mills where the family purchased a home on July 1. Bloyer said the family moved to the area after wanting to be closer to his son and grandchildren who live in Ulen, Minn.
County Cycle, which is located next to Klein Insurance in downtown NY Mills, features a wide selection of parts and accessories for ATVs, UTVs and motocross bikes. Bloyer is also excited about the opportunity to delve into a new trend in the biking industry—e-bikes.
E-bikes are essentially a bike with a small motor on them to allow people the opportunity to go biking, but put the bike in gear to get through a soft part of the road like sand. The person can still pedal when the bike is engaged, meaning they can still get a workout without having to overexert themselves and take the fun out of biking.
Bloyer said the bikes are really gaining popularity with people ages 50 and older, as a way to stay in shape and enjoy the great outdoors. Situated in an area with an older population, as well as endless opportunities outdoors, Bloyer sees the Perham, New York Mills, Wadena and even the Brainerd areas as being a great place to sell e-bikes moving forward.
"They are older community and see we thought it would be a good fit," he said.
Even though he has been open just a limited amount of hours in the past few weeks, Bloyer has already sold six e-bikes and has money down on a seventh sale. Bloyer has several models on hand in the store and he is expecting another delivery of e-bikes later this month.
County Cycle will be open from Thursday through Saturday and by appointment at other times. They can be located in downtown NY Mills next to Klein Insurance and can be contacted by calling (612) 558-6807.