NYM defeats Red Lake 43-0 in regular season opener
NewsSports | Published on September 16, 2021 at 9:24pm GMT+0000 | Author: Chad Koenen
0
Eagles to host Wadena-Deer Creek on Friday night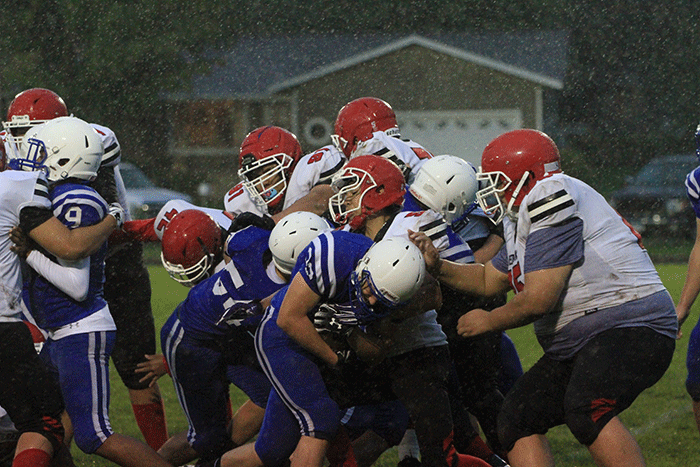 By Chad Koenen
Publisher
The New York Mills Eagles picked up right where they left off last season with a commanding 43-0 win over Red Lake on Sept. 2. The Eagles jumped out to a 25-0 lead in the first quarter and never looked back as they dominated Red Lake on both sides of the ball.
The lopsided score allowed the Eagles to get some reserves additional playing time in a wet and cool opening night in NY Mills.
"A great game in that we got to play the younger guys on offense and defense, giving them a chance to play in a varsity game," said head coach Matt Radniecki. "I was especially happy that we took care of the ball, for the most part, and also did a nice job of eliminating mistakes and penalties. Our older kids did what they needed to do and we set the tone early and did what we expected to do. I was very happy with how everyone played and we worked together as a team."
Eathan Ruther got the Eagles on the scoreboard when he found the end zone on a 46 yard run to make the game 6-0. The PAT was no good.
After forcing a three and out, Bren Salo quickly found Jonah Johnson for a 29-yard touchdown pass to make the score 12-0 in favor of NY Mills. The PAT was good to make the game 13-0.
On their next possession, Dane Niemi scored on a 12-yard run and Jacob Guck scored on a 41-yard run the next time the Eagles got the ball to make the game 25-0.
In the second quarter, Jonah Ruther scored on a pair of touchdown runs from 6 and 7-yards out to make the game 37-0 at halftime.
In the third quarter it was the defense that found the end zone as Jonah Ruther scored his third touchdown of the game, this time on a 53-yard interception that was returned for a touchdown, to make the score 43-0.
The win improved the Eagles to 1-0 on the season. Last week's game against Walker-Hackensack-Akeley was canceled due to COVID-19 concerns within the WHA program.
This week the Eagles will host Wadena-Deer Creek. The Wolverines come into the game with a 1-1 record after falling to Staples-Motley 22-16 in their regular season opener and defeating Menahga 21-20 last week.