Bongards takes first at regional competition
News | Published on September 23, 2021 at 5:13pm GMT+0000 | Author: Chad Koenen
0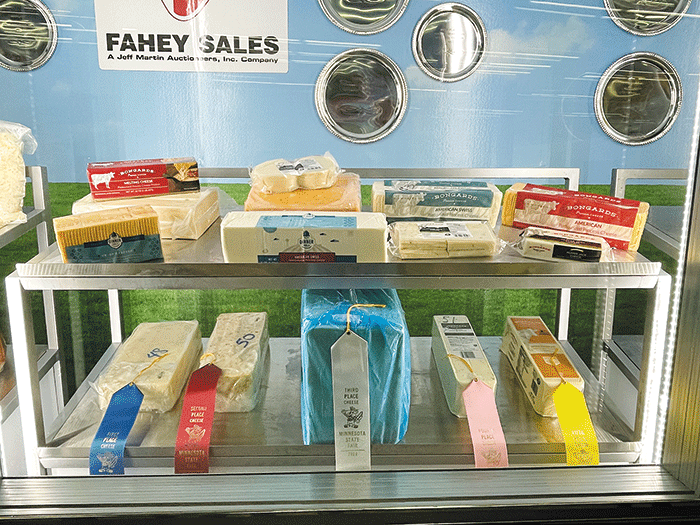 By Barbie Porter
Editor, Frazee-Vergas Forum
As summer comes to a close, Bongards rolls the big cheese out for competitions. This year, the premium cheese making company with a factory and store in Perham earned top honors in the Chedder Block competition with a near perfect score.
Every day Bongards uses enough milk to fill nearly 6,000 bathtubs. With time, aging and skillful labor the company turns milk into cheese that is a cut above its competition. While some companies may have a special competition cheese, Bongards enters its products pulled directly from the production line.
"There is nothing fancy or special done with it," said Bongards Plant Manager Justin Larson. "It is the same cheese anyone else gets when they get our cheese."
Larson reported Bongards earned 98.600 for the winning score (out of 100) for the Chedder Block competition, which includes all dairy product producers in the upper Midwest. He explained the judges look at the grade of the cheese, which produces distinct flavors as it ages, as well as the product's texture and more. The product is aged around the 30-day mark before it is entered for the competition.
Bongards has entered the competition for several years. Typically, Larson said he attends along with the cheese manager and a few employees.
"We usually do very well and have a winner," Larson said, noting he's worked for the company since Oct. 2014. "I enjoy the people here."
He added working for a co-op also gives him personal pride knowing the hard work of the dairy farmers is rewarded.
Larson said the awards the cheese wins often finds its way to the Bongards store at 210 E. Main St. Perham. The older awards are replaced by newer ones, as there is limited space. He added there is also an interesting video that shows how cheese is made at Bongards, and recommended stopping in to give it a view.
The Upper Midwest Dairy Industry Association is a non-profit organization with a purpose of promoting the dairy industry. They host the competition and for the first time the award winning items were available to the public in a display cooler Minnesota State Fair. As the event came to a close the items were auctioned off to the highest bidders to raise funds for scholarships to be given to those entering the dairy industry or other related degree programs.