NYM improves to 6-2 with a pair of wins
NewsSports | Published on September 23, 2021 at 4:22pm GMT+0000 | Author: Chad Koenen
0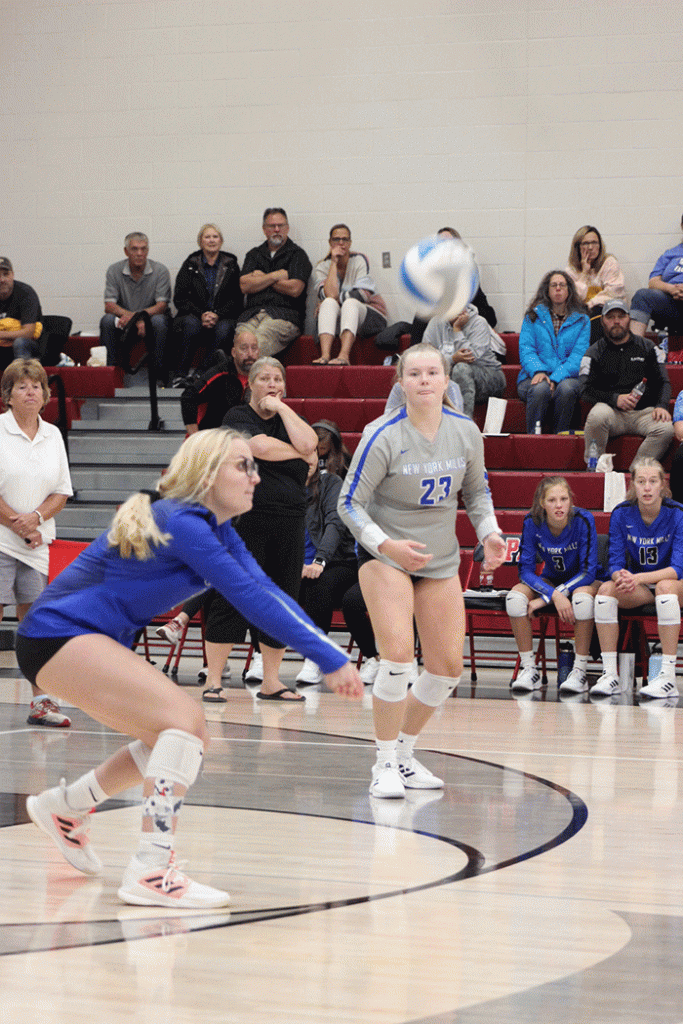 By Chad Koenen
Publisher
New York Mills swept its way to a pair of wins last week.
After defeating Lake Park-Audubon by a score of 3-0 on Monday night, the Eagles defeated Sebeka 3-0 on Thursday in NY Mills' home opener.
This week the 6-2 Eagles will hit the road once again as they will travel to Staples-Motley in non-conference action on Tuesday night and travel to Pillager on Thursday for another Park Region Conference game against the Huskies.
Next week the Eagles will take on Norman County East/Ulen-Hitterdal on Monday, Sept. 27 and return home on Sept. 30 to take on Menahga.
Monday
NY Mills came out firing on all cylinders last Monday night as the Eagles defeated Lake Park-Audubon by a score of 3-0. The Eagles won the first game by a score of 25-9, before continuing to keep the pressure on the Raiders as they came away with 25-19, 25-17 wins in the second and third games.
Kali Olson led a balanced offensive attack with 8 kills, while Moriah Geiser finished with 6 kills and Natalie Pederson chipped in with 5 kills of her own.
Kali Olson and Ayla Olson led the way with 4 and 3 aces respectively, while Aliya Gerber and Ayla Olson each had 12 digs in the win.
SERVING- Ayla Olson 8-9 (3 ace), Kaylee Meech 0-1, Isabella Bauck 8-9, Kali Olson 11-14 (4 ace), Moriah Geiser 20-20 (2 ace), Aliya Gerber 15-16 (1 ace), Hayley Hudalla 3-5
KILLS- Megan Riedel 2, Ayla Olson 3, Kali Olson 8, Natalie Pederson 5, Moriah Geiser 6, Alayna Baune 1
BLOCKS- Ayla Olson 1, Mairyn Erp 1, Kali Olson 5
ASSISTS- Kailey Keskitalo 2, Ayla Olson 11, Kali Olson 4, Natalie Pederson 1, Aliya Gerber 5
DIGS- Megan Riedel 1, Ayla Olson 12, Isabella Bauck 3, Kali Olson 5, Natalie Pederson 1, MacKenzie Gilster 1, Moriah Geiser 1, Aliya Gerber 12
Thursday
NY Mills picked up its second straight PRC win with a 3-0 win over Sebeka on Thursday night.
The closest game of the night was in the first game as the Eagles defeated the Trojans by a score of 25-18, before going on to win by scores of 25-16 and 25-13.
Kali Olson dominated the Trojans at the net throughout the night as she finished with 17 kills, while Ayla Olson finished with 8 and Moriah Geiser finished with 7.
Aliya Gerber led the way with 19 digs, while Kali Olson once again made her presence felt at the service line as she finished with 3 aces.
SERVING- Ayla Olson 6-10 (1 ace), Isabella Bauck 8-8, Kali Olson 11-12 (3 ace), Moriah Geiser 15-15 (1 ace), Aliya Gerber 21-22, Hayley Hudalla 5-6
KILLS- Megan Riedel 4, Ayla Olson 8, Mairyn Erp 3, Kali Olson 17, Natalie Pederson 1, Moriah Geiser 7
BLOCKS- Megan Riedel 1, Ayla Olson 3, Mairyn Erp 1, Kali Olson 4, Natalie Pederson 3, Moriah Geiser 1
ASSISTS- Ayla Olson 18, Isabella Bauck 1, Kali Olson 11, Aliya Gerber 2
DIGS- Megan Riedel 1, Ayla Olson 11, Isabella Bauck 3, Kali Olson 13, Natalie Pederson 1, Moriah Geiser 6, Aliya Gerber 19, Hayley Hudalla 3