Baymler shares her love of reading in NYM
News | Published on September 27, 2021 at 11:10pm GMT+0000 | Author: Chad Koenen
0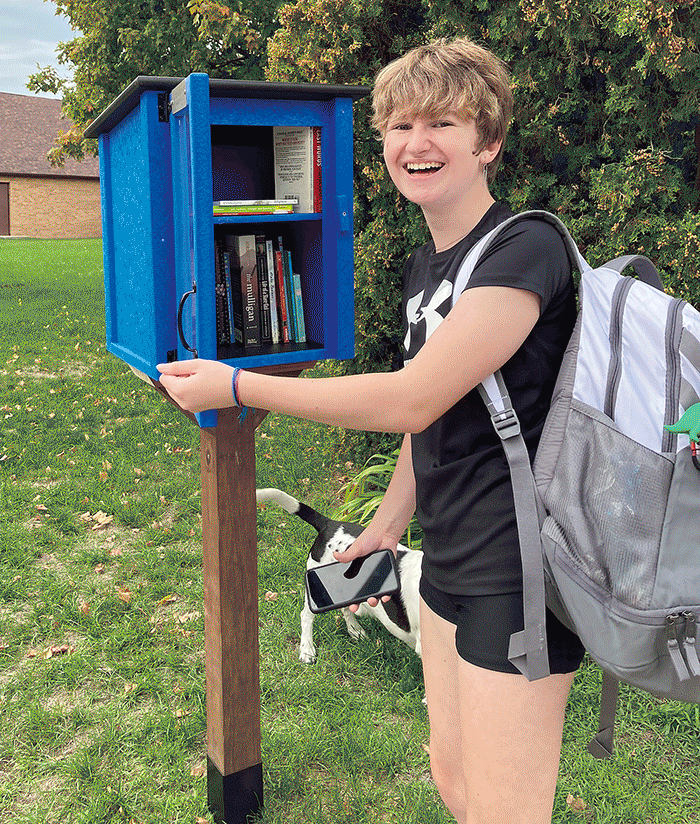 By Chad Koenen
Publisher
Some of Reegan Baymler's fondest memories were spent at the library with her grandma. The two would spend countless hours looking over the shelves for that perfect book they could share with one another as she developed her love of reading.
While her grandmother passed away in 2018, Reegan found a perfect way to honor her memory by constructing a Little Free Library in her yard. The hope was to spread the love of reading with others in the greater NY Mills community.
"She was super excited (to get it up)," said her mother Maureen, who added there is everything from children's books to adult ones as well.
The Little Free Library program was started in 2009 by a man in Hudson, Wis., who erected a wooden container that was designed to look like a one-room schoolhouse on a post in his front lawn. He filled it with books as a tribute to his late mother who was a book lover and school teacher who had recently passed away.
Today, there are more than 100,000 Little Free Libraries in over 100 countries. The books can be taken for free and returned at a later date. The books are typically donated and provide educational materials for people of all ages.
Wanting to honor her grandma in the same way the creator of the Little Free Library did for his mother, Reegan wanted to install a Little Free Library at her home.
Maureen said Allan Lynk knew her mother well and was one of the people that encouraged Reegan to get a Little Free Library of her own. He donated the structure himself and the books were either donated or ones the family has accumulated over the years.
"Allan gave her the library, my father-in-law put it up and there it sits in honor of her grandma," said Maureen.
The group put up the Little Free Library while Reegan was at school on Sept. 14. When she arrived home from school that day she couldn't help but smile at the new library.
The Little Free Library is located at 109 Walker Ave North in NY Mills. The library is open to everyone and individuals who have books they would like to donate to the library they can contact Maureen and the Baymler family.
"If anyone has something they want to put in there to share that is fine too. We will take the book," said Maureen.